Full Float Rear Axles Floating axles eliminate the solid axle having to support the weight of the vehicle as well as hold the wheels on. Because of the high yield strength of the Warn axle, you'll also find the largest spline count possible, limited only by the differential. The internal splined wheel hubs eliminate bolts and are guaranteed never to loosen. Warn also includes spring-loaded lip seals in the wheel hubs and spindles. O-ring seals are used on the hub lock interface. Disk Brake Brackets are available that are specifically designed to work with the Warn Floating Axle kits.
With a semi-floating setup, the axle shafts serve both to drive and support the vehicle, whereas in a full-floater the shafts only transfer the torque while a pair of large bearings at each wheel handles the weight of the vehicle. When a semi-floating axle breaks, it tends to leave the vehicle immobilized since the tire and wheel rely on the shaft to stay in place. Full-floating shafts can break and the wheel will still turn. Full-floaters will also allow you to use axle hubs that will allow you to unlock a wheel just as you do in the front. This could allow you to unlock the axles and flat tow the vehicle if you so desired.
It is possible that you could find a used Ford 8.8-inch axle from a Jeep enthusiast that has one of these kits installed.
Warn: Warn offered a full float kit for the 8.8-Inch Explorer axle with 31-spline shafts (P/N 60348), but this kit is no longer available.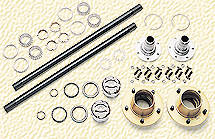 Mitchell Differential: Mitchell Differential has made full float kits for the Ford 8.8-inch axle.