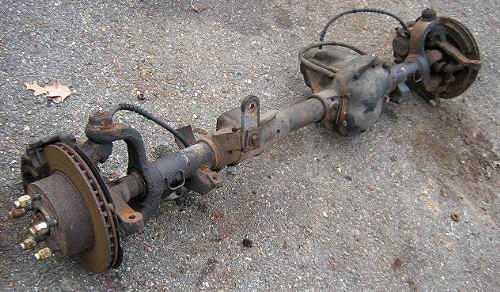 (Axle shown is from a 1989 Jeep Wrangler (YJ) and is missing the yoke and vacuum actuator)
Introduction:
When I created The Ranger Station in 1999, there wasn't very many people doing solid axle swaps (SAS). At the time the axle of choice was the early Bronco (EB) Dana 44 because it had a radius arm/coil spring setup and was similar in width to the Ranger axle. As time went by, the EB Dana 44's became harder to find and some began looking to narrow full size Dana 44's to match the Ranger's axle width. People began looking at other alternatives and started looking at the Jeep Dana 30's. The Jeep Dana 30 is similar in width to the Ranger axles, has the differential on the drivers side like the Ranger and shares the same 5x4.5" wheel bolt pattern. This brings us to the point of this article......
The Jeep Dana 30:
The Dana 30 first appeared in 1966 in the early Ford Bronco. It was a very weak set up and was replaced in late 1971 by the Dana 44. For the point of this article, we're going to be discussing the Jeep Dana 30 that appeared in the Jeep Cherokee and Wrangler.
The Dana 30 that was put in the Cherokee (XJ) and Wrangler (YJ) is a high pinion, reverse cut unit and are the stoutest Dana 30's built. The Cherokee (XJ) and Wrangler (YJ) differed in that the Wrangler (YJ) was set up for leaf spring and the Cherokee (XJ) used a coil spring setup. These axles use a live spindle design which featured a sealed wheel bearing and no locking hubs.
All the Wrangler (YJ) and many Cherokees (XJ) (Part time four-wheel drive) used a vacuum operated CAD (axle disconnect) which split the passenger side inner axle shaft into two pieces with a coupling in between. The full-time Cherokees (XJ) used a one piece axle. The non-disconnect front ends are easy to spot. Either look inside and see if the Jeep in question has a transfer case with a full time 4WD position or just look under the vehicle and make sure the passenger side upper control bracket is welded to the tube. The disconnect type axles have the passenger side upper control arm bracket cast as part of the disconnect assembly. The CAD (axle disconnect) was dropped for the Cherokee (XJ) models after 1991.
Some early full-time (XJ) Cherokees used a Rzeppa type CJ joint instead of a spicer type joint. Near the end of the line for the Wrangler (YJ) in 1995, the larger 5-297 u-joint replaced the 5-260. This occurred as a mid-year change. The reverse cut unit was largely dropped in the 2000-2001 (XJ) Cherokee's in place of a standard cut unit similar to the Grand Cherokee (ZJ) / Wrangler (TJ) unit. A few leftover reverse units were still seen in those years. The Wrangler (TJ) shafts can be used in the Cherokee (XJ) and Wrangler (YJ) for a one-piece shaft with 5-297 u-joints. The 1993-1998 Grand Cherokee shafts should be avoided because they use CV joints.
Grand Cherokee (ZJ), Grand Cherokee (WJ), and Wrangler (TJ) use a standard cut Dana 30.
Jeep Dana 30 vs Ranger Dana 35:
| | | |
| --- | --- | --- |
| | Jeep Dana 30 | Ford Ranger Dana 35 |
| Ring Gear Diameter | 7.20 Inches | 7.56 Inches |
| Axle Shaft Diameter | 1.16 Inches | 1.16 Inches |
| Axle Shaft Spline Count | 27 | 27 |
| Pinion Shaft Diameter | 1.38 Inches | 1.41 Inches |
| Pinion Shaft Spline Count | 26 | 26 |
| U-joint | 5-260x (up to 1995) or 5-297x (1995 up) | 5-297x |
Specifications:
Ring Gear Diameter: 7.20"
Cover Bolts: 10
Carrier Breaks: 3.54 / 3.73
Axle Shaft Diameter: 1.16"
Axle Spline Count: 27
Max Recommended Tire Size: 33" - 35"
The Dana 30 can be found in both high and low pinion versions. The Dana 30 is actually surprisingly stout for it's size. It can easily handle a 33" tire, with aftermarket shafts its usually pretty safe to run 35s on them.
Found In:
1984-2001 Cherokee (XJ) - Reverse Cut
1987-1996 Wrangler (YJ) - Reverse Cut
1997-2006 Wrangler (TJ) - Standard Cut
CAD Problems:
The YJ Dana 30 uses an axle disconnect system that is prone to failure. Often the vacuum hoses the activate the disconnect system will fall off or tear. Sometimes the vacuum motor won't have enough power to engage the sleeve when the gear lube in the disconnect housing gets gummed up. Another problem is that since only one axle is ever disconnected, an automatic locker or limited slip differential can cause problems with the axle and with handling. The drivers side axle is always spinning the differential.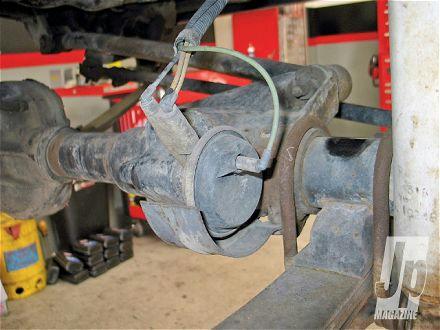 Dana 30 axle disconnect
Dana 30 Upgrades:
U-joint and one-piece shaft upgrade - The Cherokee (XJ) and Wrangler (YJ) with the small 5-260X u-joints can be upgraded with the 1996 and up Cherokee (XJ) / Wrangler (YJ) shafts that use the 5-297 u-joint. 1996-1999 would be the most desirable Dana 30's because they use the larger 5-297 u-joints and a one-piece passenger side axle instead of the CAD two-piece axle.
The photo above is of a Vacuum disconnect two piece axle shaft top and one piece shaft on the bottom. The shaft on the bottom has a new stub shaft for the manual hub conversion.
Some manufactures such as Warn, offer's replacement shafts with larger u-joints. Here is a photo to show the difference between a 260x joint (top) and a 297x joint (bottom).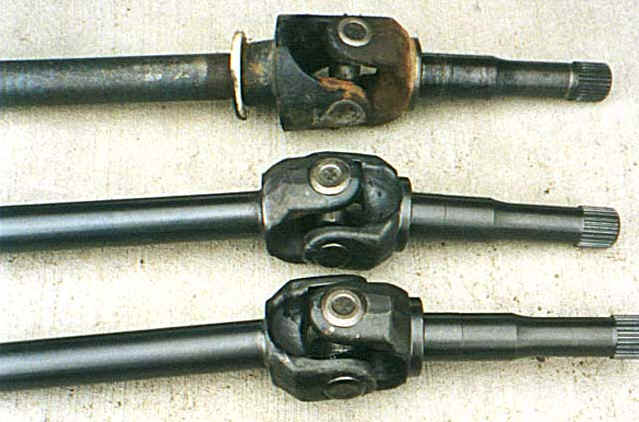 Notice the U-joint cap size between the stock 260X (top) and new 297X (bottom) U-joints
Manual Hubs - After converting to a one-piece shaft, you should do a manual hub conversion so you can unlock the axle shafts in the event of an axle failure and to allow the vehicle better handling on the road if you have a locker in the axle.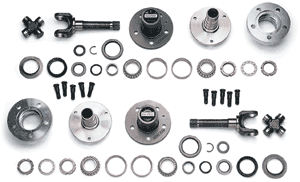 The Warn kit above is designed to convert the Dana 30 to manual hubs. It retains the stock 5x4.5 wheel bolt pattern.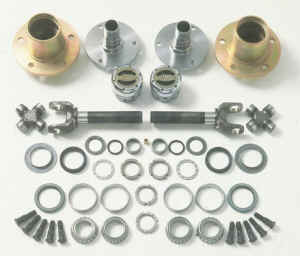 The Warn kit above is designed to not only convert the Dana 30 to manual hubs, but also converts it to a 5x5.5 wheel bolt pattern.
Can a Built Dana 30 Handle 37s? (A question in the January 2008 Fourwheeler Magazine 'Techline')
Question: If I have a Dana 30 and put in 4340 chromoly shafts with 27-spline inners and outers, and large 297X or 760X U-joints, will it make it as strong as a Dana 44 or strong enough to run 37-inch-tall tires?
Answer: I can answer both questions with a No and a No. OK, so let's now go into a bit more detail. First, the housing and axle tubes on a 44 are a lot stronger and beefier than those on a Dana 30, which results in less flex. Flex within the housing can actually pull the ring gear away from the pinion gear to the point where not full contact is made and gear breakage will occur. Next is the fact that the ring gear on a Dana 44 is 811/42 inches, while the ring gear on a Dana 30 is only 7-11/48 inches in diameter. This is also true with a lot smaller pinion as well as the pinion shaft. This all relates to fewer teeth in contact between the ring and pinion.
Now if you compare a high pinion Dana 30 to a standard cut Dana 44, as most vehicles use up front, then the strength factor gets a bit closer-maybe somewhere in the middle between the two, maybe a bit less. This is because a standard cut 44 is driving on the back side of the gear teeth while a high-pinion unit is driving on the correct side.
OK, now we can get to axleshafts. Dana 30s use a 27-spline axle of 1.13 inches in diameter, while most Dana 44s use a 30-spline, 1.31-inch axle. While this doesn't seem like a really big difference, when engineers work it out with their magic math, there is a major difference in strength. OK, but what about using the chromoly axles? Well, they come close, but still not quite as close as one would think.
There is another option. Use a special ARB Air Locker that takes the 30-spline axle. Now we are up to the 44 in strength, and in fact better than a stock 44 axleshaft. But remember, we are still using that small Dana 30 ring-and-pinion and a housing with not nearly as much strength in it.
Will it handle 37-inch tires? Sure, but for how long is anyone's guess. If you drove the vehicle only on easy trails, maybe a long time. But put a tire up against a big rock and stand on the skinny pedal, and most likely you're going to clean the teeth right off those gears. Is it worth taking the chance? I don't think so. In fact, depending on the weight of the vehicle, gearing, torque available, and driver's state of mind, a 37-inch tire just may be too big for a Dana 44, even with chromoly axleshafts.
A True Jeep Dana 44?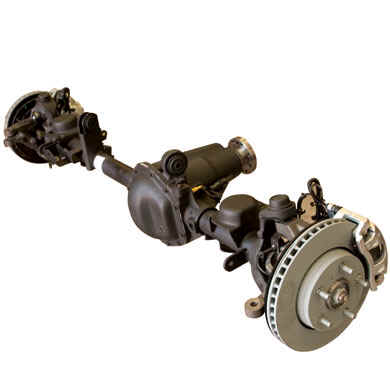 Jeep did offer a Dana 44 with a drivers side differential in the 2001 and newer Wrangler Rubicon. Company's are selling these axles like the one pictured above complete with gears, locker and brakes. Be prepared though to shell out $1,500. They have a 5x5 wheel bolt pattern.
Currie Enterprises:


Ok, you have more money than fabrication talent and want to just buy a beefy solid front axle. Currie Enterprises can build you a front Dana 44 or Dana 60. Shown above is their RockJock high pinion 60.
Installation Kits:
There isn't any aftermarket 'install' kits that would allow you to install your Dana 30. Hopefully if you're at the point that you're doing a swap like this, you have fabrication skills. If you do want a kit to work from, Poly Performance offers these two Dana 30 kits:
| | | | |
| --- | --- | --- | --- |
| | | | |
| | Jeep YJ Weld On 3 Link Front Kit | Jeep XJ Weld On 3 Link Front Kit | |
This kit requires cutting and welding for maximum performance! Track bar may require bending to properly clear the front differential. This kit is design as a 3-link but includes all the brackets to make a 4 link or radius arm type suspension to meet your needs. Weld On Link kit is compatible with any vehicle with 4-inch rails or can be modified for other vehicles.
I'm not saying this is going to work, but you may want to contact them. Click on the images above to go to their web page at www.polyperformance.com. A nice option with their universal kits is that you can choose from 3, 4 or 5-foot links. You can also buy individual brackets and they have the kit broke down to link you to the individual pieces.
Another option could come from Superlift's Black Diamond Extreme X2 7-inch Suspension Lift. Photos of it are below along with some shots of it installed. While you may not be able to use the whole kit, Superlift lists part numbers for the various boxes/parts making up the kit with the numbers listed on their web page. I have ordered just parts from kits for customers thru TRS Fab & Off-Road. To see all the details of this kit and part number click HERE. Again, this does not mean that this kit will install the Dana 30 in your Ranger, but some of the parts may be able to be used.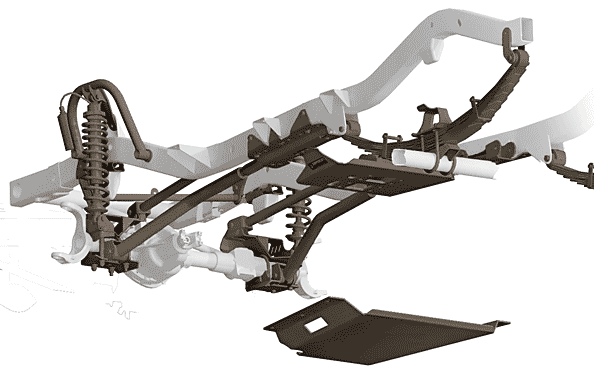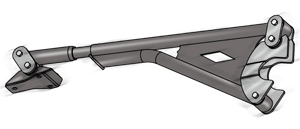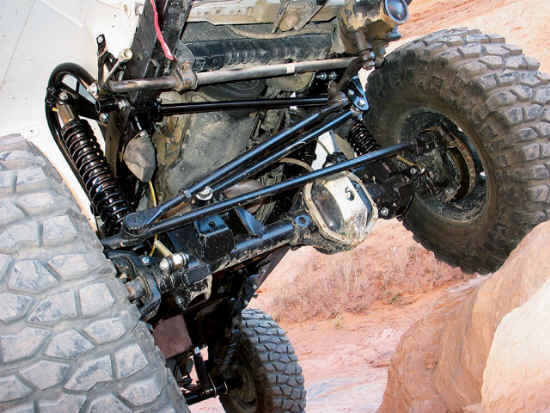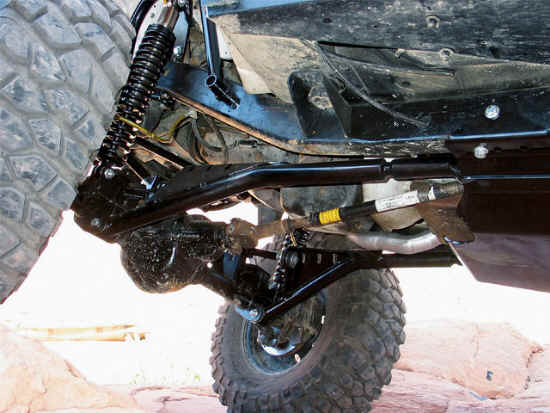 Miscellaneous: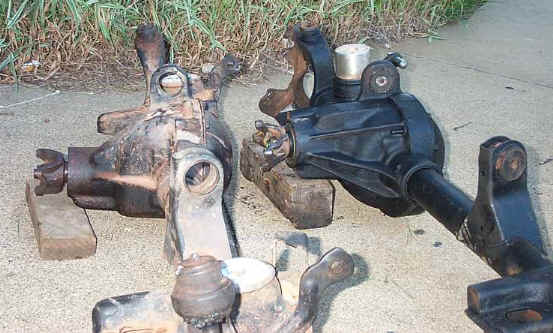 (Jeep Wrangler (TJ) low pinion left vs Cherokee (XJ) high pinion right)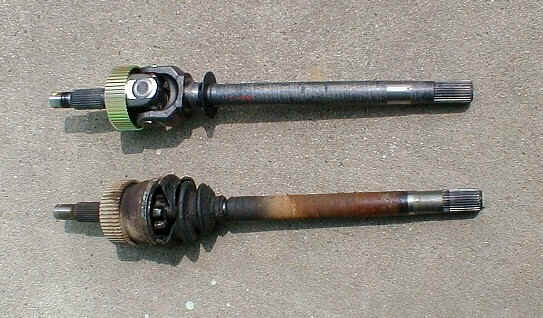 (1993-1998 Grand Cherokee CV joint shaft)
Photos Of A Jeep Dana 30 Installed In A Ford Ranger:
Here are some photos I found on the internet of a Dana 30 install in a Ranger.
Owners Description - "I have custom made all of the suspension links. The lower arms are 1.75" dia. .250 wall DOM with factory bushings on the axle end and Currie Johnny Joints on the frame end. The uppers are 1.25" dia. .25 wall dom. Both uppers and lowers are threaded for full adjustability. The frame brackets are all designed and custom made by me. They mount where the factory trans crossmember mounted and now has a custom tube crossmember ran between them. I am running 6 inch Rock Krawler XJ springs on the front and Superlift leaves on the back. I am running 4.10 gears with the stock 2.9 motor and a swapped in 5 speed Mazda transmission. The motor has a MSD Blaster coil, and a K&N conical filter mounted behind the battery via a custom aluminum tube made by me as well. I also swapped in a late model explorer disc brake rear end an a late model ranger one-piece rear driveshaft. I have 33 inch Swamper radials on it now, but have plans for 35's with a 5.0 swap in the future."