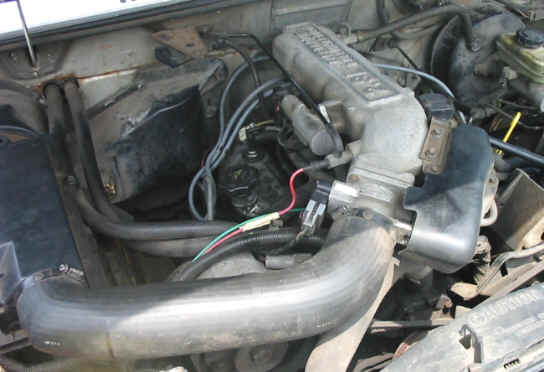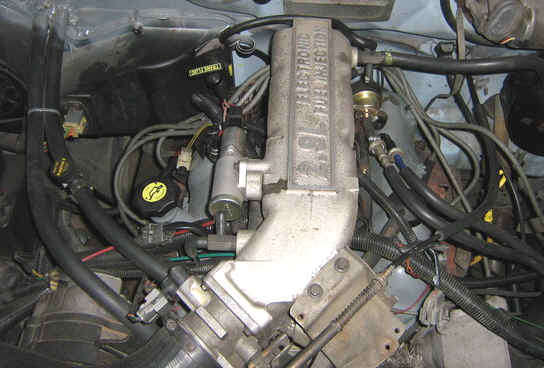 The Ford Cologne 2.9L V6 is a 60° cast iron block V6 engine built by the Ford Motor Company in Cologne, Germany, hence the name. Over the years, the Cologne V6 was available with engine displacements of 1.8, 2.0, 2.3, 2.4, 2.6, 2.8, 2.9 and 4.0 litres. All except the Cosworth 24v derivative and later 4.0 litre sohc engines were pushrod overhead valve engines, with a single camshaft between the banks.
Originally, the Cologne V6 was installed in cars intended for Germany and continental Europe, while the British "Essex" V6 was used in cars for the British market. Later, the Cologne V6 largely replaced the Essex V6 even for British-market vehicles. These engines were also used in the United States, especially in compact trucks.
The 2.9 L shares the same basic design as the 2.8 L model, bar a few subtle differences. The camshaft is chain-driven rather than gear driven, so it rotates in the same direction as the crankshaft. The arrangement of the exhaust valves is different, eliminating the "Hot-Spot" that existed on the 2.8 L model. The cylinder heads also sport a more conventional three-port exhaust manifold. Output was rated at 140 hp @4600 rpm for the Light trucks (1986-92 Ranger & 1986-90 Bronco II) and 144 hp @4800 rpm for the Merkur Scorpio in the US market and anywhere from 150 to 160 hp for the European Market.
Bore was 93 mm (3.7 in) and stroke was 72 mm (2.8 in) for a total displacement of 2.9 L (2935 cc/177 in³).
In Europe, this engine was commonly fitted with the Bosch L-Jetronic fuel injection system, married to Ford's EEC-IV engine management. Because of this difference over the 2.8 L model, this version was a more popular candidate for after market modification (typically turbocharging) from such well known companies as Janspeed and Turbo Technics.
North American 2.9 Reliability:
The North American version of this engine suffered from several serious reliability issues over its lifespan.
Cylinder head cracking was common in early models. Compared to the relatively stout European heads, the North American 2.9 had apparently been subject to a reduction of material around the valve stem guides and rocker shaft mounting pedestals. Some engines would suffer from this failure after overheating only once. Most common symptoms are clean spark plugs, white exhaust smoke when warm, low compression on one or more cylinders, and "snot" on the oil cap or dipstick. Sometimes the "Snot" can just be condensation, so make sure the Engine is warm before checking. The best course of action is to drain the oil, pull the heads, and have them magnafluxed to make sure you have a crack, if you do have a crack, DO NOT RUN THE TRUCK, coolant in the oil toasts crankshaft bearings, requiring a total rebuild. If the truck isn't run to long than you can probably get away with just heads.
The cylinder heads underwent a redesign for the 1989 model year, receiving additional material in problem areas, largely eliminating this specific failure. These head casts are commonly printed with the "89TM" designation. After-market heads are also available from World Products, with similar design improvements to the early OEM design.
Note the straighter valve cover mating surface on the improved heads. That is why old-style valve covers tend to leak on the newer heads. New valve covers have a turned-up flange, while the old-style valve covers have a turned-down flange. The important feature, as far as resistance to cracking is concerned, is that the improved heads are identified by the rectangular shaped rocker pedestals, while the old-style heads have oval pedestals.
Additionally, oiling problems were common, and added to the poor reputation of the North American 2.9. Many poorly maintained or high mileage engines exhibit serious valve train noise. This problem is due to a number of design faults. Valve train oil pressure was entirely dependent upon a supply fed through the two center cam bearings. Even slight bearing wear could cause complete loss of oil pressure to the hydraulic valve lifters, rocker shaft, and rockers. Excessive internal "bleeding" through the half-moon camshaft thrust plate also contributed to this, though this can be remedied by reinstalling the thrust plate in an upside-down position. This condition is sometimes mistaken for ticking fuel injectors. This condition isn't a cause for alarm unless it does it very loudly or after long freeway trips. If it does have the oil pressure checked, it could be low.
In the event that a cylinder head crack occurs, coolant can often enter the crankcase, contaminating the oil. This quickly led to cam bearing damage, triggering valve train oil pressure loss. As a result, these two design faults led to catastrophic engine failure in many North American 2.9s.
Valve covers have been known to leak. Other than making the engine look nasty and smell nasty, these pose no danger. Some claims have been made of the motor catching fire because so much oil leaked on the exhaust, but this is rare. Replace with Fel Pro "Rubber" or Fel Pro "Blue" and leaks should be taken care of.
Regardless of these problems, many of these engines are still on the road in the US, and when maintained properly, are highly reliable powerplants. Use of synthetic oil and proper cooling system maintenance is essential if owners of early-model 2.9s wish to avoid trouble.
Best course of action is to park the truck, drain the oil, pull the heads, and have them magnafluxed to make sure you have a crack. If you do, do not run the truck. Coolant in the oil destroys crankshaft bearings requiring a total rebuild. If the truck isn't run to long than you can probably get away with just new heads.
Fuel:
Install 19 lb injectors from a 5.0 V-8.
I found a parts store that sold K&N filters. I measured the outside diameter of my throttle body where the hose attached. It's 2 3/4-inches in diameter. I told the parts guy I wanted a cone shaped K&N filter that clamped on to a 2 3/4-inch flange. The filters that would work had a can shape. I knew that shape would interfere with the radiator hose so we found a filter that had an angled mount, K&N part number RU-1460. A K&N filter can also be mounted at the airbox end of the intake hose by inserting a small tube, and then clamping the hose, tube, and K&N filter together.
Short duration cams with wider lobe separations usually yield much flatter torque curves

Longer rod motors prefer a shorter duration cam with wider lobe separation

Longer duration cams require tighter lobe separation to have any power off the corner. (Not usually a preferable combination in 2 bbl classes)

Stock exhaust manifolds or a highly restricted exhaust usually respond well to shorter exhaust duration and wider lobe separation. Power increases are most evident at higher rpm where exhaust backpressure is greatest and reversion is most prevalent

Most unported heads approach 85 or 95 % of peak flow at .400 to .450 lift and do not need or want a maximum valve lift over .540 to.555. Often a low cam lift with 1.65 or 1.7 ratio rockers is very helpful on the intake side as long as lift is kept to about .550. Exhaust is less critical with 1.5 or 1.55 being the most popular

Dyno testing doesn't test drivability or throttle response of the engine

The important numbers on a dyno sheet are about a thousand RPM above and below peak torque and peak horsepower. Peak numbers are for bragging purposes and high peak numbers do not win races

The benefit of high ratio rockers is faster valve movement and the added lift is frequently detrimental in unported heads. It often helps to utilize a lower cam lift with high ratio rockers

Changing the valve lash is a good way to get an indication of which way to go for your next cam change. You won't hurt anything by going too tight but too loose will let the valves slam shut causing damage to valves and seats. .004 to .006 loose is usually OK

Look at the Intensity numbers to get an idea as to how radical the profile is. Lower numbers are more radical but anything less than 27 or 28 degrees major intensity may be very hard on the valve train. Our 26-degree SXTL profiles are a notable exception to this

Camshaft intensity is a measurement term coined by Harvey Crane to compare ramp characteristics of camshaft profiles.

Hydraulic Intensity is the difference between the .004 duration and the .050 duration

Minor intensity is the difference between the .010 duration and the .050 duration

Major intensity is the difference between the .020 duration and the .050 duration

Lower numbers indicate more aggressive profiles but too low can be too radical and lead to noisy valve train and even to broken parts ggggg