2.8 Liter Specifications

Engine Family

'Cologne'

Engine Displacement

171cid

Cylinders

6

Arrangement of Cylinders

'V' Shape

Bore x Stroke

3.66 x 2.70

Compression Ratio

8.7:1

Fuel System

Carburetor

Horsepower

115 @ 4600rpm

Torque

150 @ 2600rpm

Oil Pressure

40-60psi @ 2000rpm

Tune Up

Spark Plug

AWSF-42C

Spark Plug Gap

0.044

Ignition Timing

10 degrees BTDC

Firing Order

1-4-2-5-3-6

Distributor Rotation

Clockwise

Valve Clearance Intake

0.014

Valve Clearance Exhaust

0.016

Capacities

Oil Capacity With Filter

5qts

Cooling System Capacity (Quarts)

W/AC- 7.2 / W/O AC 7.8

Torque Specifications

Cylinder Head

70-85 ft-lbs [3-steps (29-40) (40-51) (70-85)]

Main Bearing Bolts

65-75 ft-lbs

Rod Bearing Bolts

19-24 ft-lbs

Crank Pulley Bolts

85-96 ft-lbs

Flywheel to Crankshaft Bolts

47-52 ft-lbs

Intake Manifold

15-18 ft-lbs [5-steps (hand start & snug) (3-6) (6-11) (11-15) (15-18) (Repeat 15-18 after warm up)]

Exhaust Manifold

20-30 ft-lbs

Valve Specifications

Seat Angle Degree

45

Face Angle Degree

44

Spring Test Pressure

143lbs @ 1.22in

Spring Installed Height

1.58-1.61in

Stem-to-Clearance Intake

0.0008-0.0025in

Stem-to-Clearance Exhaust

0.0018-0.0035in

Stem Diameter Intake

0.3159-0.3167in

Stem Diameter Exhaust

0.3149-0.3156in

Crankshaft Specifications

Main Bearing Journal Diameter

2.2433-2.2441in

Main Bearing Oil Clearance

0.0008-0.0015in

Shaft End-play

0.004-0.008in

Thrust on No.

3

Connecting Rod

Journal Diameter

2.1252-2.1260in

Oil Clearance

0.0006-0.0016in

Side Clearance

0.004-0.011in

Length

5.1386-5.1413in

Piston & Ring Specifications

Piston to Bore Clearance

0.0011-0.0019in

Ring Side Clearance Top Compression

0.0020-0.0033in

Ring Side Clearance Bottom Compression

0.0020-0.0033in

Ring Side Clearance Oil Control

Snug

Ring Gap Top Compression

0.015-0.023in

Ring Gap Bottom Compression

0.015-0.023in

Ring Gap Oil Control

0.015-0.023in

Motorcraft 2150A Carburetor Specifications

Choke Pulldown Setting

.136

Fast Idle Cam Setting 1984

V-notch

Fast Idle Cam Setting 1985

Hi-Cam

Dechoke Setting

.250

Float Setting (Wet)

.810

Float Setting (Dry)

7/16" (1984) 1/16" (1985)

Accelerator Pump Lever Location

#4

Choke Cap Setting

V-notch (1984) 3NR (1985)

Fast Idle

3000rpm
Firing Order 1-4-2-5-3-6 / Distributor Rotation - Clockwise
Performance Upgrades:
Induction - Offy 4bbl Intake:
The 2.8L V-6 comes with a 2-bbl carburetor and manifold with a traditional round metal air filter container. Offenhauser offers a 4bbl intake manifold. The ignition system must be changed to earlier vacuum advance unit (Dura-Spark II) eliminating the EEC-IV computer and pollution equipment. You can use the distributor, ignition module and coil from a 78 Pinto. The Offenhauser Intake does not have an EGR setup. This will not allow the A4LD tranny to shift correctly.
The Offenhauser intake can be found at:
Racer Walsh: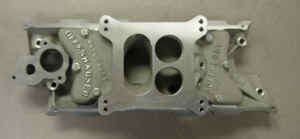 P/N RWA6110
The Racer Walsh 2.8L aluminum intake manifold is made to work with the RWA6239 4BBL carb. You will need to use the RWA6278 thermostat housing with the new manifold. The intake manifold and carb combo are made for street driving and lower rpm off road applications, such as trail riding and playing in the mud. The installation of the manifold and carb still provide good gas mileage and an easy horsepower improvement.
Click HERE to go to their Offy 4bbl intake page
This intake can also be found at: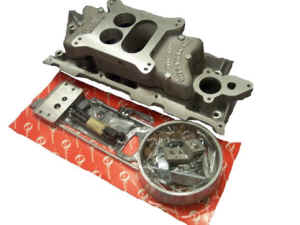 P/N offy-6097-DP
Recommend: Holley 0-6299 or 8007
Click HERE to go to their Offy 4bbl intake page.
The Racer Walsh stage 2 V-6 camshaft for the 2.6L/2.8L engines offer a significant power increase from the midrange to top end performance. The Racer Walsh Stage 2 camshaft is a street / competition grind. We recommend a slightly higher than stock stall on the converter if an automatic transmission is used. Please specify the year of your engine when ordering.
Pistons:
Racer Walsh carries 9-1 pistons for the 2.8L Ford HERE.
Ignition:
TFI Harnesses
Summit Racing carries Jacobs, Mallory, MSD and Summit TFI harnesses to install an their aftermarket ignitions to your TFI vehicle.
Crane P/N CRN-730-0391
Moroso P/N MOR-72360
MSD P/N MSD-8227
PerTronix P/N PNX-D3000
Pertronix P/N PNX-D3003
ProForm P/N PRO-66959C
Hypertech P/N HYP-4064
Here is a list of parts listed on their website. You may need search by the Part Number.

OFFY 4bbl / Holley 390 cfm - We recommend this manifold carb combination for street driving. A popular choice for the 2.8 Bronco/Ranger. It will perform well on a stock or modified engine. It is easy bolt-on horsepower that still gives good gas mileage. Bronco & Ranger require a special thermostat / waterneck housing # 6278.
Part Number
Description
6110
Offy 4bbl Manifold
6239
390cfm 4bbl Carb
6278
Thermostat Housing
2.8 V6 Cams - Stage 1 cam gives a smooth idle and low and mid range power boost without sacrificing economy. Stage 2 cam is a street/competition grind. Higher lift and increased overlap give a rougher idle. Good midrange power increase. Specify engine year when ordering: '72-'83 had smaller cam journal size than later years.
Part Number
Description
6411
Stage 1 Cam (260 DUR 425" LIFT)
6412
Stage 2 Cam (264 DUR 448" LIFT)
6477
Valve Spring Set
6449
Retainer Set Steel
6489
Pushrod Set (Stock Replacement)
6487
Lifter Set (Stock Replacement)
Engine Gasket, Oil Pump & Bearings - Complete gasket set for the 2.8 engine. Hi volume oil pump and Clevite bearings.
Part Number
Description
6592
Engine Gasket Set
1765C
HI Volume Oil Pump
6520
Rod Bearing Set V6
6528
Main Bearing Set V6
1570K
ARP Rod Bolts
Forged Pistons 2.8 - 9-1 forged piston set for the 2800 V6 engine. We stock .030" overbore. Priced per set of 6, includes wrist pins.
Part Number
Description
6498
Forged Pistons
6499
Pistons Rings
Metal Timing Gears - Metal timing gears are more durable than the stock fiber type timing gears.
Part Number
Description
6548
Timing Gears V6
Miscellaneous: