Welcome to the Fall 2009 edition of our online magazine.
Celebrating 10-Years As The Largest Online Resource For Ford Ranger, Bronco II & Mazda B-Series Enthusiasts
Thank you to those of you who have contributed articles to make this possible
Contributors:
Jim Oaks

MagnaV30

mountaineergreen

MudSlanger

Ranger44

RichD

Slim

Southern3.0

White001
What's New?

BlueOvalTrucks.com - Our new site under construction. What???
Technical Articles

2.3L Electric Thermostat - Your 2001 or newer 2.3L Ranger giving you a code p1432? Look here for more info.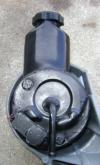 Saginaw Power Steering Pump - How to replace your stock steering pump with a Saginaw power steering pump.

Gear Indicator Adjust / Repair - This article is intended to educate you on how to diagnose, adjust and/or repair a malfunctioning gear indicator in the instrument cluster of you automatic transmission-equipped Ranger.

Generation II Ford Ranger Headlamp Repair - Fixing the leaking seal between the refractor lens and the reflector housing on a Generation II Ranger.
Light Polishing - Re-finishing your dull, scratched, swirled, and/or oxidized lighting.

Explorer 5.0 Swap - Mudslanger's Explorer 5.0L swap in to a 2000 Ford Ranger.

Cruise Control - Installing cruise control on a 1993 Ford Ranger.
Featured Vehicles

RichD's Cummins 4BT Ranger - A look at RichD's 1988 Ford Ranger with a 1999 Cummins 4BTA Turbo Diesel.