Ford Ranger Off-Road Lighting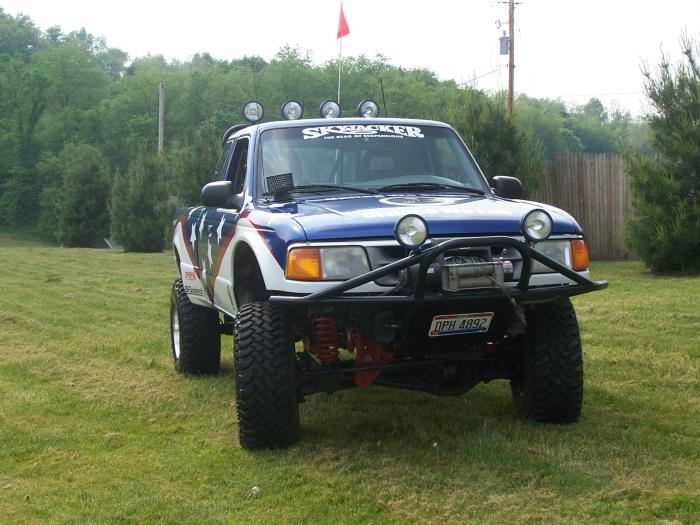 1996 Ford Ranger with (6) Pro Comp 9004 100-watt off-road lights
If you've ever wheeled at night, or been traveling on a dark 2-lane rural highway, you know how important good off-road lighting can be. I'm not talking about 55-watt driving lights. I'm talking about 100+ watt off-road lights and LED light bars. A good set of off-road lights will light up the trail and the surrounding area at night, and project farther down the road to see hazards long before you get to them.
Halogen Off-Road Light Patterns:
There are (3) different light patterns found in auxiliary lighting:
Fog
Driving
Spot / Long Range
This diagram should help visualize the difference between these lights as compared to your OE (original equipment) factory lights:

Halogen off-road lights are still the best bang for your buck. They're inexpensive, and if the light goes out, you can simply change the bulb. If you have a 100 watt light, you can generally upgrade those to 130 watt bulbs. I would NOT put 100 or 130 watt bulbs in a 55 watt light housing.
When it comes to halogen off-road lights, I believe in using either KC Hilites or Explorer Pro Comp. I use the Explorer Pro Comp lights if I plan to do all of my own wiring. If I want a complete package that includes the lights, harness, relay, and switch, I choose KC Hilites.
KC Hilites:
KC Hilites has been the leader in off-road lighting since 1970, and offers a 23-Year Warranty on their lights. One of the nice features about KC is that they sell their lights as complete kits that include quality wiring harnesses, switches, and relays. If you've ever spent time properly wiring up off-road lights, you know how much money it costs to buy all the wire, connectors, switches, and relays to do a proper installation. You also know how time consuming it can be putting it all together.
The tried and true workhorse of KC lights is the 6-inch round Daylighter. These lights come in a spot or flood (spread) pattern.
KC HiLiTES 238 Daylighter Black 100w Spot Beam Light System:
KC HiLiTES 631 Daylighter Black 130w Spot Beam Light System:
KC HiLiTES 634 Daylighter Black 130w Driving Light System:
If you want a light that's not as deep as the Daylighter, you can choose KC's Slimlite:
KC HiLiTES 121 SlimLite Black 130w Spot Beam Light System:
KC HiLiTES 124 SlimLite Black 100w Driving Light System:
KC HiLiTES 127 SlimLite Black 100w Fog Light System:
KC Hilites also offers HID and LED lights, but I have yet to be sold on the cost of these lights. However, If I was desert racing in the middle of the night, I would definitely look in to KC's HID and LED lighting options.
Explorer Pro Comp:
Explorer Pro Comp has been my go to light for several years now. Their lights have held up to the elements and don't fog up. I especially like the shock absorbing rubber gaskets around the lens, and double rubber anti-vibration mounts. The only issue I've ever had with their lights is that the black paint fades. I generally give them a coat of gloss black paint before I mount them. Other than that, the bulbs have lasted for a long time, and haven't needed any attention.
Explorer Pro Comp 9004 Black Plastic 6-inch Spot Light:
I don't know why you can't get a 6-inch black housing with a 130 watt bulb, but you can get one with a stainless finish. I generally get a 130 watt bulb and upgrade my 100 watt light.
Pro Comp 9768 130 Watt Bulb:
Explorer Pro Comp 9160 Stainless 130-Watt 6″ Light:
LED Light Bars:
I have yet to spend big money for a LED light bar. I have used LED bars from Nilight and Eyourlife and found them to be extremely bright and effective. Just like the halogen lights, you can purchase LED lights in a spot or flood pattern. If I was putting lights on the back of my truck, I would choose a flood pattern. If I was purchasing a light bar to go on the front of my truck, I would use a flood / spot combination.
When you start looking at LED lights, you'll see that in addition to listing how many watts the lights are, they usually indicate the degree of the LED beam. For example, you'll commonly find a light bar listed as a 30 degree spot, and 60 degree flood combo. The diagram below will give you a better idea of what that means:

You can see that the 30 degree beam would extend between the 20 degree and 40 degree range in the patterns shown above. If you really wanted a long range off road light, you would want something with a 10-20 degree spot.
A nice thing about LED light bars is how much area gets flooded with light. The picture below shows what the road looks like with factory high beams, and then what the road looks like with a LED light bar: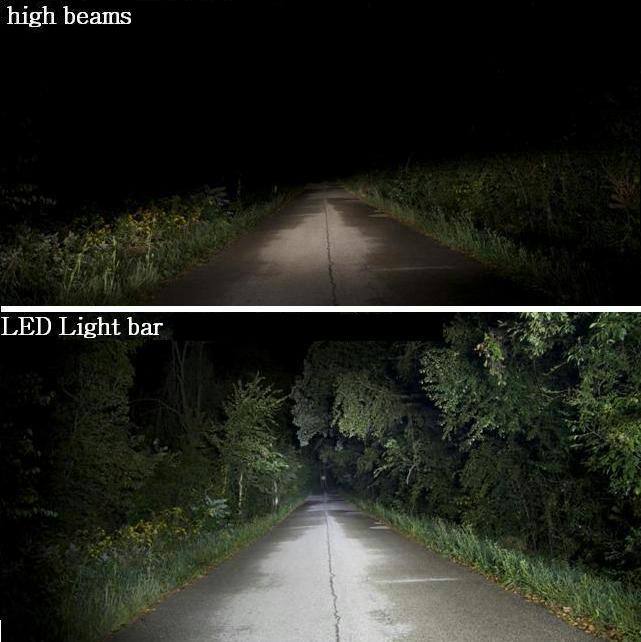 You can see how the light not only floods out to the side, but up high in to the trees as well. LED light is very white compared to the yellow tint that halogen lighting has, and can turn an area in to daytime.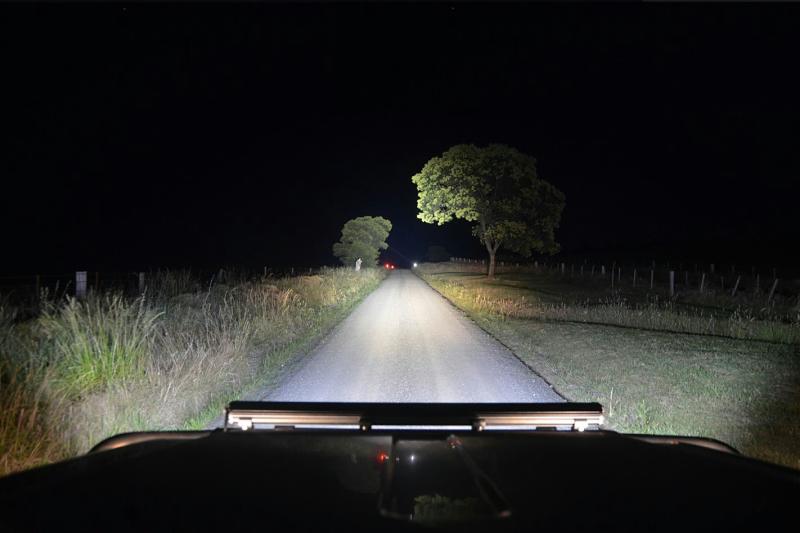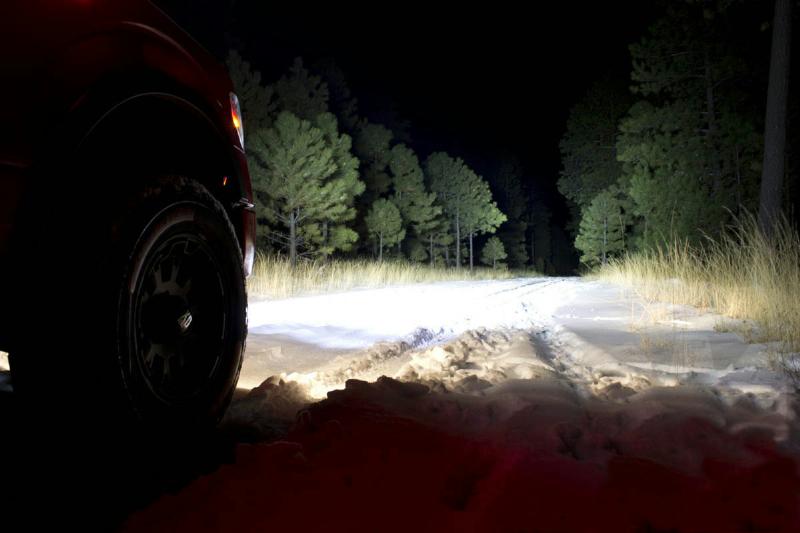 If you decide on getting a LED light bar, buy the widest bar that will fit the area. For example, I use a Nilight 25-inch 162W Led Light Bar Flood Spot Combo on the bull bar of my Ford Expedition (This is an Aries B35-3007-3 Stealth Bull Bar, but I removed the skid plate to allow air to flow in to my intercooler)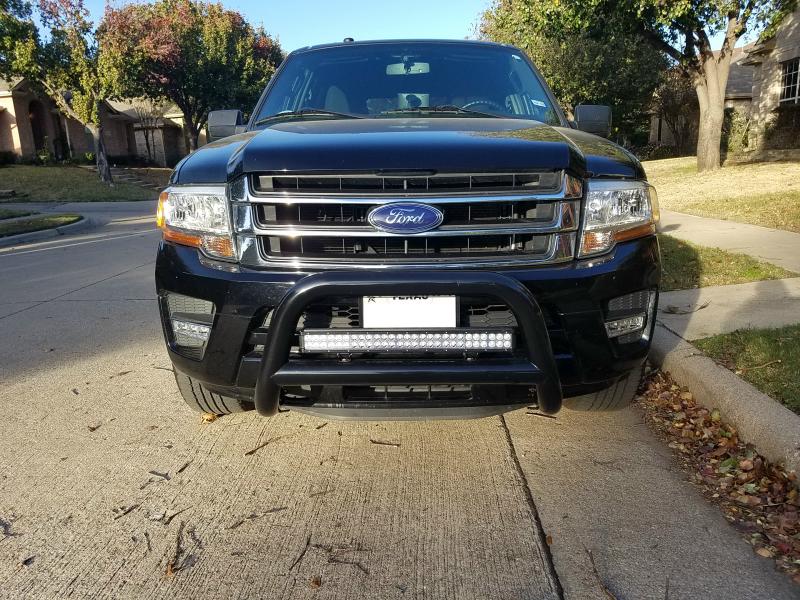 My Super Duty used a combination of a
Eyourlife 30-Inch 180 Watt Led Light Bar
along with (2)
Pro Comp 9004 halogen off-road lights
that were upgraded with
Pro Comp 9768 130 watt bulbs
. Why the combination? Because the light bar had a 30 degree spot, and 60 degree flood combination. If you go back to the LED light pattern diagram above, you'll see how far the 30 degree spot reaches. I wanted a long range light that could reach the 10 degree range, and accomplished it with the LED / halogen combination. This combination not only illuminated well off to the sides of the road, but extended a long way down the highway. I could see deer or anything else near the road long before I got to it.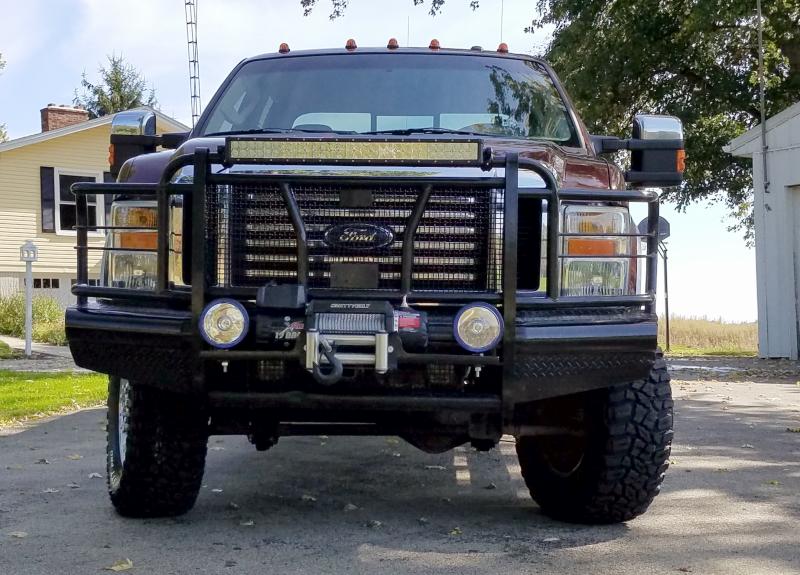 Warning About Roof Mounted Lighting:
You see a lot of people that mount their LED light bars above their windshield. The LED light will reflect off of the snow and heavy rain that's in front of your windshield. It can be so bad, that you won't be able to see with the lights on.
Also, getting the light bar in to the air stream can cause it to whistle, or make a high pitch sound like metal on metal.
Keep this in mind when mounting your lights.