Forum Staff Member
Forum Moderator
Supporting Member
TRS Event Participant
Joined

Sep 17, 2018
Messages

11,414
Reaction score

9,463
Points

113
Location
Vehicle Year

2006/1986
Make / Model

Ranger/BroncoII
Engine Size

4.0L SOHC/2.9L
2WD / 4WD

4WD
My credo

Lead, Follow or get out of my way
Last week I road tripped my truck up to deer camp. Put just about a thousand miles on it. On the way there... I got 16.2 mpg (I sat in stop and go traffic for over an hour) but on the smooth sail home it was 17 mpg. The tank of fuel I burned while two-trackin in 4wd with 8-10 inches of snow... driving into town etc... and lots of idle time... 12.2 mpg.
I'm probably going to take my tire carrier off for the winter... I have to haul a couple sheets of drywall and lumber for a couple projects. I did loosen the bumper brackets and straighten it up so it sat uprite before I left. I think the factory bumper brackets are bending. But i might not be giving the bolts enough rat a tat tats. I have a set of AOR HD brackets just haven't put them on. It will happen this spring. You can see everything leaning back again after the drive there.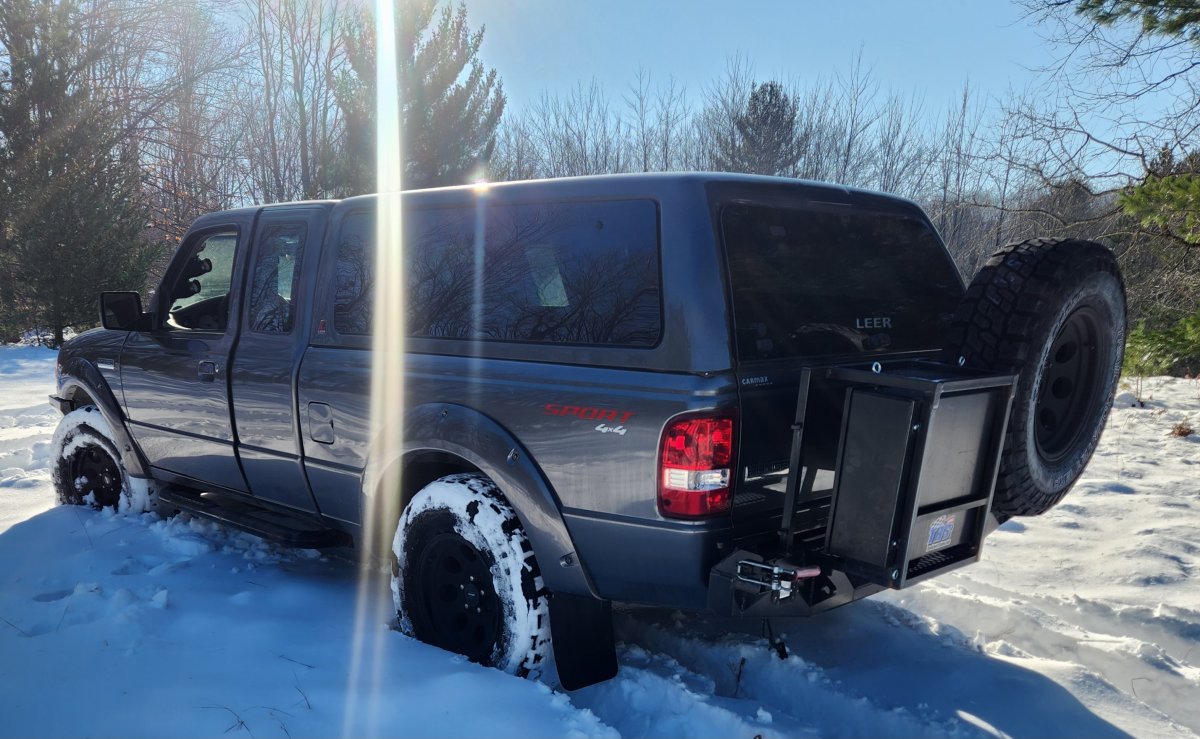 My bother-in-law bought a used Taco TRD (he calls it the TuRD)... but he loves it. I couldn't get in or out of it without bumping my head and the cab for me was just uncomfortable. Something is just off with the Toyota's cab. It is his first "shift on the fly" 4WD and when he would come out of 4WD there was an associated bang/crunch going on. I noticed he was coming completely of the throttle then selecting 2WD. Then when the 4WD indicator turned off... he would add throttle and get the bang/crunch. I got him to use light throttle and drive through the transition... smooth as silk. We got him in and out 4L a couple times and I made sure he was a two wheelie peelie and his diff functioned. He cruised it all over on half worn street tread. Maybe all of those engines are a bit clattery... I know my 4.0L is way quieter.
All the snow had melted by Saturday.
While out in his truck we did catch this guy checking us out... Big Barred Owl. At first sight... I thought why in the world is there a monkey in that tree. From the cabin... we could hear him at night... perhaps looking for love? Pretty cool experience.