Joined

May 15, 2020
Messages

809
Reaction score

596
Points

93
Age

65
Location
Vehicle Year

1987
Make / Model

Ranger XLT
Engine Type

2.9 V6
Engine Size

2.9v6
Transmission

Manual
2WD / 4WD

4WD
Total Lift

3"
Total Drop

N/A
Tire Size

235/75-15 wranglers
My credo

Never put off 'til tomorrow what you can put off indefinitely
Ok, I sanded the 87 4wd after 2 coats, for the last time I hope, and I taped off the split to paint the black.
I tried to eyeball the tape. Yeah, between my failing eyesight and shaky hands, it wasn't pretty! So I made this cheater. On one side I can run it on the inside of the wheel well with a sharpie through the hole, and then I sanded out an angle on the other side to fit in the notch that runs along the bottom of the truck to stitch the low line. Sweet success!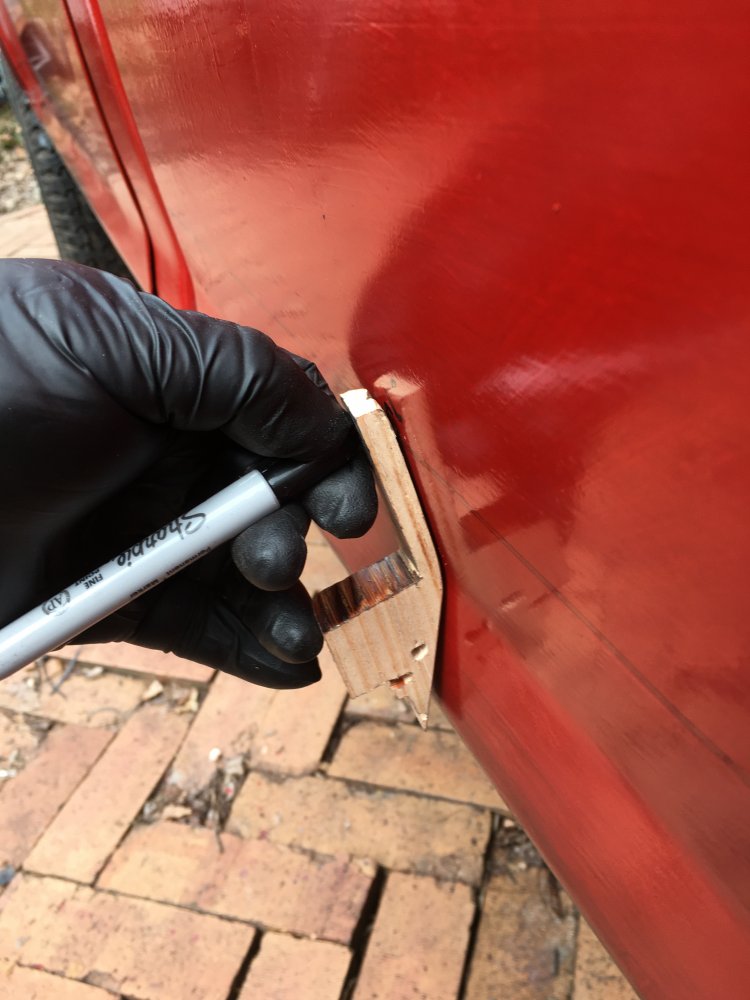 After that, running the tape was easier. I used PVC electrical tape for the wheel wells, and some decent cheap chinese auto tape for the long runs,
Considering the level of sophistication on this paint job, I didn't want to just use a tack rag. Instead I used this dustpan broom that has real horse hair, that I made out of a broken pushbroom about 45 years ago. I had to replace the handle once, which is why it has that modern zip tie. My brother still has the one I made from the other half of the broom.
On the red vs black on the cab, the votes were for the red, but I forgot to mention that the redhead has 51% of the votes, so the vertical surfaces went black, and I'm doing something custom on the roof before I put the running lights and beacon on it.
I got all the black on it, and I touched up the red a little bit. It was too dark to take a picture. I won't pull the tape off 'til I'm sure there are no bare spots, probably tomorrow afternoon. I've been working on the lights and wiring a little bit too. That's for the next chapter.
EDIT: yes, I still have the broom handle too. And, I'm sorry about the vote, but you should see the Redhead's "
LIKE," whew!
Last edited: