Just some guy with a website
Administrator
Founder / Site Owner
Supporting Vendor
Article Contributor
TRS Technical Advisor
TRS Banner 2010-2011
TRS Banner 2012-2015
TRS 20th Anniversary
TRS Event Participant
GMRS Radio License
Joined

Aug 2, 2000
Messages

12,407
Reaction score

5,999
Points

113
Location
Vehicle Year

1996 / 2021
Make / Model

Ford Ranger
Engine Type

4.0 V6
Engine Size

4.0 / 2.3 Ecoboost
Transmission

Automatic
2WD / 4WD

4WD
Total Lift

6-inches
Tire Size

33x12.50x15
The Ranger Station forum is now working on new software in order to be 'mobile friendly'. It's not that hard to figure out how to use, but here's some tips to help you out:
Your Member Profile:
Up in the top right of the forum you will see your user name. If you click on your user name, a small window will open:
You'll see where it says '
Account Details
' and '
Signature
'. You can click these to edit.
Account Details -
Will allow you to change your email address and avatar. There is also a variety of things for you to check off or fill in to complete your profile. These will affect the information that is shown under your name when you post, as well as the banners you see displayed.
Only check the boxes that apply to you right now. I use to be in law enforcement and had a Ranger with a V8, but neither apply now so I no longer display those banners.
Some of these banners include:
Solid Axle Swap
Ford Technician
EMT / Paramedic
Firefighter
Law Enforcement
Military (Active or Veteran)
Solid Axle Swap
V8 Engine Swap
Below is the complete list of banners that you may find under someone's name. Some can be chosen by the user. Some are earned, and some are awarded:

At the very least, I would recommend that you list your City & State next to 'Location', so we all know where each other is.
Signature -
The test that is displayed under your messages.
The Tailgate
and
The Sanctuary
Forums:
In order to view these forums, you have to go in to your 'Account Details' and check the box for each of these forums if you want to view them.
Account Upgrades: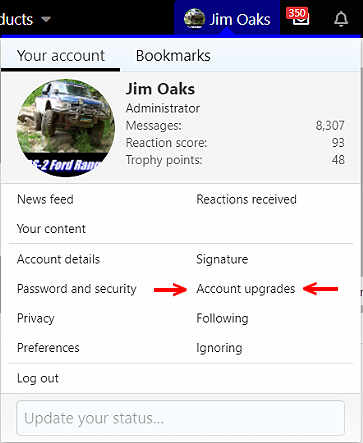 The 'Account Upgrades' link is where you can upgrade your user account to a 'Supporting Member', 'Supporting Seller', 'Supporting Vendor', or make a donation to receive the 'TRS 20th Anniversary Banner'.
You can also go directly to it here:
Posting Threads:
Posting a new topic (thread) is easy. You can either click on the 'Post Thread' button:

Or by typing a discussion title in the 'Thread Title' box right above the most recent forum post:
Adding Photos / Videos:
If you want to add a photo or video to your post, click the image icon above your message (see below). It will allow you to either upload a photo, or enter the link to your photo. It will not allow you to upload a photo larger than 2,048 KB (2.04 MB).
The drop down (2) spaces to the right of that will allow you to enter a link to display media from places such as YouTube.
TRS Forum Colors
You can change the color scheme of the forum by going to the bottom left of the forum and clicking on 'TRS Style'. It will show the current color style.
When you click on it a window will pop up and show you the color options:
Just click on the color option of your choice.
Last edited: