Just some guy with a website
Administrator
Founder / Site Owner
Supporting Vendor
Article Contributor
TRS Technical Advisor
TRS Banner 2010-2011
TRS Banner 2012-2015
TRS 20th Anniversary
TRS Event Participant
GMRS Radio License
Joined

Aug 2, 2000
Messages

12,555
Reaction score

6,337
Points

113
Location
Vehicle Year

1996 / 2021
Make / Model

Ford Ranger
Engine Type

4.0 V6
Engine Size

4.0 / 2.3 Ecoboost
Transmission

Automatic
2WD / 4WD

4WD
Total Lift

6-inches
Tire Size

33x12.50x15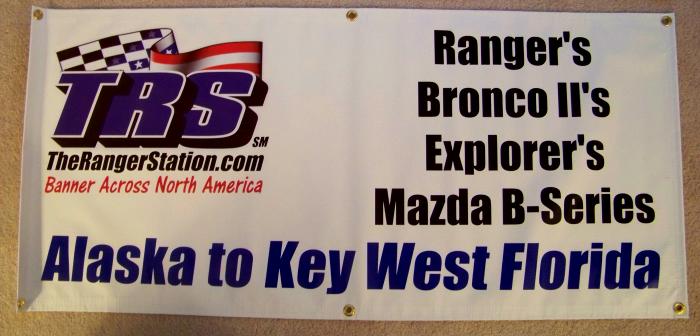 (The official TRS Banner Across North America 2012 Thread)​
After seeing that there were Canadian members who didn't get to participate in the last TRS banner event, and getting feedback from members that they would be willing to tackle another challenge, the idea of going from the furthest northern U.S. point (Alaska), to the furthest southern U.S. point (Key West, Florida) was born.
As difficult as the last adventure was, this one is going to be much harder. Alaska doesn't have the greatest highway system. Barrow Alaska would be the furthest point north, but the road there isn't easy. Just getting the banner out of Alaska and through Canada will be a big task in itself.
On 04/16/2012, I mailed the banner out to forum member crbnunit in Achorage Alaska. the reason I chose Alaska first was because I knew they would get it in the spring, and it would have spring and early-mid summer to get through Alaska and Canada. As the year passes, it will be moving towards a warmer climate and hopefully keep moving. If it starts in Florida, it will likely get stuck/stranded in Canada trying to get to Alaska due to winter.
The path that the banner takes is up to the members. It has to move in a direction that won't allow it to get stuck due to a lack of member participation.
The banner was mailed out with a letter detailing the challenge and a permanent marker. Members are asked to sign the banner with their name, location and date. They are also encouraged to take photos of the banner and the exchange from member to member, and post it in this thread.
In a 14-month period, the first banner went from the Atlantic Ocean, to the Gulf of Mexico, and ended at the Pacific Ocean. Do you think we can complete a harder challenge in a shorter period of time? Time will tell.
Special thanks to crbnunit for offerng to get this challenge started!
Last edited: