Just some guy with a website
Administrator
Founder / Site Owner
Supporting Vendor
Article Contributor
TRS Technical Advisor
TRS Banner 2010-2011
TRS Banner 2012-2015
TRS 20th Anniversary
TRS Event Participant
GMRS Radio License
Joined

Aug 2, 2000
Messages

12,315
Reaction score

5,753
Points

113
Location
Vehicle Year

1996 / 2021
Make / Model

Ford Ranger
Engine Type

4.0 V6
Engine Size

4.0 / 2.3 Ecoboost
Transmission

Automatic
2WD / 4WD

4WD
Total Lift

6-inches
Tire Size

33x12.50x15
Day #17 - Saturday June 18th, 2019 (Continued) - Route 66:
Not really sure which way to go next, I decided that I would follow the old Route 66 back to Texas. I had plans to visit other places on my way back, but I had become concerned about how much money I had spent on gas, as well as a few nights I ended up spending in a hotel.
I headed from Mojave to Barstow, and picked up the 'National Trails Highway' which is the old Route 66. Today, Route 66 has been replaces from here to Texas by Interstate 40.
Route 66 actually dates back to 1926. The beginning of the decline came in 1956 with the signing of the Interstate Highway Act by President Dwight D. Eisenhower. As years followed, sections of Route 66 found themselves decommissioned as they were replaced by sections of interstate. In 1984, Arizona saw its final stretch of highway decommissioned with the completion of Interstate 40 just north of Williams, Arizona. Finally, with decertification of the highway by the American Association of State Highway and Transportation Officials the following year, US 66 (Route 66) officially ceased to exist after 1985.
Today, so sections of the road are completely gone. Buried under dirt and brush in remote areas. Other sections have become state or county roads.
It would not be possible for me to drive the entire length of Route 66 back to Texas, but there's a lot of it there if you know where to look.
The good thing is that some areas and businesses have really embraced the history of Route 66, and are trying to preserve it's history.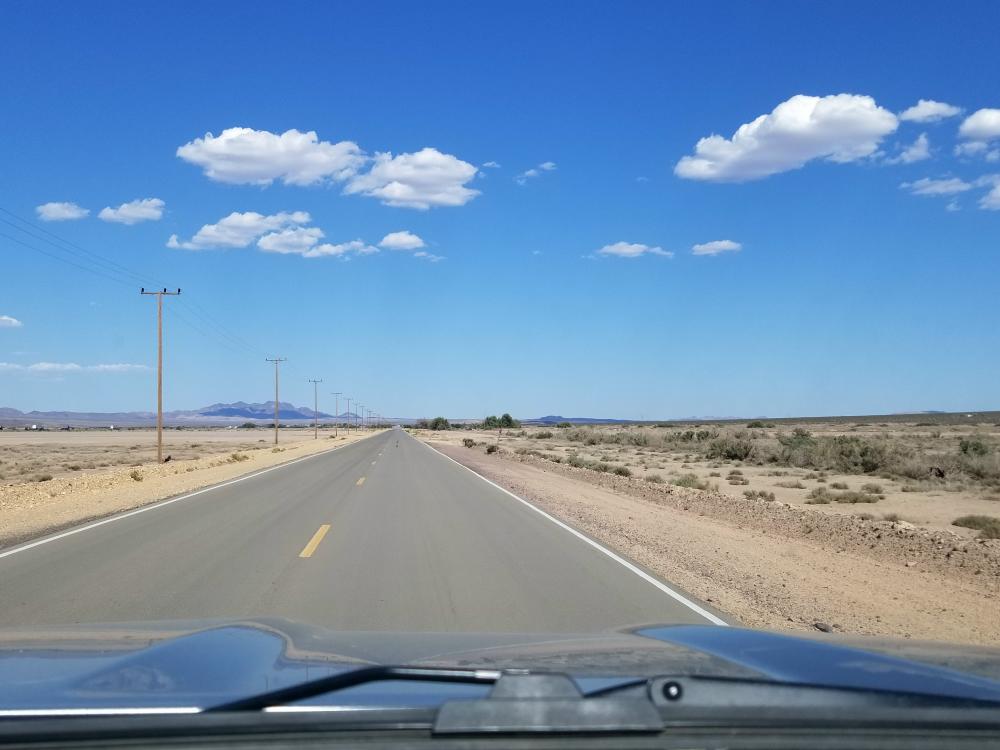 ​
Leaving Bartow, Route 66 runs right through Marine Corps Logistics Base Barstow. This base rebuilds and repairs ground-combat and combat-support equipment. Oddly enough, the base was built over Route 66 in the 40's. Needless to say, I had to bypass around it.
​
From California to Tucumcari New Mexico, Route 66 follows closely to the Sante Fe Railroad (Now BNSF) (BNSF was created Sept. 22, 1995, from the merger of Burlington Northern, Inc. (parent company of Burlington Northern Railroad) and Santa Fe Pacific Corporation).
​
The train was hauling military vehicles, and I wondered if they were on their way to the Marine Corp base in Barstow.
​
A lot of areas embrace the historical significance of Route 66, and you can find the roads marked with these historical signs. Some even have the Route 66 sign painted right on the road, like shown in the first photo above.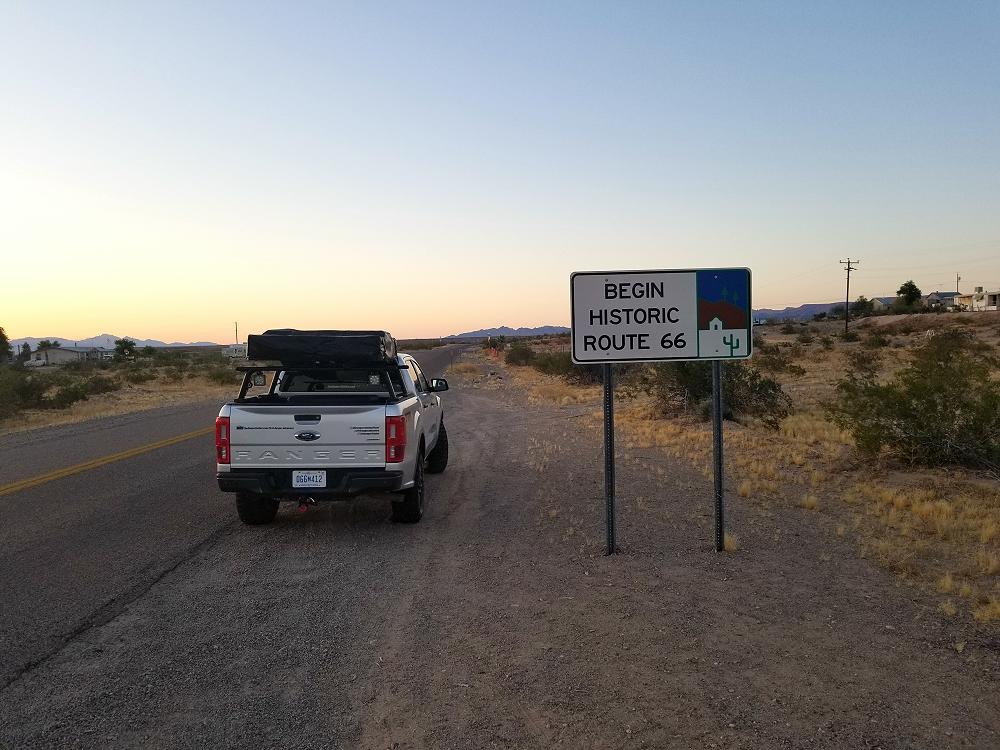 The day ended with me getting a burger from Denny's, and sleeping in the parking lot of the Loves Travel Stop in Kingman, Arizona.
Last edited: