1997 XLT 4.0L 4x4 1999 Mazda B3000 2wd
Supporting Member
Joined

Aug 31, 2021
Messages

1,546
Reaction score

740
Points

113
Location
Vehicle Year

1997 and 1999
Make / Model

XLT 4x4 & B3000
Engine Type

4.0 V6
Engine Size

4.0L in XLT, 3.0L in B3000
Transmission

Automatic
2WD / 4WD

4WD
Tire Size

235/75R15 but changing to oem 265/75R15 or more likely 31x10.5
My credo

There are two trucks. Both are sorted. Probably selling the '99.
Eric, I'm having a hard time deciphering what the assembly is between the tire and the gate. Is this the jack in there or something?
I like the idea of having a swing-out tire carrier on the back the only thing there is how does it hinge to the bumper.
I'm tending towards a more snow friendly tire vs more mud friendly. Not a snow tire strictly, because the days I'd drive on snow, judging from being here 25 years, I could count on the fingers of one or two hands. If that.
And mud, I could run into it, but it would be iffy, and it seems to me a good a/t tire is going to do -something- in mud if it's not bad, plus there is always the choice to not go there.
The noise is a factor, even though I understand some mudders aren't that bad.
That said, the best way I can put it is to say when we do have snow, I want tires that will work for me. But I'm not going to run snow tires all winter and have 2 sets just for the occasional need.
Found another symmteric tire btw but not available now at least where I was looking.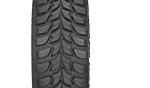 Cooper Evolution MT looks like more of a mud tire.... comments welcome.
How about Goodyear Wrangler? Seems like a good a/t tire and would be pretty good on snow? They get high marks for quiet and might be good all-around for street/off road?