Well-Known Member
RBV's on Boost
GMRS Radio License
Joined

Aug 6, 2007
Messages

2,084
Reaction score

268
Points

83
Age

36
Location
Vehicle Year

many
Make / Model

Ford
Engine Size

4.0
Transmission

Manual
2WD / 4WD

4WD
Total Lift

7
Tire Size

33x12.50R15
I've never actually done a write up ever, and never intended to do it with this project but it seems like there is some interest so I'll bring you along for a probably not so brief account of how I made everything work. About 3 years ago I decided that I wanted to install a supercharger on my truck, I did some research and decided on 3 options readily available in my area in junkyards. The Nissan M62, and the GM M62 and M90. A Supercoupe M90 would have been ideal but they are impossible to find near me so that was out. The Nissan unit has an intake that points in the opposite direction than I needed it to go, it suffers from poor aftermarket support as far as pulley options go too, so that was out. The GM M90 is quite common around here but they're too long, yes I could have cut it down but I wanted to be able to buy replacement parts without needing to modify them excessively. This leaves the GM M62, I found one on a 1995 Buick Riviera with under 100k miles and it had signs of being rebuilt at one point too, so it seemed like a good candidate.
Here is the supercharger the day I pulled it off the car, over two years ago.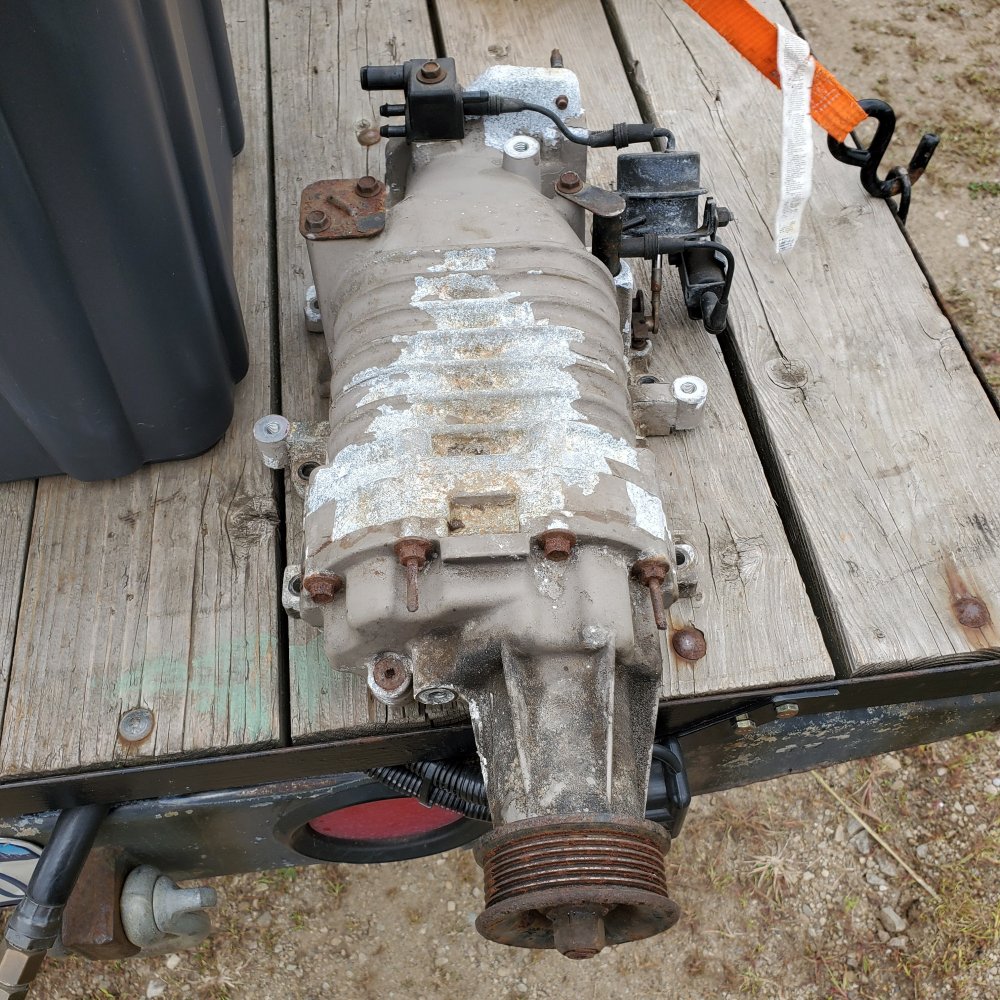 Now I had some other things that I needed to figure out, like how I was going to attach it, what I was going to use for a throttle body and how I was going to plumb it all together. I'm on good terms with the people who own this particular junkyard and they allowed me to borrow a blown up engine for mock up which made this process much easier to accomplish.
Here's a very early mock up of the supercharger where it's roughly going to sit.
I don't have too many good pics of the process we used to make the main intake adapter but I'll do my best to explain it. where the upper intake mounts to the lower, it is square to the accessory drive so it helped in making the mount/adapter a bit easier. We cut out a supercharger mounting plate and intake plate from 3/8 steel, drilled and tapped holes in the plate to bolt the supercharger to, squared the two plates horizontally and vertically to the accessory drive then used a couple pieces of round bar to lock in that orientation then boxed it in with 1/8 plate. The finish welding on everything was done with TIG and the plates were welded to a table to minimize warpage. Once the intake was all welded, a threaded bung was added for the intake air temp sensor in roughly the factory location on the driver side. Even with being careful to try to prevent warpage, the top plate still warped quite significantly on the driver side, so we stuck it in the press and bent it back most of the way then sent the adapter off to the machine shop to be milled flat.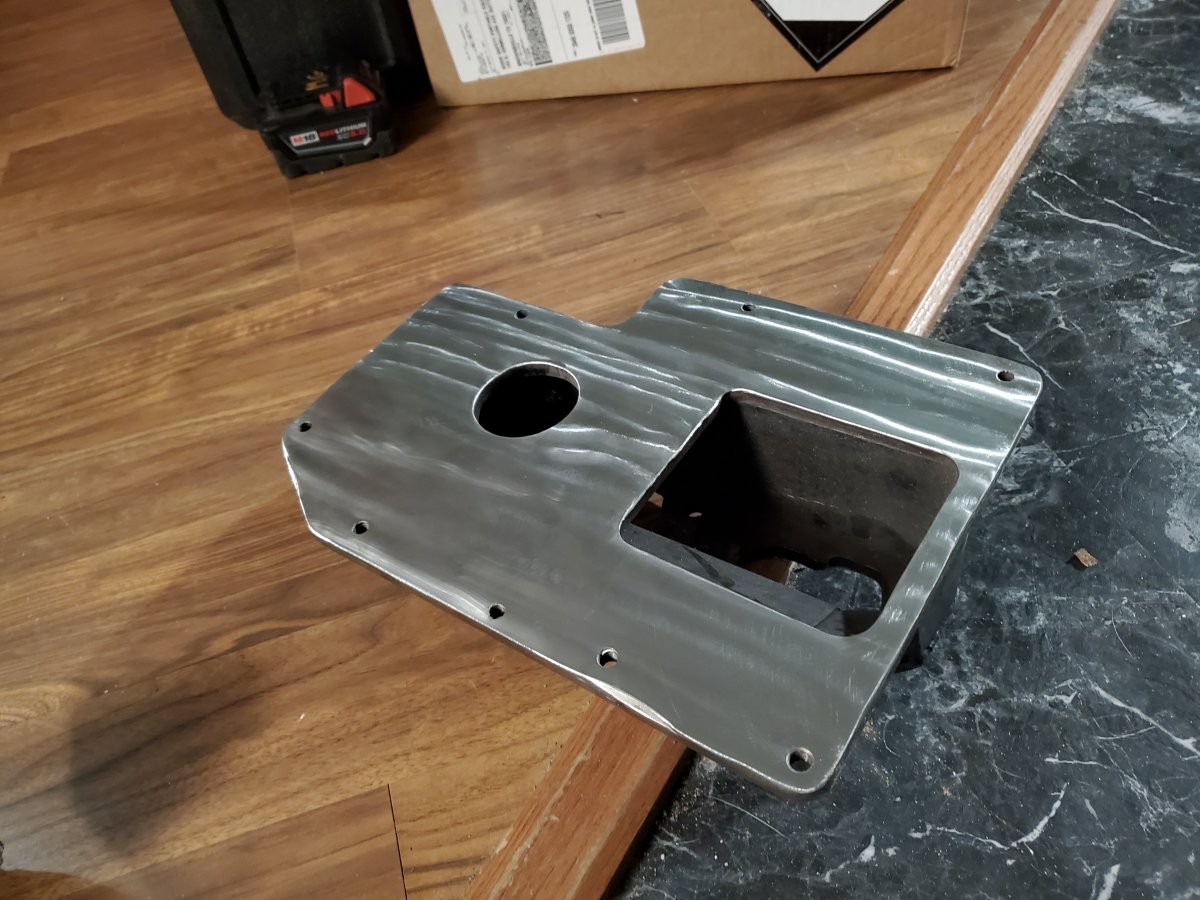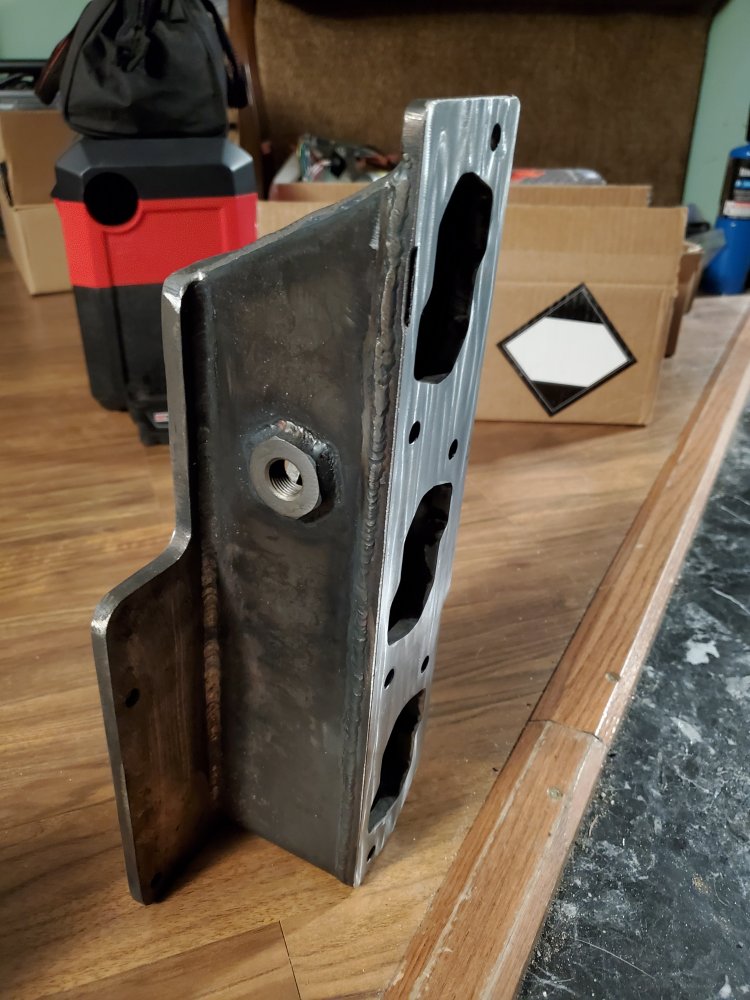 Now, the fun part, figuring out how I was going to put a throttle body on this thing. This m62 is off of a front wheel drive car, so I didn't have enough room to bolt a throttle body directly to the back of it. I thought I would have enough room to make a flange and attach a piece of 3 inch mandrel bend to the back of it, then attach a flange for a throttle body but I only had about 2 inches to spare so that wasn't going to happen. After some staring and thinking we decided that we could cut a plate that bolted to the back of the supercharger and also bolted to the throttle body.
Speaking of throttle body, I could have used the 4.0 OHV unit but since the IAC is mounted in a different spot that would have added some more complexity that I didn't really feel like dealing with if I didn't need to. Back to the junkyard I went and I grabbed a throttle body off of a half disassembled 2001 5.0 explorer, along with the throttle cable and bracket. This throttle body allows the IAC to bolt directly to it but opened another minor can of worms in that the throttle position sensor isn't compatible with EEC-IV. The 4.0 TPS will attach to it but it rotates the opposite direction so that wasn't going to work. I looked at a bunch of pics of different configurations and a TPS off of an 88 2.9 seemed to rotate the direction I needed and has the added benefit of using the exact same connector as the 4.0. I cleaned the throttle body, installed the TPS and plugged it in place of the one on my engine, I looked at the live data between the two (I've got a later "smart" EEC) and set the TPS baseline voltage to the same as the factory unit, so that was handled.
The PCV valve connection and the vacuum tree proved to be easy. A barb fitting was attached to the side of the throttle body adapter for the PCV valve connection. The supercharger has a port that was originally used for an EGR valve, it's the right size to be tapped 3/8 NPT and the factory vacuum tree was swapped over.
Here's a couple pics of some more mock up where you can see what I just explained.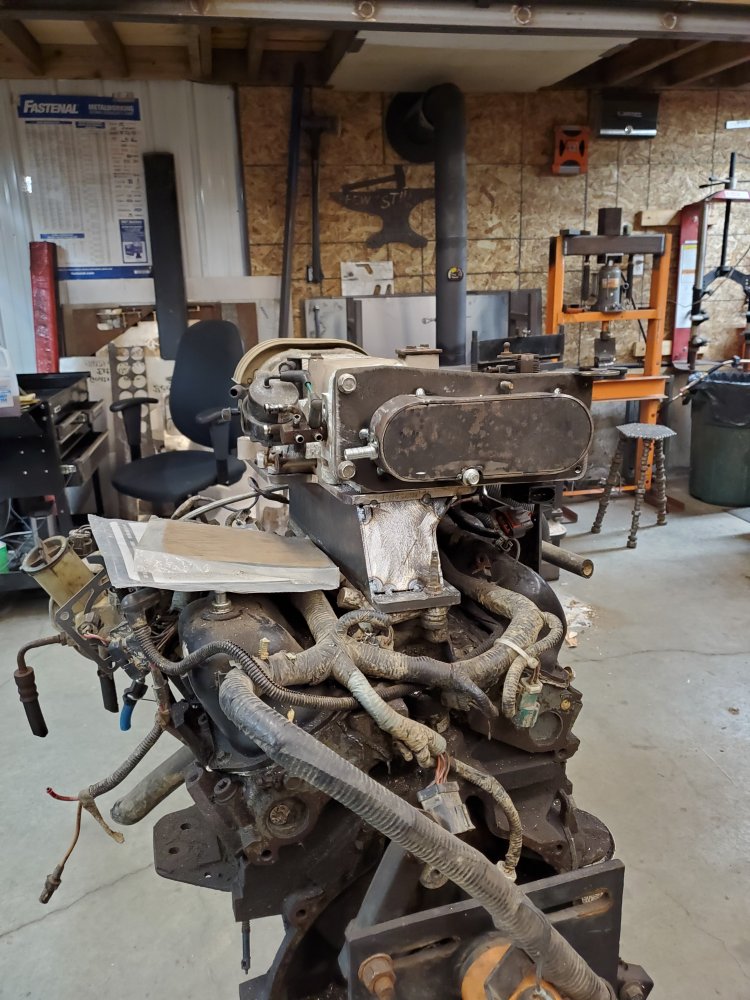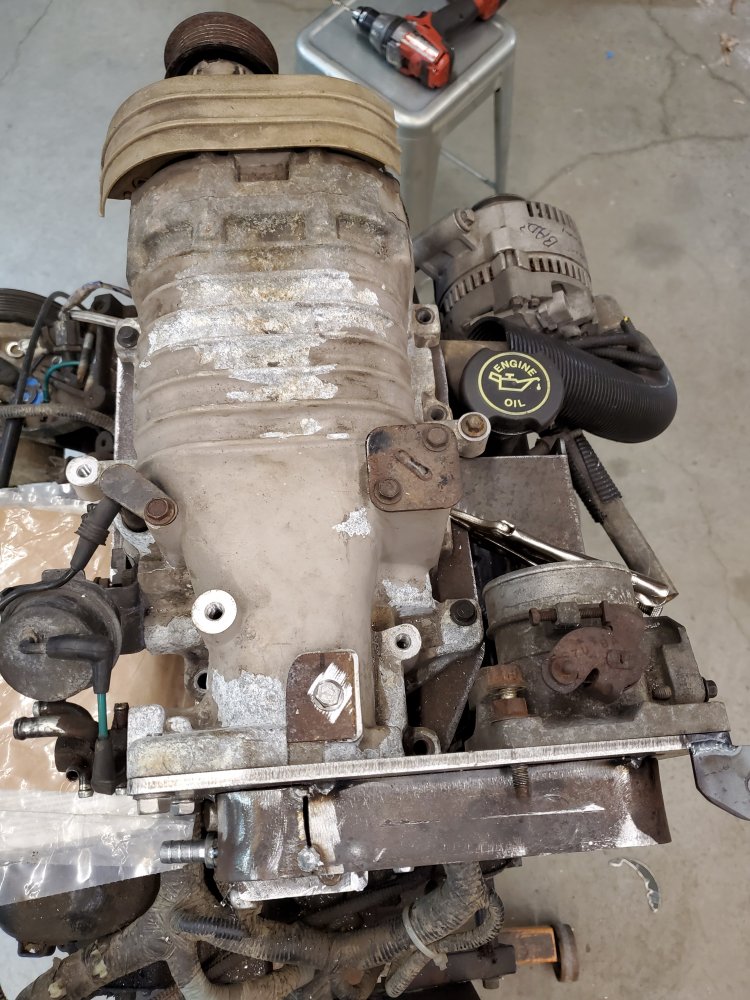 The coil pack was kept in roughly the same position, just rotated 90 degrees and a bracket was made for it, no wiring modification needed to be done to move it. I did use the later style radio noise capacitor that bolts under one of the coil pack bolts instead of the earlier one that uses a separate screw, it uses the same connector, just one less hole to drill and tap. The 5.0 Throttle body was also rotated 90 degrees, the throttle cable bracket had one mounting ear trimmed off and the whole setup was attached to the intake adapter with the factory Explorer hardware. It should be noted that this throttle cable bracket hits the hood, just barely, with a 1 inch body lift, we added a 2 inch cowl to the factory hood to account for this (I hate it, I want to do something different, in time I suppose).
Now that most of the main parts have been completed, I duct taped up all the important parts and tossed them all in the blast cabinet, carefully cleaned the sand out as best I could, then painted them all Ford gray. Some of the pics may show how the parts were made a bit better.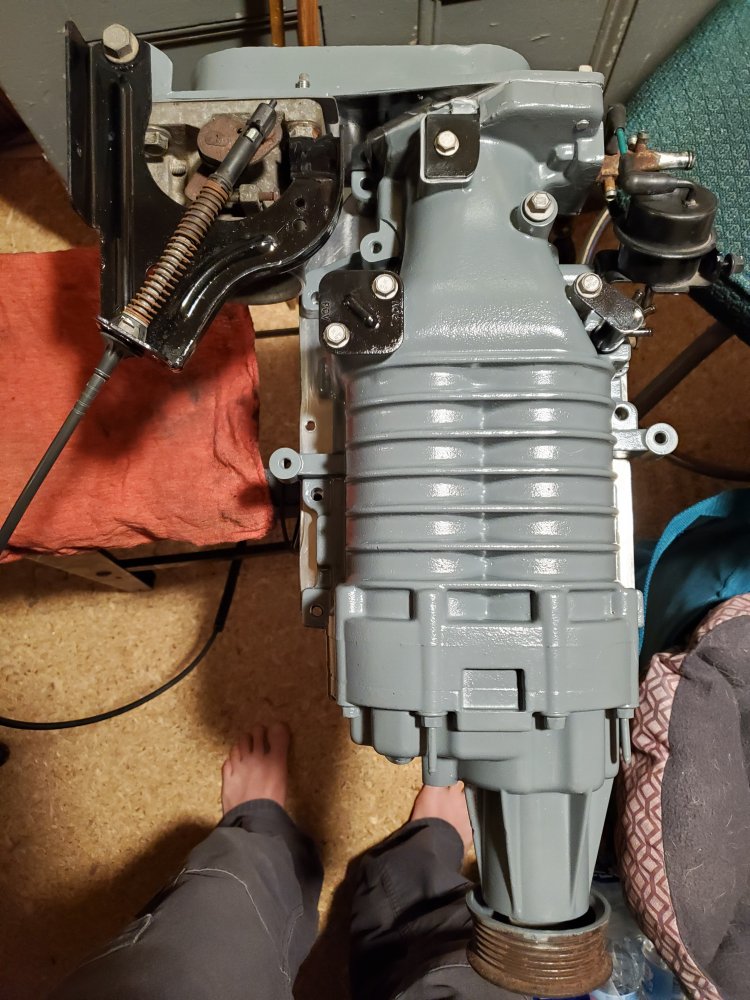 Now it's time to install it into my truck and finish up the rest of the parts to complete the installation. I had previously installed a York compressor for on board air so that made belt routing a bit different than it would be in a stock application. I opted to add an additional idler pulley in order to have a good amount of belt wrap on both the supercharger and alternator pulleys, rather than re routing like I have seen some kits do. We first figured out roughly what length of belt would work and sourced a length close to that, it ended up being a 117.7 inch belt meant for a 2013 ish Duramax powered Chevy Express van. We then made an idler pulley mount to work with that belt length, with a little bit of room to move the pulley around should I decide to swap to a smaller supercharger pulley (I did end up swapping to a smaller one)
Here you can see roughly where the pulley mount is going to go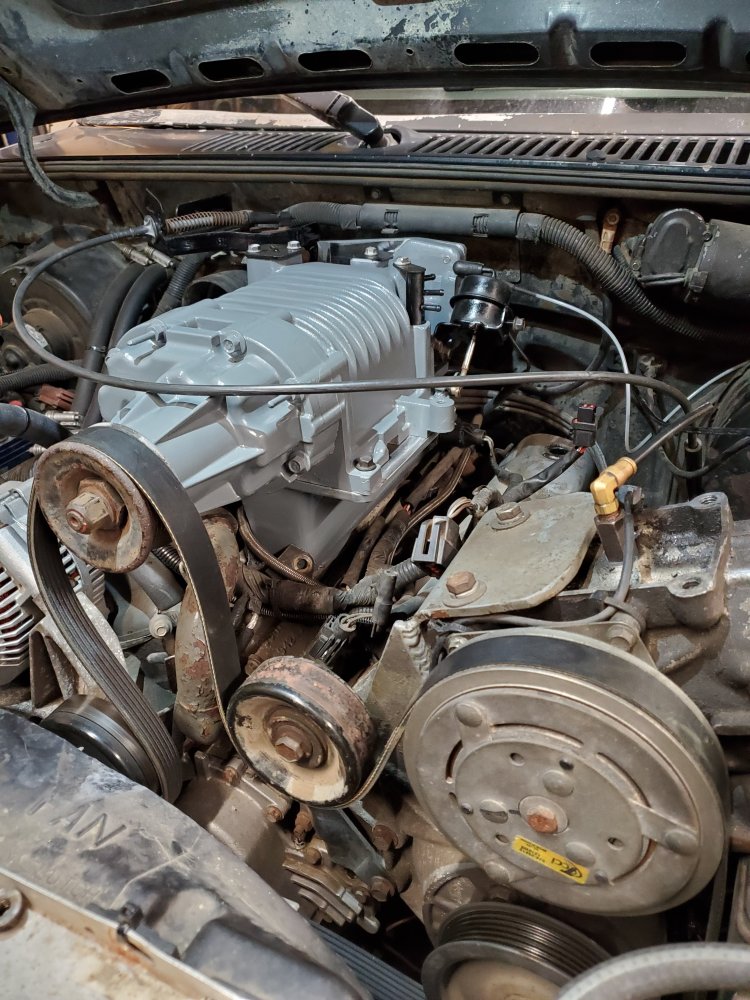 We thought that a bent piece of 1/4 plate would be more than enough to mount an idler to, it flexed like nothing, so some gusseting was added later, here you can see how flexed the idler is if you look closely.
Here's a couple more views of the finished routing, you can also see how I routed throttle cables and the intake.
Here you can see my slight whoops with the idler alignment, slotting one of the mounting holes and pivoting it around a bit corrected this issue. (don't pay any attention to my professional painting job here, haha.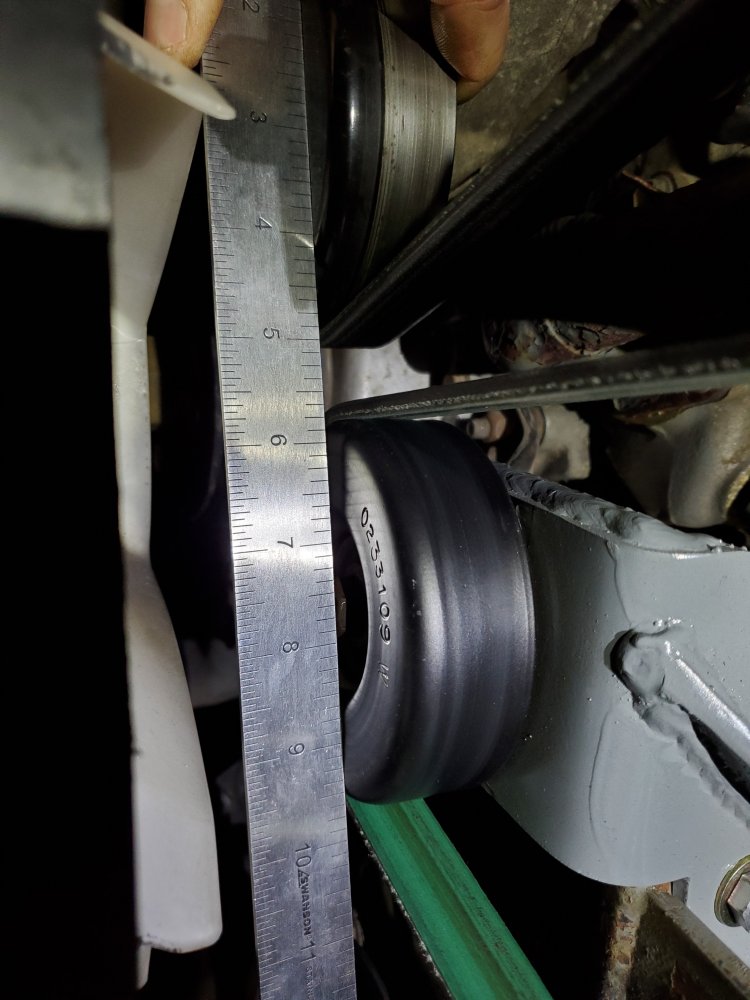 Next step was making an intake elbow from the MAF to the throttle body, We added a barbed fitting to the tube for the crankcase vent. The intake was made from aluminum intake tubing found in a random car at the junkyard and the fitting came from Summit, a mount was welded onto the side and it was sandblasted, cleaned, and painted.
Now it was finally time for a test drive, the stock GM 2.85 inch pulley proved to produce less than 1 psi of boost, I did a little bit of math and figured out the smallest pulley I could run would be 2.2 inches so I did what any smart person would do and installed that one. It builds about 6 psi with this pulley installed which is about where the math told me I would be. The last issue I found was the intake I had installed was making the whole setup run way too hot because it was drawing under hood air, in 90 degree weather I would lose 2 to 3 psi because the air density was so bad.
So I added a snorkel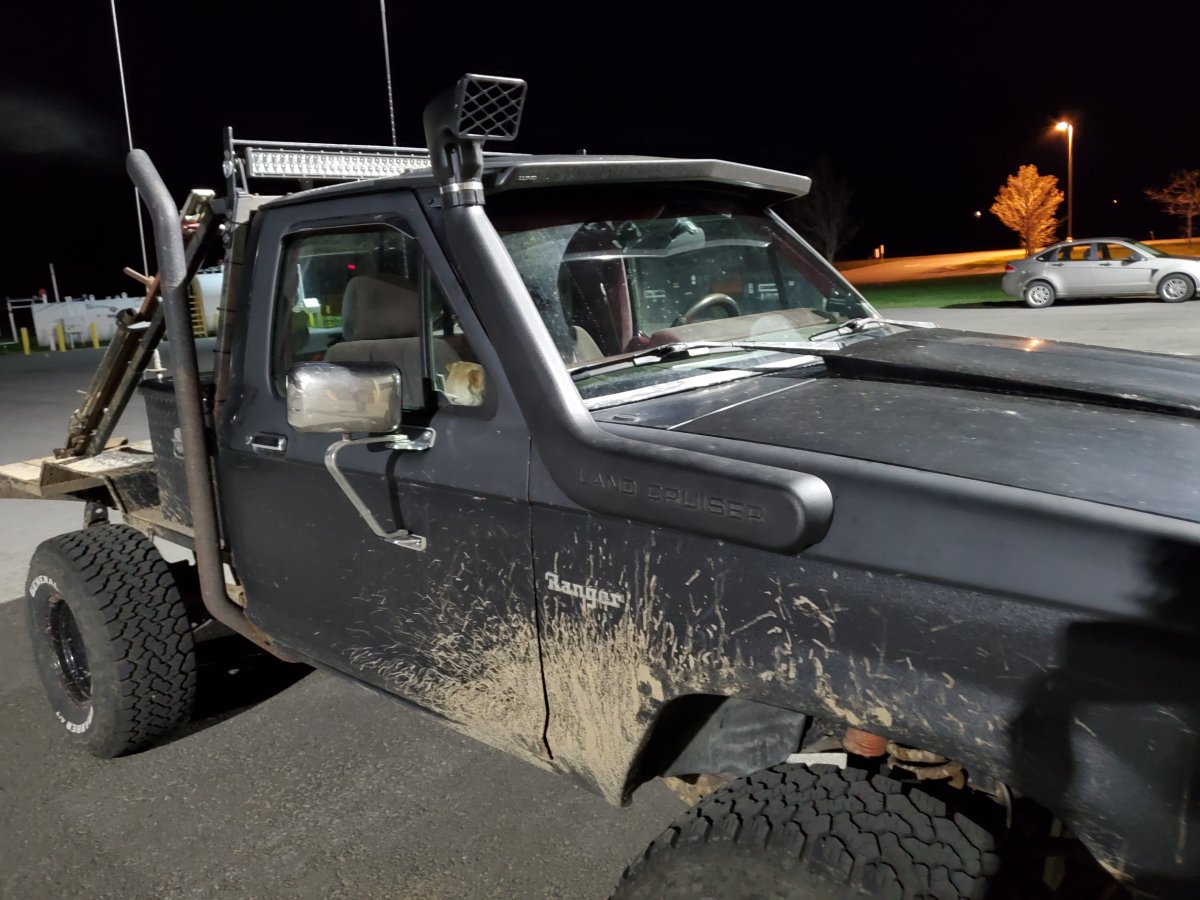 I had originally intended to box in the pod filter and connect that to the snorkel, that proved to be too much of a pain to do. Then I thought I'd make a box for a flat panel filter, which would be doable but would be too much work for not much benefit. I had then been looking at in line air filter setups but I'm not a huge fan of cotton gauze filters so I was reluctant to use them. then I found that Volant makes an in line filter that uses a Donaldson Power Core element, it isn't the most free flowing unit but it does the job, it appears to be for an obsolete application though so I'll source an extra to have should I ever need it down the road. It isn't the prettiest setup but it's functional and flows well enough.
My goals with this project were never to run big boost numbers, I wanted reasonable reliability, relatively easy to source parts, and a moderate boost in power. I've been running this setup for a little over 5,000 miles so far and I haven't really had any issues. I am running premium fuel, stock injectors, copper plugs two heat ranges colder (gapped to .035) and no tuning currently (the guy I found to tune it ghosted me) it runs well enough but I know I could get more out of it if tuned properly. The AFR has been staying in a decent spot and I watch them pretty steadily (if anyone knows anyone you would recommend for tuning, please pm me). This is a swap that anyone could tackle but it would take some time with basic fabrication tools. I am fortunate to have a friend who is an excellent fabricator with a home shop more well equipped than some custom fab shops. Between the two of us we have probably 20 hours into this swap and I've got under $1000 into it as far as parts go. I'd be happy to go into more detail abut any portion of this, so feel free to ask. this is probably long enough at this point, haha.