Joined

Sep 21, 2018
Messages

474
Reaction score

108
Points

43
Location
Vehicle Year

1989
Make / Model

Ford Bronco II
Engine Type

2.9 V6
Transmission

Manual
2WD / 4WD

4WD
Total Lift

3"
Tire Size

33
Snorkeling in an '89 Bronco II

by ECGreen​
I realized a long time ago that snorkels make me happy. I have one on my Tacoma and it fills my heart with joy every time I see it. It also gives my wheeling buddies something to make fun of me about, as they have kindly labeled it the "dorkel". So when I began building my '89 Bronco II rig for overlanding and wheeling, I decided that I
needed
to install a snorkel.
Why install a snorkel?!?! Aren't they stupid?!?
The answers to these questions are simple –
everything
needs a snorkel and
yes
they are stupid. But I don't care, I love snorkels. If I could, I would put one on my dog. In all seriousness, while snorkels are good for keeping water out of an engine during deep water crossings, there are other reasons for having one. A few good reasons are: cooler air going to the engine, keeping more dust out of your engine, the so-called 'ram effect' and also it looks cool and makes you a special snowflake.
On my Bronco II, the air intake was routed under the battery tray by the radiator and pointed directly at the ground. I am not sure if this is how stock BIIs are set-up, but it wasn't good. This is absolutely unacceptable for an offroad rig. Even a small water crossing could cause trouble with this set-up. Even so, I would not want to take my BII any deeper than the top of the wheels for fear of my ancient wiring harness going fry-fry. Even so, there are many times I have began a water crossing in my 2015 Taco thinking that it would be shallow and found myself over the hood. And yes, I walked those crossings first – mistakes happen. Snorkels are nice insurance to have. As far as dust is concerned, being up high will help, but you are still going to get dust with a regular ram-type air intake on really dusty trails. This can be solved with a pre-filter (more on that later). Speaking of the ram-type snorkel, many people wonder if all that cool air being "rammed" into your engine helps it run better. I am by no means an engine guru, but I know what I have seen with my experience. Will it help out a brand new V6 or V8 truck to the point where you would notice it? Nope. How about an old worn out 2.9? I have to say yes in my case. There was a notable improvement in engine performance after the snorkel install. My creaky old V6 enjoys the cool "rammed" air. Finally, did I mention it just looks so damn sweet and super special?
So how did ya do it? Can any idiot do it? I'm an idiot, so can I do it?
As you may or may not know, no one makes a snorkel for the BII. Wiser minds than mine found out that a 60 series land cruiser snorkel will work in a pinch. Currently (2021) Sleezebay has various aftermarket snorkels from 150 bucks. Here is the one I bought:
So this after-market deal was made in God-knows-where by God-knows-who. Even so, I didn't want to drop a ton of money on a snorkel for a Ford that wasn't that great when it was brand new (...send the hate, go ahead…). Be careful what you order though, cause look what arrived:
Yep, it says
Land Cruiser
on it. I personally don't mind this and I think its kinda funny. I call it my poor man's Land Cruiser. OK, a few things you need to know: 1. There is no template for a BII to mark where to drill holes. 2. You need to cut the 90deg elbow off so its straight. Unfortunately, I didn't take pics of these processes, but I can describe them for you.
Before I lined up the snorkel, I cut the 90 deg elbow so the inlet tube would go straight into the fender. I left as much meat as I could on the inlet tube. Getting rid of the bend means you can go straight through the fender into the engine bay and it will also help you line up the template better and make the install easier. For making a template, I used cardboard and cut a hole that the snorkel inlet would fit into. Then I installed the three studs in the snorkel and put the template on the snorkel itself using the holes as a guide. From there I punched three holes in the cardboard that lined up with the three mounting studs for the snorkel. I then traced the snorkel outline and cut the template out. You only need to make a template that goes up to the end of the bend, just past where the fender ends. The next part I can't help you with! You need to keep playing with taping on the template while lining up the snorkel until you feel like it will seat right. I focused on making sure the bend lined up where I wanted it to and the upper end laid properly on the a-pillar. This is the stressful part! Just keeping playing with it until you are sure things will line up, and don't contact me saying you messed up your truck. Be a man and take some responsibility for your actions damn it! After you are satisfied with where your template should be, tape up the fender with painters tape, tape on the template again, triple check for fit, mark the holes, take the template off and start drilling. Yee-freekin'-haw!
Before you drill, you need to move the starter solenoid and the power distribution center forward an inch or two. Your truck might be different a bit so check before you drill! Your going to have to take the battery out to do this.
Now drill son! I drilled the big hole first. The snorkel will cover the hole by a bit, so if I needed to adjust the cut a bit I could hide my mess. You just don't want to cut too far forward or the snorkel body won't cover your mistake and you will be doing some body work, or buying a new fender. Use a metal hole saw that is slightly larger than the inlet tube. I went a ¼ inch larger and wish I had went more. I ended up having to sawzall a bit to get the hole large enough. It got messy and ugly. Shoulda just bought a nibbler. Now check your snorkel fit and make sure the studs line up. Next drill the stud holes. Finally, you need to drill a hole into the engine bay in the same place you drilled the hole in the fender for the snorkel inlet. This is not a flat surface so drilling that large hole can be a chore. Hopefully you bought a hole saw with a drill bit in the middle. Now dry fit your snorkel. It will look something like this:
Notice the painters tape under the snorkel. You tape before you drill because it reduces the tear of the hole saw and drill bits. Now file and paint the damn holes and let it dry! Don't be in a hurry. You want rust punk?
After the paint dries, you can install the snorkel. I used blue locktite on the snorkel ends of the studs. You will need to remove the fender liner to do the rest. Use a fender washer and a nylock nut on all three studs. OK, let's plumb this b-word.
How do I plumb it ECGreen?
The flexible air tube that came with the snorkel was too long and it was absolute garbage. I went the expensive route. In fact, my plumbing cost more than the snorkel I think.
I hate crowded engine bays. Given this, I wanted to get rid of the massive air-box. I ended up going with a 4 inch Spectre in-line air filter which has a conical filter:
I am not sure how this thing is going to work out in the long run in real offroad situations. I will have to report back. For the rest of the plumbing I used aluminum tubing and silicone couplers. Here is a pic of the engine bay mid-install:
Here is how it goes from the snorkel inlet to the intake manifold intake.
3 inch snorkel inlet to silicone coupler #1 (Vibrant 2714)
Silicone coupler #1 to an angled piece of 3" aluminum intake tube (don't remember the angle sorry – I think it is 30deg and I had to trim it down to the proper length)
Angled aluminum tube to Silicone coupler #2 (Vibrant 2714)
Silicone coupler #2 to in-line filter
Inline filter to 90 degree silicone coupler (Vibrant 2783) that goes from 3 inch to 2 ¾ inch at the intake manifold.
They are not in the picture, but I used hose clamps at each junction. To get the first one on I had to remove the fender, its just easier, trust me.
Here she is in all her redneck glory!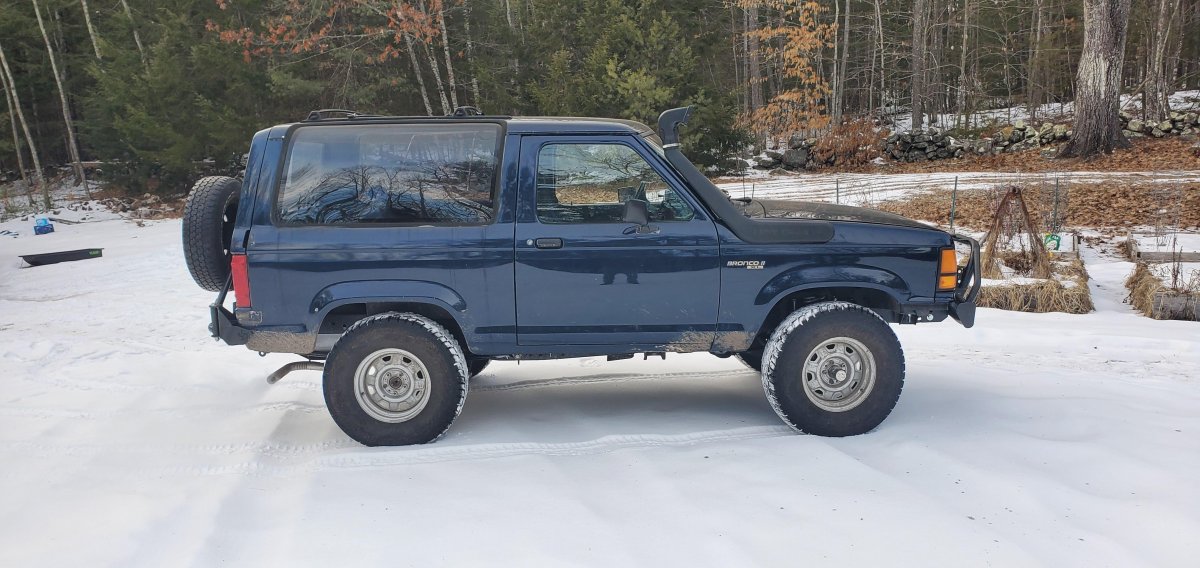 Things to note:
I did not affix the upper portion of the snorkel to the a-pillar. This is normally done with rivets or drilling holes in the a-pillar itself. I have enough rust and don't need anymore. I just let it rest like it is. You can use a piece of industrial Velcro if you like. The snorkel on my Taco has been like this for years and its fine.
If you look closely at the ram intake, you will see it is not level. This is not an issue, but if you put a pre-filter on (which I did) it will sit at a slant. I need to find a solution for this.
Happy snorkeling! This is just how I did it and I assume no responsibility if you F this up, so leave me out of it!
Last edited: