Joined

Apr 20, 2020
Messages

34
Reaction score

6
Points

8
Location
Vehicle Year

2007
Make / Model

Ford Ranger
Engine Type

4.0 V6
Transmission

Automatic
2WD / 4WD

4WD
After a little more than 2 years of searching I finally tracked down my 'holy grail', a Charcoal Gray 2007 FX4 lvl2. Now, I am tasked with keeping her on the road, avoiding both rust and remedying issues which may throw me head first into the guard rail or eqaully bad, impounded, here she is as I found her: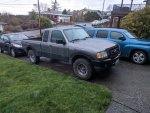 First to be found was the issue of speedo, still in km/h, I find myself squinting at the dashboard, especially in the afternoons... Its an easy fix, although expensive.... For $600 the local Ford stealership will marry and install a new cluster in the truck with the appropriate number of miles on the odometer. I've yet to do this purely out of denial....
Right off the bat having bought the truck I had found some red flags... First to be rectified, the battery kept dying! I knew there was an aftermarket stereo and as such was first to receive some massaging, I re-ran the wiring from the engine bay as road noise and water were spraying in through the set aside boot meant to seal the firewall. Beyond some 'interesting' decisions the previous owner made wiring the truck, there appeared to be nothing worthy of a dead battery.
But then I saw it, the unthinkable, a device so evil it could not remain on my truck a moment longer.... An electronic rust inhibitor! I ripped that rusty hunk of junk off my truck and Henry Ford himself bestowed onto me his blessing. And my battery hasn't died since.
Moving on to problem number two, the truck felt like I had water balloons for tires. I ended up pinning the issue on the 15" Alcoa's the truck came with stock (C rated 31" tires) and so I traded them! In came a shiny new to me set of 265/70r16 wheels and tires, for the low price of flat trade. As per the deal I received a set of 2 good wheels, 2 acceptable wheels, and 4 ten year old tires (more on that later). Switching wheel size, even with the tires being the same width and outside diameter, has made a considerable difference. The truck feels much more planted going over potholes and the such.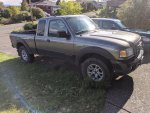 Having now paid $40 to have the wheels swapped between the trucks I come to find the center caps didn't fit on two of the wheels, in fact they fell right off despite being new. Well I drove my truck home, took a front and rear wheel off so I could compare and contrast, only to discover some knucklehead had filed the center of two wheels, presumably to fit over a 2wd hub, maybe they didn't but I performed the black sacrament and cursed their toolbox anyway. Being that the center caps need to be removed in order to balance the tires, I can't exactly just glue them on.... I'm now thinking about simply adapting the caps to fit the larger holes. As for the tires, already I'm having my doubts about them, they were mounted whitewall in so the manufacturer dates were concealed to my prying eyes, earlier today I noticed they were all looking a little low, my rear tire coming in around 20psi... I may need replacement tires regardless of the age as I may just have a leak.
My current project regarding this truck arises from it's origin with our salted Northern Breatheren (Canada), she has a rusty undercarriage, the front knuckles and leafspring bracket being the worst offenders, body wise everything is good with the exception of a little paint bubbling behind the gas cap. My current plan is to now pull the bed, pressure wash everything I can, run my steel brush across all the rust and make an additional pressure washing pass... This should leave things clean enough for a few coats of Chassis Saver, going at the underside of the cab and bed if I can get at them.
Future project part two; a few weeks ago admist poor brake feel and excessive stopping distances I pulled the front brake assembly appart to discover
another
knucklehead (presumably) failed to have the disks replaced or turned while switching pads, the previous pads being much narrower left a large buildup of rust upon which the pads now attempt to use as friction material. As a temporary fix I lightly smacked the rust until it ceased to be with a ball-peen hammer (cracking, I know)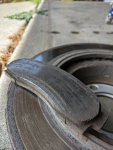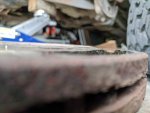 So I ordered up some EBC Yellowstuff as part of my upgrade list and carried on with my day.
A few weeks later I checked my drums while I had a rear wheel off yet again, as I tend to do with the opportunity, only to be left distraught.... The rear shoes, drums, and hardware are all brand new! I had plans to swap out my front pads and rotors for the EBC yellows and slotted rotors I picked up a few weeks prior. For the sake of balancing, I had selected a similarly aggressive shoe to go on the rear along with a nice pair of finned drums... Not willing to throw away a set of new shoes and drums though, I'm now torn as my front pads and disks really should be replaced but doing so would throw off the brake bias.
Just as I began putting things back together however, I noticed something I've never seen before in all my years of wrenching.... Although it's perhaps likely in the off-roading world, I was surprised to find my leafsprings are bent! Either by acceleration, or braking.. I'd assume the latter. Both sides too! If they end up causing trouble I may just switch to a 4 link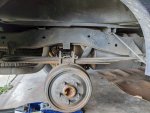 Having caught everyone up, last but not least for this post, a list of things I've either done or am planning on doing:
Wheel change 15" to 16" FINISHED
Led flasher (stop hyperflash)
Rust inhibitor on undercarriage
Ceramic coat the exhaust
Install running boards
Install oil cooler
Fix a/c
Install 4 link rear CANCELLED
Replace rear leafs
Install traction bar
EBC Pads, StopTech Directional Slotted Rotors, Centric HD shoes (112.07050), Aerostar Drums
Last edited: