Joined

Apr 3, 2009
Messages

1,827
Reaction score

13
Points

0
Age

28
Location
Vehicle Year

2006
Make / Model

FORD
Engine Size

V8
Transmission

Automatic
My credo

WTF is credo?
If you're curious, here's the product chart.

http://www.flowmastermufflers.com/images/family_banner2_lrg.jpg

And here's my my thread with the video's on it.

http://www.therangerstation.com/forums/showthread.php?t=139422

As for the white sport grille, good luck, you can get it from ford parts of course but there not cheap, (which is why I'm not cutting mine up) but, another option for your's would to be to cut out the inside and do a billet insert, and plastidip the chrome outer black. The bumper you could plastidip but also get the original bumper if you fancy. And if you really wanna go black, you can pick up some aftermarket halo's with black housings for the front headlights, as well as led taillights in black housings. Also, are you going to lower it for street? Or lift it for pre running? Because with the 07 you can level the front and get a free lift.
Billet insert in the front while dipping the chrome black? OOOH I like your style. That sounds like the plan.

These are the headlights I plan to go with. I like the oem style but blacked out. That way on my long drives between San Diego and Phoenix I'll still be able to see haha.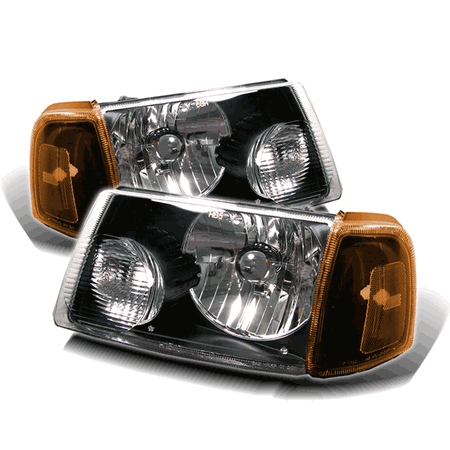 Honestly my entire life I have always wanted a lifted truck, until I used one as a work truck. FML equipment and waste is heavy. The stock rear end height is perfect for lifting stuff I can barely pick up into. So as far as a work truck I want to leave the ride height where it is it least on the rear end for sure. I haul loads of waste almost daily between 1500 and 2000 lbs to the landfill. My heaviest to date was around 2800 lbs. I used osb panels to increase height of my bedsides and had bags of tile, drywall and blown in insulation riding up and onto part of the roof. That ranger hauled it like a champ although braking was difficult. So obviously lowering the Ranger isn't something I want to do either. I may look into a leveling kit in the future. That would improve the trucks look alot IMO. I don't care for how the truck sits when empty. Bed sits waaay too high especially since I installed heavy duty shocks on the rear end. Here is a half ass shot I grabbed as I was getting in the truck that day. Not the best pic. It was in Phoenix on a 115 degree day and I just got done loading and strapping so was eager to get to the cab for a/c.
Also really need the fender covers like the sports come with. Need to cover up dings from my favorite ratchet strap spot lol. You should sell my your yellow ones and I'll paint 'em
.