2.9 Mafia
Supporting Member
TRS 20th Anniversary
Joined

Oct 31, 2018
Messages

3,312
Reaction score

2,362
Points

113
Location
Vehicle Year

1988
Make / Model

Ranger
Engine Type

2.9 V6
Transmission

Manual
2WD / 4WD

4WD
Alright, I have the last rot area to fix.
Need the rear crossmember for a 1988 extended cab. I don't know what to call the crossmember. Floor support, maybe? It's the sheet metal section of the cab that attaches to the cab mounts on the frame. Mine is TOAST.
Found one online for $120. Absolutely not paying that for one.
I "think" it's number seven on the diagram. Maybe number six?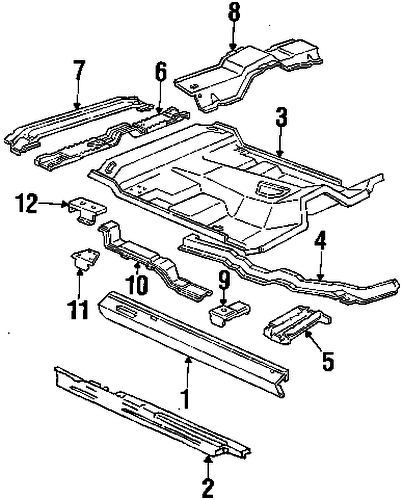 Found the part number here, but bit not sure it will fit my 1988:
Need to buy Rear Cross-Member F87Z-13107A94-AA? Contact Rod Baker Ford at 815-439-3400, we provide 1984-2011 Ford Ranger Rear Cross-Member at affordable prices.
www.rodbakerfordparts.com
Any sources or ideas as to a replacement one I can weld in is welcome. Preferably less than $120. Only need a partial for the drivers side. Upgraded from a Flux core to a Hobart Handler 160, so should be a little easier to weld sheet metal.