Joined

Aug 5, 2017
Messages

74
Reaction score

20
Points

8
Location
Vehicle Year

1984
Make / Model

ford ranger
Engine Type

2.0 (4 Cylinder)
Engine Size

2.0L
Transmission

Automatic
2WD / 4WD

2WD
I was waiting to have "good photos" but I'm getting impatient, and I could use some advice, and who cares!
So I've been refreshing and cleaning this 88 TC engine in a friends driveway–disassembled everything, cleaned the block and head, cleaned+rerung pistons, cleaned valves, ported to the best of my pretty limited ability, replaced a couple of sensors, de-rusted whatever had rust on it (a lot of stuff it turns out), cleaned and rebuilt the turbo, repainted a few things and now I'm in the process of finishing the head and preparing as much as I can before I put everything together and hoist in to my truck which I'm still driving all over the place and still has the 2.0 automatic trans in it. I also decided I was going to do a 3'' body lift while I'm at it and convert to the T5 manual transmission that came with the engine.
Using a 8ua computer and a stock harness i found on eBay which I yet have to label, but I think it's complete.
This is a month ago-ish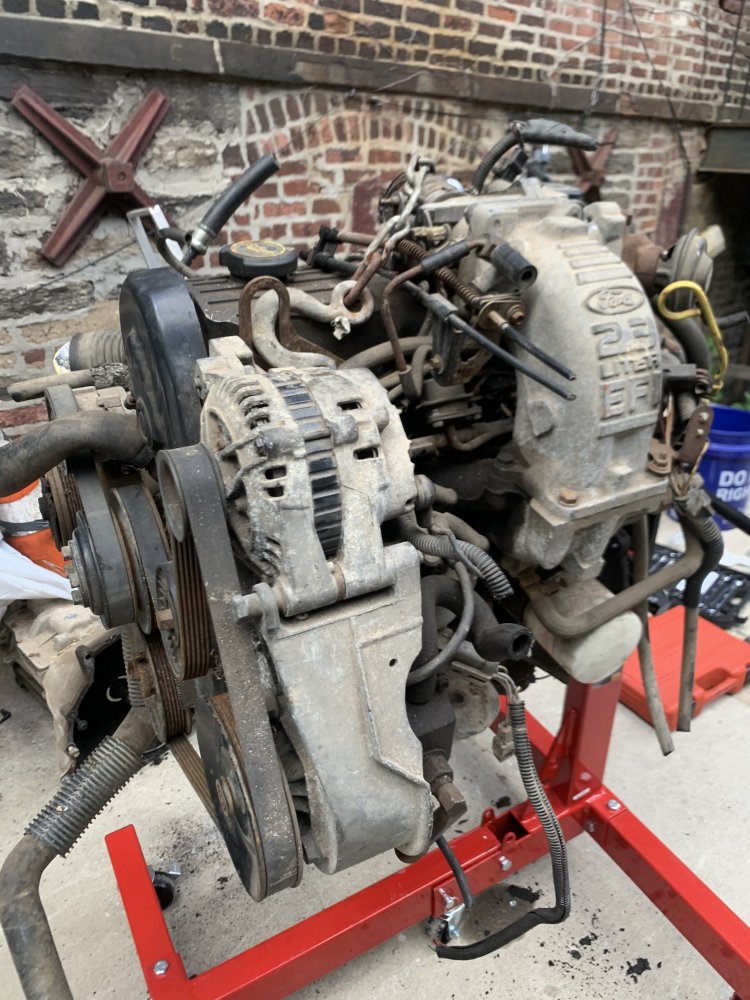 And this is the slow and painful process of beginning to clean it
Started to paint stuff eventually
Couple new sensors, rebuilt the fuel injectors...
The cleaned up head with the flipped header on a table Waiting for a bunch of stuff to go in..
And that's what I have for now, but as soon as this heat wave ends I'll put the whole block together and start slapping things Together more seriously.
I decided to redo most of the coolant and oil lines (the ones that go to the turbo mainly) with AN fittings and got a 250lph (overkill for my build but uhm.. whatever) fuel pump+8an lines to redo the entire fuel system. It's going to get interesting when I try to connect it to my tank..
I also got a Turbocoupe instrument cluster for 40 bucks.. stupid i know, but in my delusion I'm thinking maybe I can put together some sort of shellac'd wooden dash bezel for it and the radio and the heater controls (also planning on installing the ac compressor and everything) and that way I wouldn't have to add aftermarket gauges for oil pressure and boost, but I Haven't seen it done before..
one of the many questions that's on my mind as I'm rebuilding the block and putting things together is whether or not the TC oil pan will clear the ranger..
I bought a new melling oil pump and maybe I could reuse the oil pickup tube and oil pan from the 2.0 that's In there now?
also not sure what I'll need to make the T5 transmission fit in, but I'll cross that bridge when I get there.
anyways.. will be posting more as it happens. Any advice welcome!