Hey what's up everybody!
Since the beginning of the month, I've been trying to get my heat working. Heat worked fine last winter into the spring, then of course went all summer without it, using just A/C...then at the beginning of this month the mornings started getting cold unfortunately, and the need for heat is back. The first cold morning I tried to use the heat, it was just blowing cold air. Tried it a few times after, and quickly realized I had no heat.
Since, I've been doing a lot in attempts to rectify the issue. Here's what I've done:
Started with heater core flush/coolant flush. Honestly really didn't even need it. All the coolant was bright green and very clean, levels correct. The pics I've attached below are from the initial hose connection after removing heater hoses before I even started flushing, and you can see clean bright green coolant coming out of the core.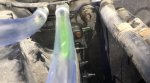 From seeing a lot of other flushes like on YouTube for example, everybody had brown, rusty, nasty water coming out. My flush went well, no clumps, rust, nothing other than coolant came out. Almost was clear immediately after flushing with water. Also drained radiator and overflow as well, then refilled and bled system. Heater hoses going into firewall were getting hot as they should before and after flush.
Moved on to blend door actuator. Popped actuator out, with electrical harness attached and unit hanging, I did a test by turning the temperature control knob, and the arm on the actuator was moving as it should. I even went as far as buying a replacement actuator just to be 100%, still had no heat with new actuator. I ended up just returning the new one, and putting the OE back. I've pulled it out and tested it a couple times since, and it still moves as it should.
On to Heater Control Valve. I replaced it less than a year ago (because OE was leaking), but just to be 100% I bought another replacement. New Valve is still installed, I bled system after this as well. Directly after installing Valve and refilling/bleeding coolant system again, I let the truck run for a while, still no heat. Also have checked for Control Valve movement, and it appears to be operating as it should. You can see the arm in the valve move when "OFF", and when the heat is turned on, you can see arm move. And as I mentioned above, the two heater hoses leading into the firewall get very hot.
BUT, ready for the monkey wrench?
I had the heat working for a few days. The day I replaced the Heater Control Valve, as I mentioned above, it didn't work after running for a while, and trying to get the heat going on multiple attempts. Later that day I went on a drive and for the hell of it, I decided to try the heat…and what do you know. It was freaking hot. And working great too, and continued to work for the next few days. And then yesterday, on a longer drive, I was using the heat (working great), turned it off for a bit because it actually got too warm in the cabin, and then about a half hour later I turned it back on, and boom. Cold air again.
So now for the past day, I haven't had heat again, it's just blowing cold air. Been messing with it a bit, keeping checking stuff, turning it off and on, seeing if I can get it going again, but I'm having no luck. No coolant leaks anywhere, coolant is clean and filled, overflow is filled to correct level, hoses feel good and are getting hot. Heater Control Valve and Blend Door seem to be functioning as they should.
It's really pissing me off at this point lol. Any suggestions would be greatly appreciated. '97 XLT 2.3L, 5spd, 299K.
Thank you!