Yea it was working pretty good. Going over the logs today, I really don't build shit for boost in 1st gear. It's positive pressure by ~2800rpm, but it doesn't peak until right before it shifts at 6300rpm/~40mph, then all of 2nd gear is 12psi. End of the ride was at the top of 2nd, and it still spun all the way there after the shift. I'll have to see if I can figure out how to do a 2 step with this microsquirt. And.. just.. 5.. more... p...s...i.... (kabloowey)
That black Chevy i was next to was a 6.0 @10psi. I honestly was not expecting the amount of horsepower that showed up to this show.
Have fun being able to build your kids' stuff, my boy hates working on things and would rather just buy it. It's like he's not even my kid.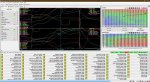 Last edited: