Joined

Aug 11, 2020
Messages

36
Reaction score

35
Points

18
Location
Vehicle Year

Multiple
Make / Model

Rangers
Transmission

Automatic
2WD / 4WD

2WD
Total Lift

stock
Total Drop

stock
Tire Size

stock
My credo

I don't subscribe to causes that are compelled by irrational fears.
Hey everyone, I decided that since I've been working on this truck for a while now, that I should start a build thread and go through all of the things I've done, been doing, and will do to this truck in the future. It's my hope that the work I do on my Ranger(s) will inspire others to pick up a wrench and work on your vehicle.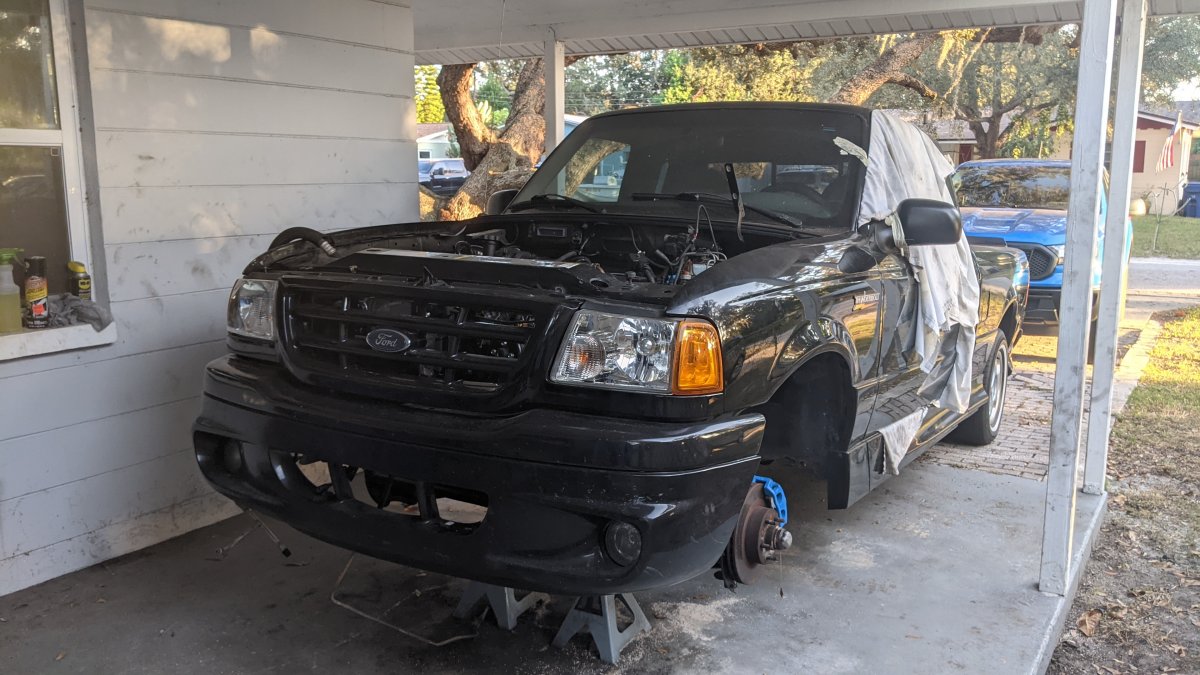 This is my (deep breath) 2002 Ranger XLT 4x2 SuperCab, with the SLP Engineering Stage II Thunderbolt Performance and appearance package. Behind it, is my 2021 Ranger XL that I am using as my reliable daily driver. This thread will be dedicated to the work I do on my Thunderbolt. I am undecided on if I will do any work on the new Ranger; since it's supposed to be my daily, reliability is of the utmost importance. Additionally, I'm still making payments on it and I'm hesitant to do anything that might void the warranty. I'm pretty focused on modding the T-Bolt.
A little background on this Thunderbolt; as my handle implies, I've 'inherited' it from my father. Namely, my pop owned this truck for about a decade and loves the thing. He was the second owner and took care of this truck as best as he could; running it up to nearly 180,000 miles before the cumulative effort of issues that manifested on it compelled him to part with the vehicle. I had just purchased a home and had been in the market for a cheap truck. Because he couldn't bear to see it go away, so he offered it to me for free. Free as in beer is certainly cheap enough for me, so I gladly accepted it, put it in my driveway and proceeded to use it to haul things from Home Depot and Lowes as I worked on things for the home. In my mind, I wasn't thinking much of this truck other than to drive it every other week and use it to haul things I couldn't stuff in the hatchback(s) of my car. When this was given to me, I had a 2008 Mitsubishi Eclipse GT which I myself loved (seriously, it's an underrated car, as are Mitsus in general. I miss that thing quite a bit and used to joke with people that it was more American than whatever it was they were driving since it shared parts with Chryslers and was 100% built in Normal, Illinois). I was in the market to replace my Mitsu simply because insurance and maintenance costs had gotten quite out of hand when the pandemic hit. I took advantage of early fears and traded in my Mitsu for a 2018 Golf R that had been tuned to 400HP and could run 11 second quarter miles. It was a stupidly fast car that I bought because of how intoxicated I got over it's absurd speed. Over time, I learned speed wasn't everything, and after about six months, I was splitting my driving time about 50/50 between my Golf and this Thunderbolt. The Golf had the performance I craved, but this car had a leisure and comfort about it that I had cherished in vehicles I'd owned in the past.
In March of this year, while on my way to work in the Golf, I was rear-ended by an F250 Dually, with a trailer carrying about a ton of wood. The impact was hard enough to drive me into the car in front of me, and them into the car in front of it, and them into the car in front of it. The accident ended up totaling out my Golf, thanks to the series of electronic nannies equipped to it that were completely destroyed in the accident, leaving me with just the T-Bolt. After receiving my insurance settlement, I had set my eyes on a C8 corvette; I'm a programmer by trade and I've always been attracted to technology in cars. But as the pandemic carried on and supply shortages, combined with an overwhelming demand for the new C8 set in and drove prices through the roof, I realized now wasn't the time to buy a Vette, and I reset my desires to something more attainable. I ended up driving a handful of different cars including an Challenger SRT Hellcat, a Mercedes C63 AMG, a Mustang GT350, and C5 and C6 Corvettes, but at the end of the day, I kept driving home in the TBolt because, while it didn't really feed my need for speed, it was a more compelling daily due to it's comfort, simplicity, and generally better road manners. After a while, I began to lean towards fixing it up and making it my daily instead of trying to find a 'daily driver I could take to a track.'
After researching the idea of overhauling this truck, eventually I realized that the pandemic had not only affected my ability to buy a new car, but the ability to build out this vehicle as well, and decided that a truck as a daily driver wasn't a bad idea. I went through the gamut of mid-sized trucks to decide what I wanted and came away with two conclusions: I really liked the Chevy Colorado and Ford Ranger, and I hated the Toyota Tacoma. While the Colorado was ultimately my first choice, I ended up in a Ranger because they were more available and had a better price, and I really haven't looked back. When it came time to buy the Ranger, I weighed the idea of both trading in the TBolt, and selling it outright, but ultimately decided against either one. Rare != valuable, but I could never get over the idea that this truck's look wrote checks it's drivetrain couldn't cash, and that I could fix that. So I decided that even if I wasn't going to use this as a daily driver and hauler, it could at least be my hobby. I went to harbor freight and ponied up for a 2-ton hoist, bought reseal and timing kits from RockAuto, and pulled out the library of reciepts my dad handed over with this truck to identify what parts had lifetime warranties on them, so that I could rebuild this bad boy and give it a new lease on life.
Before I had done all of this, I did need to do a few things to this truck to make it more suitable for use. My father is a large man, over 300lbs, and over time he had managed to break a couple of things just using the vehicle. The steering column and armrest were wrecked by him using these for ingress and egress. I found a seller on Ebay who was selling rebuilt steering columns for $300 and dropped another benji on an armrest kit and a new top pad, then installed them. They made a world of difference. Before I lost the Golf, I also had the radiator fail, so I spent some money replacing that as well. Even with these repairs, the interior still needs work; the original Thunderbolt floor mats are long gone; my dad replaced them with beige mats (the truck as a grey interior) and I thought they looked repulsive so I dropped a few bucks on universal rubber mats I cut to fit. The stereo is old and crappy, the dash has some burned-out bulbs and there's a subwoofer installed that takes up one of the jump seats and is sloppily wired. The carpet is wrecked, and again, because my father is a large man, the seat cushions are kind of clapped out. I do intend to address the interior, but I've always been of the mind that the drivetrain of your vehicle is the most important thing; if your vehicle doesn't drive, it makes no difference if your interior is nice or you have a good paint job, because it can't get you anywhere. So my focus on this journey has been addressing the needs of the drivetrain in order to get the thing running without problems.
The vehicle, as pictured, has been worked on to address many of the drivetrain issues I discovered when I acquired it and used it. Specifically, it had bad timing chain guides, bad motor mounts, was leaking from the passenger valve cover and rear main seal, failed front sway bar end links and upper control arm ball joints. Because I was 'in the area' and had warrantied parts, I also ended up replacing the front and rear brake pads, front and rear struts, and lower control arm ball joints. Currently the motor is reinstalled in the car and has been bolted back to the transmission. I've continued to work on this over weekends with my father and tentatively plan to have the thing back running next weekend. In terms of motor upgrades, I've installed an underdrive crank pulley and will be wiring up an electrical fan to free some ponies from the accessory drive. I've also replaced the whining power steering pump and will try some better fluid to keep away the squeals. I also took some time to paint away some of the rust on the frame and to splash the brake system in ford engine blue, just for some extra style. In refurbishing the motor, I replaced all the seals except the head gaskets; I was hesitant about disassembling rotating assemblies and didn't want to remove the pistons. Despite the problems on this engine, it was still running and had good compression on all cylinders, and didn't want to risk having to have the engine or heads machined because I took them apart.
My current plan is to get the thing back together and enjoy the fruits of my labor for a little bit before addressing the interior and possibly getting a paint job on the truck. Next fall, I will begin Phase 2, installing an Eaton M90 and the Moddbox supercharger kit. This isn't me just blowing smoke about this work, I actually already have these parts:
In the left box is the Moddbox kit, and in the right is the Eaton Supercharger. The blower needs its snout rebuilt, and I intend to paint the blower too before bolting it on. I also plan on getting some beefier fuel injectors and a water-methanol kit to keep air intake temperatures down, as well as finding a tuner to make this work reliably. I haven't fully decided on how much power I want out of it yet. The current engine has the underdrive pulley that would reduce how much I can get out of the SC and I'm not keen on bolting this on to the existing engine with it's old crank and rod bearings and existing head gaskets. I'm not sure if I want to source a new engine for this kit of if I'll pull it again and do a proper rebuild. I'm still considering other things too such as a 3.73 rear end and a rear disc brake conversion. But I'll be working on other things like the interior and the wheels that I'll be posting here in the meantime. Hopefully in a couple of weeks I'll be posting pictures and videos of this thing back together running and driving, looking to take it to my local dragstrip for some 1/8 mile times and ripping some sick burnouts for you guys to enjoy.