Hello everyone! After lurking on the Ranger Station forums for a few years now I decided to make my first post celebrating getting my Bronco road going. It took a long time with various setbacks and covid. I still have a long way to go, but I'm happy to have it.
This whole mess started back in September. I had been impatiently checking Marketplace for approaching two years for some small 4wd SUV to replace my 2wd 2007 ranger. When a fairly rust free Bronco II popped up for not $6,000 I messaged the seller immediately. The next day I drove several hours across the state and had it on a trailer.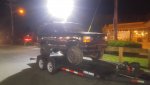 The car was listed with "transmission issues" being the reason it was so cheap. Taking the car for a test drive I quickly discovered that it was just low on fluid. More concerningly, I heard some bad lifter noise. The fact the Bronco was so clean, albeit a little Bondo'd, made me push any concerns aside. With all parts factored in it would still have been cheaper than one without issues. So I bought a black car in the dark. What could go wrong?
The next day I get a better look at the car. The first thing I notice is how clean the interior is. The whole car is in shockingly good shape. It was obviously a southern car brought up recently. It has a 4" Rough Country with horrible lift blocks in the rear and new 31" ATXs. The car was resprayed black with red metal flake at one time. With a quick application of screwdriver to the transmission cooler lines and some fresh ATF, I'm able to drive around.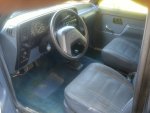 So while I wait my two weeks to get time inside the local DMV, I go about de-Kyle-ing the car. It was owned by some high school kid who didn't seem the brightest mechanically (remember this for later). Every surface of the car that wasn't metal flake he had apparently spray painted black. One whole gallon of acetone later and I have my chrome back.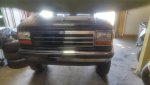 I also did a few other basic mechanical things. I found a stock air box, replaced the Walmart center console with one from an early Explorer, and replaced some suspension bushings. All the normal stuff when you get a new car. I even got some paint to color match the interior bits that were mismatched (Behr N480-7).
The car was still not on the road yet, but I wanted to make sure it was as reliable as I could reasonably test. I drove the car around the lot almost daily making sure its up to temperature and listening for anything odd. It all checked out except for the oil pressure gauge not really registering anything and a clicky diff (lunchbox?). I go to screw a new sender in and a bunch of sludge falls out. Okay no big deal I'll add some Seafoam to the crank and clean it out before the oil change. The oil pressure needle is back to the center and all is well…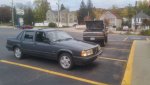 One hour into its maiden voyage from storage to my house (I got Burger King first) the motor starts knocking! My gut dropped when I realized its the type that happens at RPM speed. It was bottom end failure. Back on the trailer it goes and the motor comes out the next day.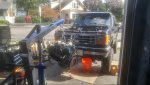 I have never seen such a thoroughly ruined motor. Compression was good on the 5 cylinders I could test with #3 being blocked by the A/C box. Every cylinder had a ridge worn in it. #3 was missing chunks out of the cylinder wall. Over half the lifters had collapsed. Four rod bearings let go, but only let you know when the motor ran for more than 50 minutes. I guess the previous owner never bothered changing the oil until it ran out and cooked the bearings. What a disaster!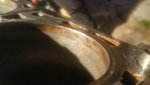 After calling a machine shop, pricing rebuild parts out, and checking Marketplace for alternatives I decided that I should hold out on the planned 4.0l swap and put another 2.9l in for the time being. Winter was coming and I needed something quick. I was given the runaround from one seller who never wanted to pull his motor for me. The second one was two states away and requires quarantine and negative test to enter.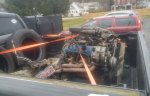 So two weeks later I had a new 2.9l and an FM146.
I have not been wasting the month of waiting for a new motor, though. I had stripped the whole interior. The carpet came out and was washed. Every suggestion of rust inside was hit with rust converting paint. Hardware was replaced with stainless and yellow zinc. The horrible Walmart stereo has been replaced with factory radio and speaker grilles. I found XLT door cards from a ranger and those went in. There is still a leak with the visor that I have only been able to slow, but not stop. It caused some rust behind the kick panels that I will address in the spring. I also had a very "fun" time getting the manual pedal box installed.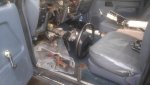 The motor install was not a pleasant experience. The seller had installed headers that I believe to be worse than factory. They had internal welds which choked each cylinder and they oxygen sensor only reads bank one. I had to remove one of the headers to get the motor back in. Thankfully no broken bolts. The Bronco was too tall for any of my transmission jacks so I had to make a scary sling out of ratchet straps to hold the motor while I coaxed it to connect to the motor.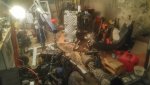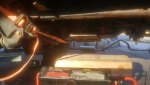 When it came time to bolt up the driveshafts I realized that the donor Ranger was an STX with highrider trim. This would not work. I had to pull it off, soak myself in transmission fluid, and bolt up my old one.
The exhaust was another horror story. At some time a custom exhaust was made for the car. It was high effort and involved a new catalytic converter and stock volume muffler. Why they chose to build one, which rubbed against the fame and generally fit poorly, when an entire new stock exhaust was available on RockAuto for less than $250 is beyond me. I had to cut the exhasut and redo several bends. Even my amateur welds were better than what was there before me.
Once the motor was all back in everything got new fluids. I discovered that the Bronco is demanding 4.10 gears. It did not have a lunchbox rear. Maybe time for a FX4 Torsen?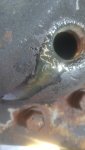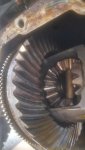 Then I finally got to drive it after two months of hard work. And the starter failed.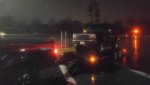 Third time is the charm! I Helicoiled out the previous owner's gorilla torque damage and slapped in a new alternator.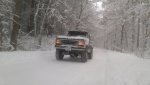 Here I am! A few hundred miles now and just in time for snow! I still have lots more to do and didn't include everything I have already done. Hopefully she holds up and I can make more posts for you all.