Joined

Aug 17, 2021
Messages

9
Reaction score

4
Points

3
Location
Vehicle Year

1999
Make / Model

Ford Ranger
Transmission

Automatic
Not much has been done for it since my uncle gave it to my dad in the early 90's, it sat for nearly a decade at one point. I think my uncle had taken care of it fairly well which is a shame. I've thrown a lot of parts at it as I could afford them, but after 40 years it needs everything.
The only work its had in at least 15 years was me taking the manifolds off and putting on new gaskets, rebuilt the carter carb, new battery, fluids and filters, plugs and wires, ignition box and starter relay. I started buying parts as I could afford them, put a new distributor, starter, radiator and hoses on it. Need it to be reliable again for my dad and I think its getting closer.
After several little trips around town, adjusting carb, fixing vacuum issues and a new brake master it seemed to be doing okay. My dad reported it was missing or almost bucking/jerking when he's cruising, does good under acceleration.
Had to go over a bunch of my drunk uncles vacuum lines.. At least its much better than before and I got most of the electrical tape out. lol. i'll replace them all soon enough. Still can't find the cruising stumble or misfire thing. Need to figure this out because even though it looks like hell, it runs pretty good!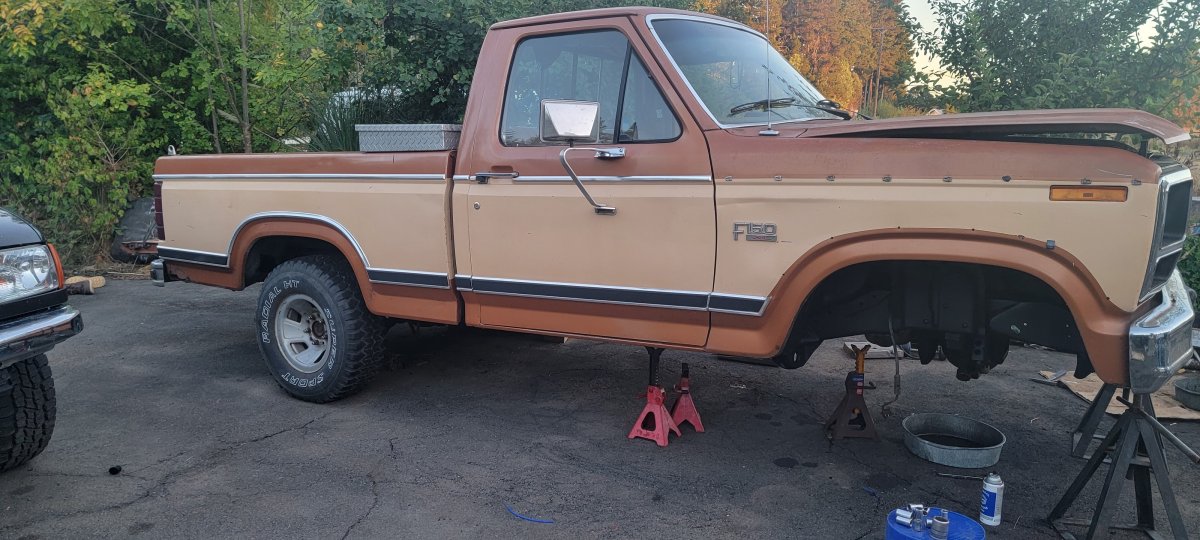 Currently this is where i'm at. We made it 2.5 hours across the pass and I consider that a win because I have no idea what i'm doing. My dad is a great driver but he could barely keep it straight, it surprised me to see that he was terrified. The whole truck moved on a big bump and it wasn't the typical ass end of the truck movement, the entire truck just feels like jello underneath you and it will damn near jump a lane.
So, front to back like the turd it is, i'm cleaning it up. I ordered a d44 maintenance kit, steering rod kit, poly master bushing kit, pads and rotors, brake lines... right now I have the outer axle u joints replaced and ready to go. I need to either find a way to pull the inner shaft and u joint, or just remove the diff and drivers side beam and do it on the ground.
Have to get something to get my spindle bearings out tomorrow, i'm having a hell of a time inventing tools! I feel like it's going to take another week to get the front end done. Definitely plan on replacing the rear springs and whatever bushings I can, but not sure what will come next. Any questions, comments, concerns are appreciated.