Joined

Nov 22, 2017
Messages

172
Reaction score

67
Points

28
Location
Vehicle Year

1997
Make / Model

Ford
Engine Type

3.0 V6
Engine Size

3.0
Transmission

Manual
2WD / 4WD

4WD
Total Lift

4"
Tire Size

33x12.5
Hey everyone! This is my 1997 Ranger XL with the 3.0, 5 speed manual and 4wd, and a 7' bed. This truck is my daily driver, so this isn't going to be so much of a build thread per se, but I will be doing some light modifications and thought it might be cool to document my process!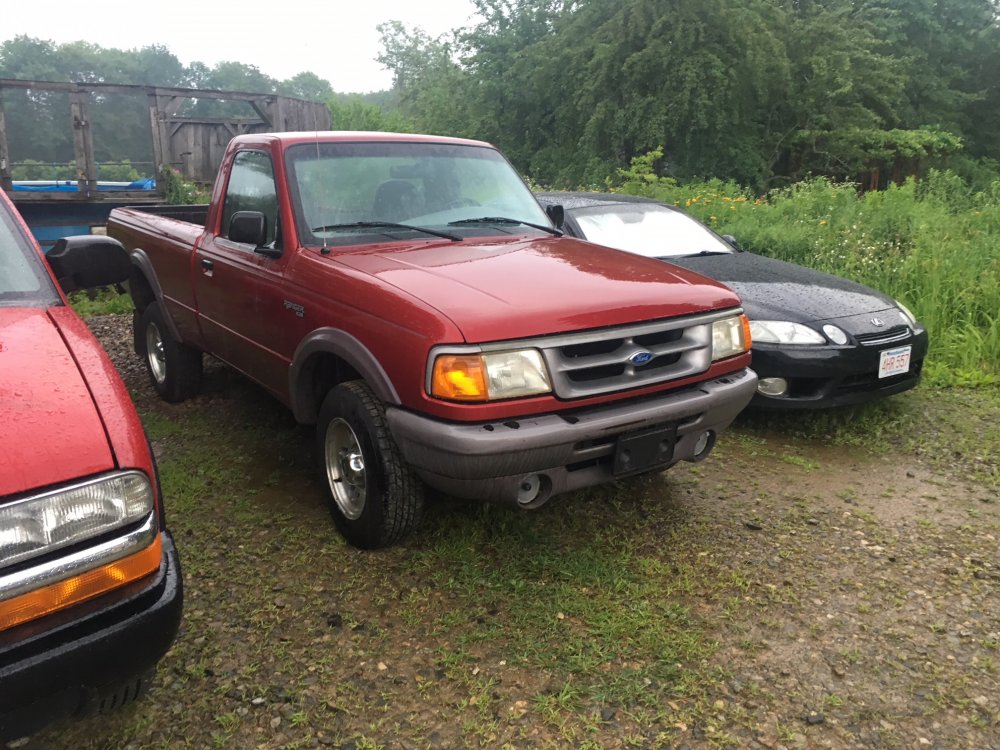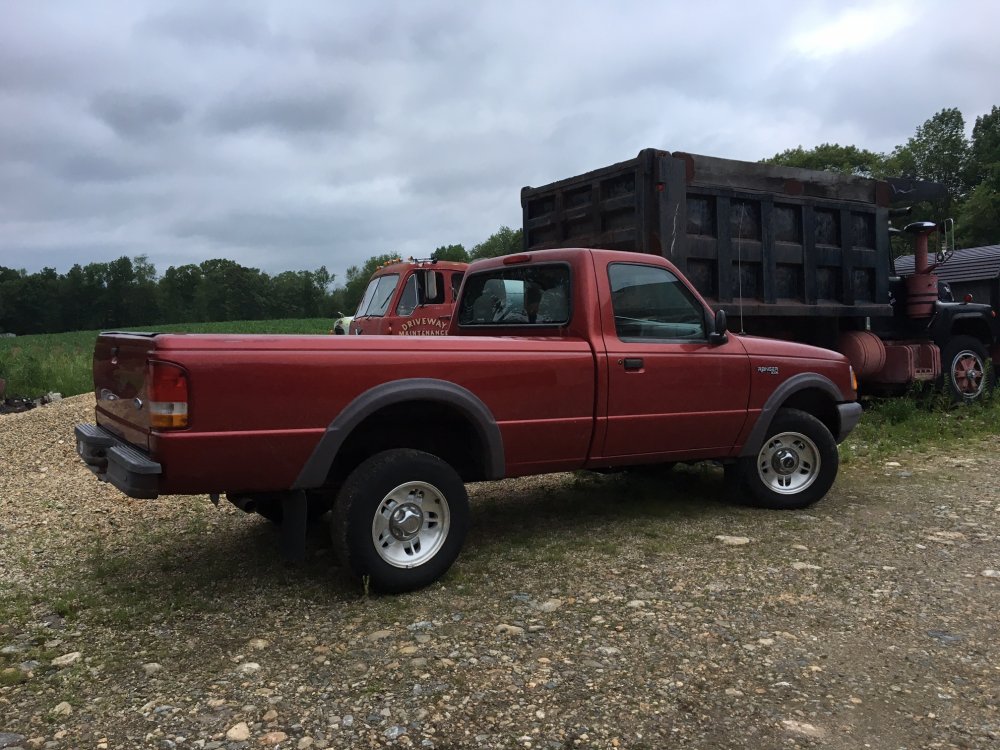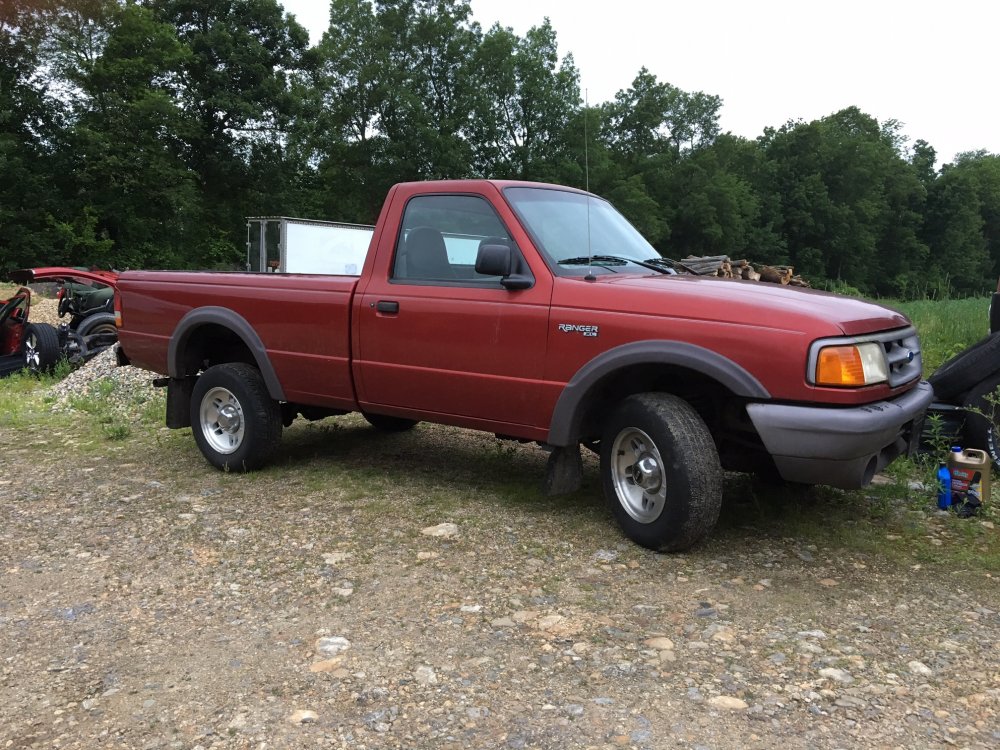 These pictures are from when I just got the truck back in July. I bought this truck for a decent price locally, it only had 108k miles on it and was very clean for a truck from the northeast. When I first got this truck, it really needed some attention. It ran and drove well and everything worked, but I had a coolant leak and an oil leak, and it was going to need a clutch soon. I also ended up finding I had a leaky fuel injector and over time the truck was getting harder and harder to start. It also needed some cosmetic love; it needed new fog lights as they were busted out, and I didn't like the gray/silver color on the bumpers plus the paint was peeling as you can see in this picture. I had a rack and toolbox on it (both of which I got for free) for a while as well.
Here's all the work I've done to it so far:
New clutch (spec stage 2)
New fuel pump & filter
New fuel injectors
Oil pan gasket & rear main seal
Timing cover & water pump gasket
New radiator & hoses
New fan & fan clutch
Basic maintenance (fluids, serpentine belt, etc...)
Add-a-leaf's installed, factory lift blocks removed and replaced with 1" blocks (to retain factory height but stiffen the springs)
Once I had the truck sorted out with no leaks and starting reliably again, I wanted to undercoat it since rust on these trucks around here is such a problem. I plan on keeping this truck around for as long as possible so this should help a lot. Here are some pictures from before the undercoating: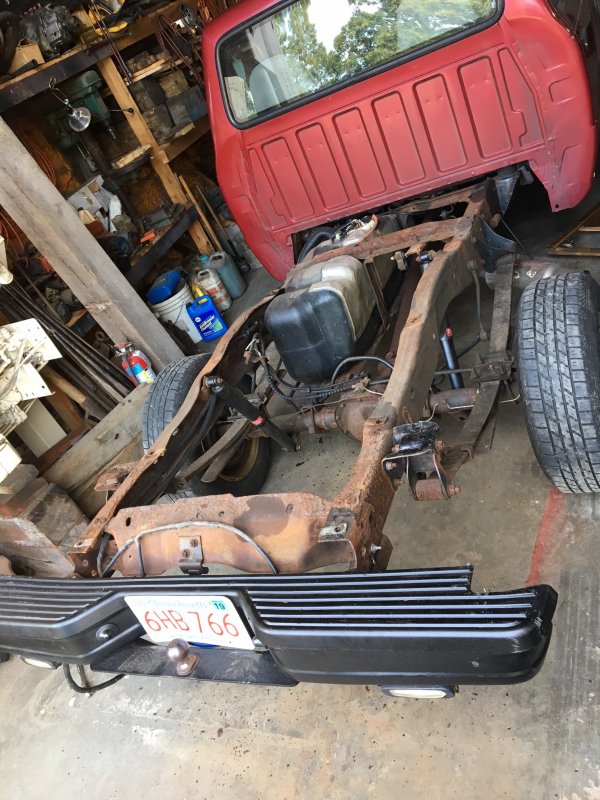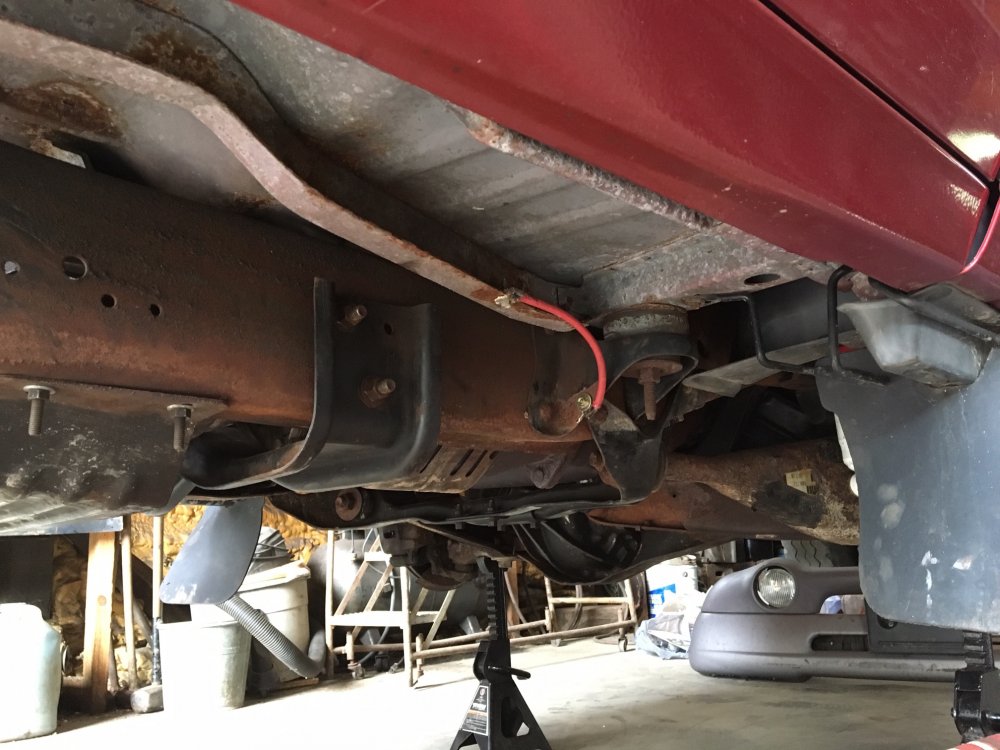 As I said, it was pretty clean for a Ranger for the northeast. The only rot was what you could see in the picture, the rear of the frame towards the bumper. The rest was just surface rust really. After some prepwork, I laid down 2 coats each of Eastwood's Rust Encapsulator and Extreme Chassis Black to just about everywhere I could reach.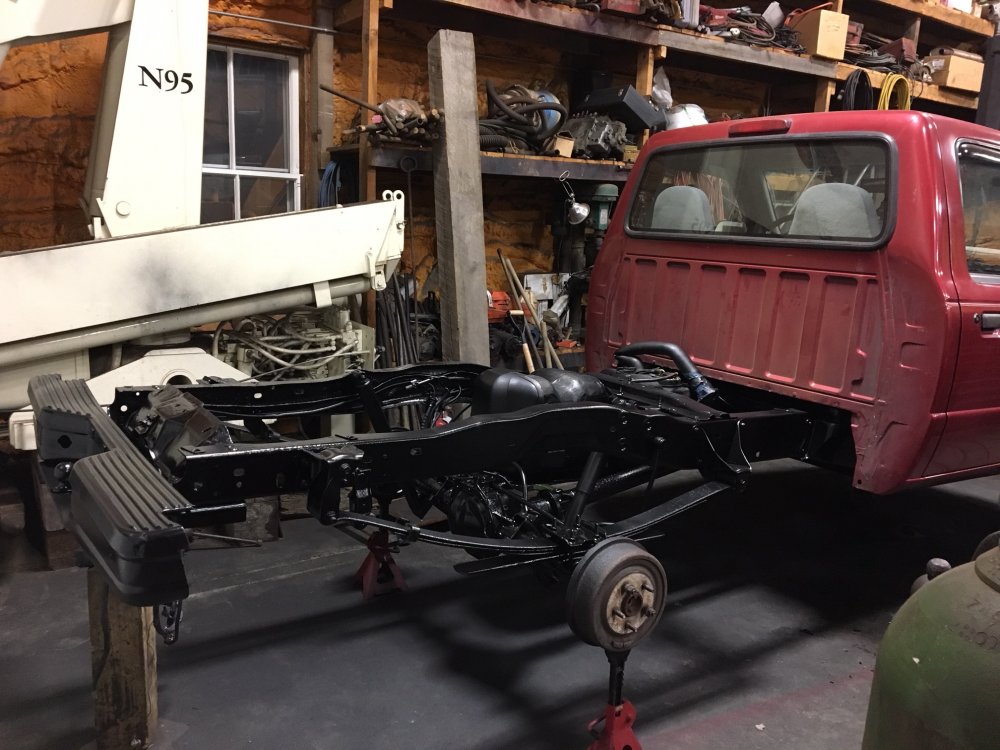 I also sprayed the bumpers, grille and fender flares and wheels black during the process and did an 01-05 tail light conversion. I found a 7' bed liner and a better matching toolbox locally as well, and added a side exit skunk muffler that I also got for free from a parts truck with a snapped frame that my brother bought lol. It actually sounds pretty good for a 3.0. This is how it sits/looks currently.
Some of my future plans include a front leveling kit, slightly larger tires (maybe 235/75 instead of 215/75), either an explorer rear end swap or an 8.8 L/S ranger rear end swap & mustang disc brakes as well... there's probably more I'm forgetting right now. Anyway, I'll keep this updated as I continue working on/modifying this truck

Current mods as of July 2022:
Suspension/Axles:
-8.8 31 spline L/S axle with 4.88 gears, D35 front
-Chevy 64" leaf springs with extended shackles
-Skyjacker 4" lift with extended radius arms
-All suspension bushings replaced with polyurethane bushings
-Bilstein front and rear shocks
Cosmetic:
-Chassis cleaned up and painted with Eastwood Rust Encapsulator & Chassis Black, bumpers & flares painted black
-American Racing AR23's 15x8 -19 offset w/ 33x12.50 tires
-06+ mirrors
-Clear front marker/turn signal lights
-01-05 tail light conversion
Misc:
-Spec "Stage 2" Clutch
-Electric fan from 3.8 Thunderbird, Volvo relay and VW temp switch
-Custom intake
-JBA headers, 2.5" cat-back exhaust with thrush welded muffler
Last edited: