Hi all,
I wanted to introduce you all to myself, Durc, and the new-to-me truck, whom the DMV dubbed Cleo. (Works, she joins Betty the 09 prius, Ethel the 00 Regal and Greta the 06 F250.)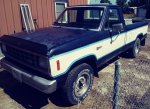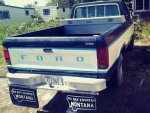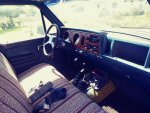 Truck background-- I went to an auction to buy a backup work truck, was eyeing a 68 C10. When I got there I saw this beauty. When I sat in it, I decided I must have it. Auctioneers claimed the truck ran with fuel in the carb, but wasn't delivering fuel. The truck had not been registered since 2000. I believe it sat in a barn the last 19 years or so. I got a little excited in the auction and ended up spending $1300 to win. I'm sure a few jaws will drop, but the truck economy is crazy here. Plus I really freaking love the truck and it's mostly in very good shape.
You see, my very first vehicle was a blue short bed 88 2x4 with a 2.3 and 5 speed. I flogged that truck endlessly in my youthful way. It stayed in the family and my wife bought/drove it eventually. Don't remember exactly why I sent it to the crusher, but I have regretted it since. Since then I've had two 94 Explorers. The automatic was trash, the manual was gold. (Still have the manual, Cleo is going to cannibalize it). Currently the work truck is an 06 Superduty with the 5.4. I used to think I was a Chevy fan.... but I always end up with Fords lmao.
Truck is a long box 4x4 with the 2.8 and a 5 speed manual. Dual gas tanks. The inside is very clean. The undercarriage is very clean as well, underneath the fossilized cow shit, or whatever all the nasto is. Most of the body is straight and very little rusting. Fuel sending unit doesn't work, haven't investigated it yet. There is an AC button on the dash, but no AC under-hood. Instead it has PS.
Motor looked good, although someone had removed most of the vacuum lines and apparently disabled the choke and crankcase ventilation?
Anyways-
Got the truck home. An african carburetor helped me prime the fuel pump and a slow drip in the carb got it fired and the pump moving gas. ( They had already put gas in the front tank, no going back. Haven't touched the rear tank yet.)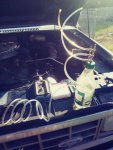 Once I knew it ran I did a tune up; fresh synthetic oil, plugs (already has 8mm wires), timed it, adjusted the idle and carb. Adusted the valves, which were super clean, and now it only sounds like it's chewing a little bit of gravel-guessing I need to go back in and re-adjust. Hooked back up the PCV/breather system, it was smelly without them!
Did a week long coolant flush, then installed the 94 radiator. The disc brakes were seized up, calipers from the 94 X got it rolling down the road.
For this being my first carb, I wasn't as unimpressed with the feedback carb as most seem to be. It starts immediately on a cool morning. Once it's warmed up it's a bit of a pain to start though. The truck runs strong and has what feels like a comparable power:weight as the 94X. Though the carb does bog a little under hard acceleration. I have to assume the motor had a smog pump (hose into Cat), and the motor woke up a little without it.
My intentions with this truck:
More power, reliability, 4x4 armchair awesomeness, a 2nd wife who will take the rest of my $$$ and stand by me until we are both dust in the ground.
To achieve this my tentative build plan:
3.8 FI conversion
SC12 Supercharger from Previa/MR2
94 X Axles (+ rear 95-97 disc brakes), wheels, transmission, skid plates, sways, radiator, trans cooler. I want the running boards but don't think they will fit without some fabrication. (I don't want the 4.0. NOT going to MegaSquirt it, or spend all the $$$ on $$$ sensors, 2.8 parts are stupid cheap. If it gets a swapped motor, it will be another 2.8/2.9 to repower the SC, or a 5.0. With the SC
).
86 Aerostar Headers, into a 2"? H pipe true duals. Serpentine system.
63" Chevy Leafs with flipped, articulating shackles. Make it ride like a chevy baby! I'm not a real big fan of how Ford's hop all over the road in the washboards. I'll often drive the Prius into the hills over the F250 to save gas, my back and the lady's mammaries. (F250 is rarely driven except for work, unless the snow is 2' deep... Prius is surprisingly capable. Flame me
)
Hmmm, that's the core build plan. I intend to junkyard every bit of it that I can.
Lurking here has been instrumental to these plans; I'm quite thankful for the Tech articles and will give back as I can.
At the moment the truck is just making around town cruises until we get to know each other better.
The front end needs rebuilt, before it gets new 235/75's and is truly road worthy. When the $ and time budget allow.
D & Cleo
Last edited: