Well-Known Member
V8 Engine Swap
Joined

Jun 28, 2009
Messages

2,599
Reaction score

1,250
Points

113
Location
Engine Type

V8
Quick run down:
1987 standard cab Ranger, originally a 2.0 5spd with NO A/C.
I swapped in a 1992 Thunderbird 5.0 that came with an A/C compressor but it was mounted low on the drivers side and would have hit the steering gear box. It had to be removed. I also cut the lower half off of that cast aluminum bracket.
I removed the EGR system as well as the air (smog) pump, so I'm relocating the A/C compressor in that location. I've already started on my bracket. I cut the lower part of the cast aluminum smog pump bracket off and have started building a custom steel bracket system based on this design:
http://miatav8.blogspot.com/2014/07/ac-conversion-ford-302-passenger-side.html
Here's where the guessing comes in to play:
I'm using the stock Thunderbird FS10 A/C compressor to mock up the brackets, mainly because I already have one, and mounting it is easy with the way it bolts up using 4 bolts. It may be a potential problem because the compressor is a good bit larger than the factory Ranger 2.0 A/C compressor.. So I'm not sure how well it will work with the factory Ranger condenser, evaporator, etc.. I do worry about having such a large compressor with a smaller condenser/evaporator, but from what I've looked up on Rockauto, the Ranger units aren't that much smaller than the Thunderbird units.. I can have custom lines made up where needed, and this site should have the parts I need:
https://coldhose.com/
I plan to hit up a local salvage yard to pick up the dash controls that have the A/C button and use that button to trigger a relay to power up the compressor. I'll be using the stock Thunderbird A/C wiring harness to scavenge the wiring plugs from to build a custom wiring loom. I think I understand the wiring by looking at various diagrams online and looking at the Thunderbird harness. I have no need for a WOT cutout relay system in this truck..
So basically I'll be running power to the A/C button in the dash, which when pressed, will trigger a 30 or 40 amp relay to apply full battery voltage to the compressor. The high and low pressure switches should cycle the compressor by being on the ground side of the circuit, disengaging the ground to the relay if they sense a low/high pressure scenario. As shown in this annoying video:
Do you think that running power (to trigger the relay only) through the factory Ranger A/C button on the dash controls will be a problem?
I plan to buy a new compressor since my Thunderbird unit has been sitting for so long. I'll probably also buy a new condenser, evaporator, and receiver/dryer. Do I need an expansion valve?
https://coldhose.com/expansion-valves.html
So Ranger community, school me on how stupid I am here.

Also, since everyone likes pictures..
Alternator/smog pump bracket removed from engine. (that is PB Blaster running down the cylinder head)
Alternator/smog pump bracket front view.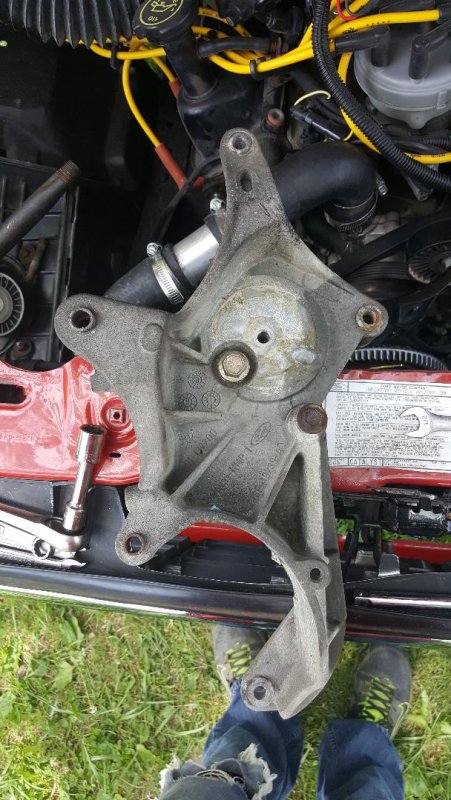 Beginning of cutting the bracket to clear the compressor..
Sizing things up to get an idea for my bracket.
Some thick bushings I picked up at the local machine shop to weld to my compressor plate/bracket.
Bracket progress so far, after much measuring, marking, and drilling. There will be another 90 degree bracket like what is show in the link I provided earlier, to provide stability to the mount. Possibly a threaded link with rod ends so I can fine tune the belt tension if the automatic belt tensioner looks like it needs more travel. I'm going to have the bolt holes milled in to slots at my local machine shop. That way I can fine tune the belt alignment. It will allow the compressor to move fore and aft. He told me today it would cost me $20 to have them milled in to slots..
The nuts are only used as temporary spacers until I can get my bushings trimmed to size. It spaces the compressor body out away from the plate. I'm holding the compressor/plate backwards in this picture.. Long day....
Trimmed alternator/smog bracket reinstalled on the truck for mock up.
Scratching my head trying to figure out which way my A/C lines will have to run..
Hose connection removed so I can remember which fitting is the largest. This will help me when shopping for the adapter to make custom lines.
I actually have the plate/compressor backwards in this picture too. It's been a long day...
Last edited: