Overlander in development
Forum Moderator
Supporting Member
U.S. Military - Veteran
TRS 20th Anniversary
TRS Event Participant
GMRS Radio License
Joined

Feb 7, 2016
Messages

11,374
Reaction score

8,836
Points

113
Age

57
Location
Vehicle Year

1993
Make / Model

Ford Ranger
Engine Type

3.0 V6
Engine Size

3.0L
Transmission

Manual
2WD / 4WD

4WD
Total Lift

6"
Tire Size

35"
My credo

In theory, theory and practice are the same. In practice, they are different.
Learned something interesting today. I have a set if LED tail/turn light assemblies that I plan on using on the new bed I'm making for the truck. So I mounted them temporarily so I can use the truck during bad weather over the next few days. Testing, I found, as expected, that the old style flasher relays didn't like the LED's. They don't pull enough current to heat the bimetallic element in the flasher module.
So I went to the parts store and bought an LED friendly flasher module. This has 3 terminals. The original style only has two. So I needed to provide a ground for the modern electronic flasher circuit to work. My solution is to use a regular 5 terminal relay socket to hold the flasher. I removed the extra wires from the socket. On the 2 wires for 12v and to go to the lights, I crimped on male spade connectors so they could plug into the original flasher socket. Thinking ahead, I did the same for the hazard flasher. Then I tied the ground wires together and connected them to a nearby ground. Tuck everything up out if the way and it tested fine.
This project probably only applies to older trucks. But I'm not sure what years.
Old flasher modules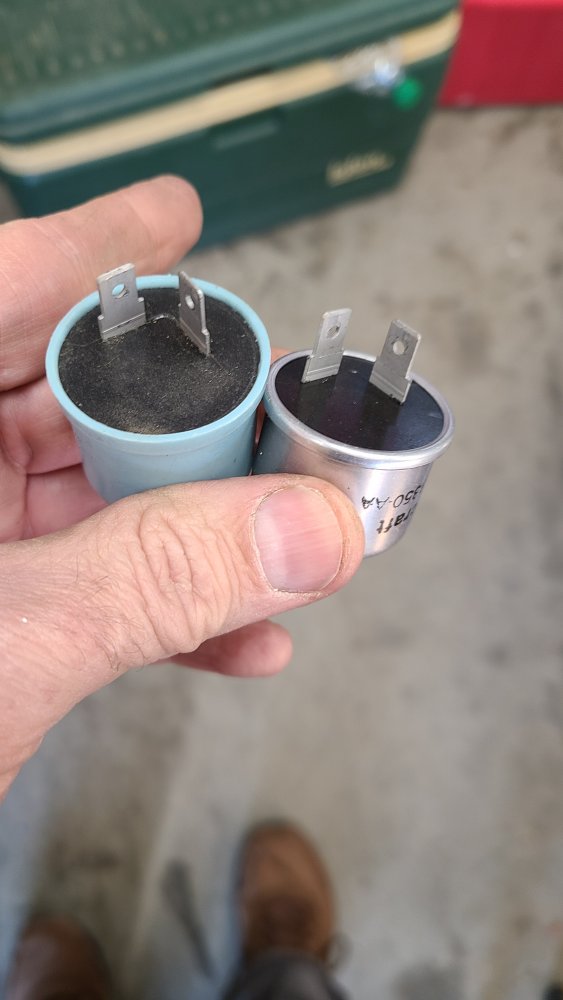 New electronic flasher for LED'S
New flasher plugged into relay socket.
The 2 new sockets with connectors, ready to be plugged in.
This shows the relay socket wires plugged into the original flasher socket.