Joined

Apr 22, 2021
Messages

198
Reaction score

83
Points

28
Location
Vehicle Year

1987
Make / Model

Ford Ranger
Transmission

Automatic
So I have delayed addressing a leak on Frankentruck, the triple rubber shift rod seals on the transmission top plate for the M5R1 trans. I have been avoiding driving long haul so I don't deplete a second fill of oil. Bleeds pretty good when topped off for sure!
Today I did a fuel pump hanger so my fuel gauge would behave at all temps (old/tired) and had the bed off. Figured I'd tackle the transmission leak as well.
I didn't have a solution planned and I wanted to verify that it indeed was the three seals on the top plate.
Once I viewed the situation, it became obvious that I wanted a proper repair and one I could trust, service, reuse.
The bores are about .628 in diameter, I only have pin gauges to .501 so that was close enough. The bore is about .500 deep. It has a chamfer at the entrance.
I turned a plug from 6061 to .625, added a simple o-ring groove to an OD uncompressed of .630. That ring rides about half into the bore so there is trans case meat to both sides. There is a .700 diameter flange on the plug. For extraction and seal breaker, I d/t a 10/32 stainless cap screw into it.
I had some AC system o-rings handy and just used them, 12mmx 2mm
The middle plug has a caveat. The tail shaft to main case rib is tall enough to prevent a direct entrance of a rigid plug. So I shortened that plug to .500, thinned the flange and removed the flange on one side so that it would just barely make it over the case seam and go straight in. Once seated, the section with flange removed was clocked to 12 o'clock so that gravity isn't going to allow oil past it.
Ultimately the o-ring plug snaps in quite tightly. The plug is coated with black permatex silicone and the middle plug is rotated as mentioned. The ring is a seal in and of itself, it's also keeping silicone trapped on both sides of the ring so there won't be any oil passing the plug even if it developed modest pressure.
The 10-32 screws are sealed with blue something, a gasket treatment. They are driven in finger tight. The middle plug is turned 180 degrees using it and an Allen wrench to keep the relief cut on top as mentioned before.
For service, put a good Allen wrench in head, turn as to tighten screw, this will break the silicone seal and also allow extraction.
Pics below.
If anyone is interested in them, let me know. I have not found a patent method for curing the leaks and doing it right. It took me 90 minutes to make all 3 with trial fitment, freehand on the lathe. I can make them rather quickly now that I have a dimensional spec and a work around for the center plug.
I'll be keeping the carpet out of the truck for the winter as my floor needs some patchwork and carpet is just keeping moisture in contact. I'll take a few pics in a month and verify seal quality/integrity. I expect it to be as solid as a freeze plug but removed easily and installed even easier.
I'll be inspecting my M5R2 tomorrow and measuring for a set for it in my V8 application. Unsure if they are the same or not.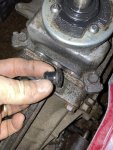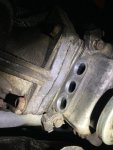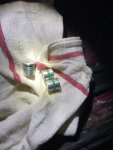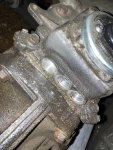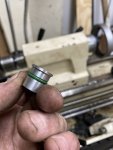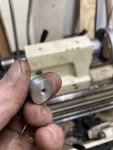 Last edited: