Howdy folks. I figured I would share my "build" or, more accurately, my ongoing repair process.
Meet Mike. I don't normally name my cars/projects and I really still just call it "the bronco" but... I call it Mike because, at the time, I thought Bronco meant a MALE horse but I looked up the definition and, well, moving on... Mike is always fighting me. Simple things take way longer than it should and random ass parts aren't available (try finding a 4.10 ring and pinion for the D35). Dumb things that break randomly. Typically project car stuff but to the max.
I would like to insert some foreshadowing and point out in this pic the Bronco had popped out of gear and unloaded itself while my back was turned. Had no parking brake at the time and I didn't double check the trans after hauling it 400 miles home before popping the straps loose. Learning experience without paying the price... I'll take it. This is an example of crap that happens when working on this but one of the few that didn't $$$. As of this post we are getting along better.
Anyway. This is my incredibly blue 1986 BII still rocking the 2.9 and a swapped in FM145 (I didn't know that until I got there). Obviously this is how I got it. I've always loved/driven Rangers so BII's have always been cool in my book but this blue bastard called to me. This was August 18th 2020 before the price hike so I got it at a fair deal. $500 less would've been a bit more to my liking but, like I said, it spoke to me. I probably should've realized at the time it was cursing at me. I still love it. It's got duals on it with some sorta of glasspacks so, yep, its loud and slow. I think it had ~135K on it at this point. I supposed it could be 235K but I think it runs too good. It's the quiest 2.9 I've had so far (4).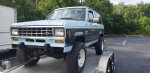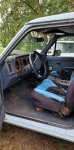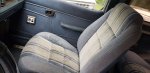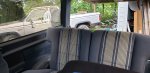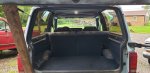 The first thing I did was replaced all the gas struts for the rear hatch and glass. As far as what I got when I got it home, it really wasn't bad. The interior was 4/10. Driver's seat is shredded, headliner is sagging, door panels are warped a little and the plastics are faded/scratched in the back. All stuff that can be fixed. It ran good, shifted fine, and stopped. Pretty much everything works except the a/c. low washer fluid sensor and front speakers. Oh and someone removed the power door lock actuators from the front doors. Not sure why... The body is pretty solid, some rust staining on the bottom door seams and surface rust. [to be fair I found the rust later]. Overall the thing was 97% complete.
Initially my goal with this was to repair everything that was broken and worn to get it back to essentially stock. The more I got into it the more I realized it wasn't the diamond I thought I was polishing. I knew it had been in some sort of front end collision but it end up being more than just a bumper. The cowl is disformed so the body took more of a hit than I thought. Frame is ok so it's not a total disaster.
I've got about 2 years worth of project time into this so I'll keep updating this tread with past projects as I have time. I've meant to start this thread for a while now. Fair warning I will probably get things out of order. I'll try and get another post up soon but I need to choke down lunch and get back to work. I will also (eventually) post videos somewhere of these adventures as I filmed a lot of it but editing it so it's not boring AF takes time. I'll share those links when available if anyone is interested. Thanks for reading!
Last edited: