Well-Known Member
Supporting Member
TRS Banner 2012-2015
Joined

Aug 6, 2007
Messages

2,664
Reaction score

124
Points

63
Location
Vehicle Year

1999
Make / Model

Ford
Engine Size

4.0L
Transmission

Automatic
A precious owner of the 85 2.3 I picked up this past weekend had started to "fix" the engine. Started taking it apart, decided he didn't want it and the guy I got it from saved it from being scrapped. I don't have a good story on what is wrong with it, and I didn't care or look close at the time because I wasn't planning to use the 2.3L.
Well plans may have changed and I might be fixing the 2.3L is it is savable and feasible. The truck is an hour away stored at family's house and it might be a week or three before I can get back to it.
I know we can't diagnose the engine and what it might take to fix it right now, I'll start on that when I get it home. I'm just trying to figure out how stuff is missing to get an idea of if it is even practical.
Here's the best pictures I have of the engine and bay: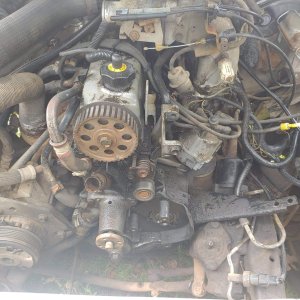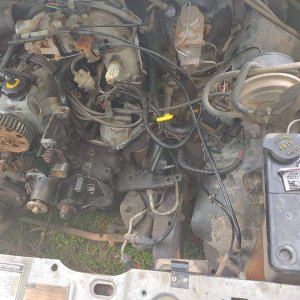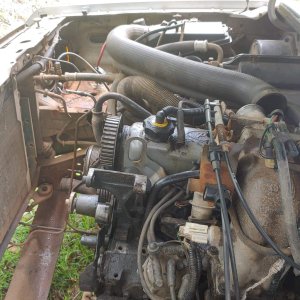 The obvious:
Radiator
Fan shroud (in bed)
Fan and clutch (in bed)
Alternator
Power steering pump
Timing cover (in truck)
Timing belt (cut in belt)
Water pump pulley (maybe in cab)
Harmonic balancer
Some sort of accessory bracket?
I've probably got an alternator and power steering pump that will work from my 2.8L truck. Would the pullies be the same?
Can I use a V6 radiator with flex hoses and rerouting the trans cooler lines? I know I've got one or two of those.
I'm thinking I'm missing some brackets for alternator and power steering, but I don't know what or what they look like. What engines and years would have the brackets that I need?