Joined

Apr 10, 2008
Messages

18
Reaction score

2
Points

3
Transmission

Automatic
I recently went on what was no less an adventure with my 1988 Ranger with a 2.9L V6 after having a problem with a rusted fuel system.
My fuel pumps (in tank pump and high pressure frame pump) were both clogged and destroyed after sitting for a few years. I'm pretty sure this is due to alcohol being added to the fuel but that's another rant.
After replacing the fuel pumps, tank, and fuel filter I discovered that my fuel injectors were fully clogged. Completely clogged. The truck would only run if starter fluid was sprayed in to the intake.
Well this is the age of 2 day shipping from my favorite online seller... and place to get cheap stuff, right? I ordered an entire set to replace my clogged injectors for about $50. Win right?
Wrong. These injectors from China* had the wrong flow rate. The truck ran RICH. Really rich. I figured that I had introduced a vacuum leak or some other failure so I wasted a month trying to figure it out.
I started suspecting the injectors. I read reviews on the same site where I ordered these injectors from and one other person had the same problem and wound up spending big bucks buying OEM from Ford to fix the problem. Well that was out of the question for me. I wasn't about to put $500 in to my truck no matter how much I loved it. This wasn't a classic restoration; it was about getting it running reliably again.
I researched cleaning them myself, etc. There are ways and yes – maybe it would have worked – but I didn't want to iterate on tearing my intake on and off a bunch of times.
That's when I discovered InjectorRx, a company in Houston, TX specializing in fuel injector cleaning and restoration. If they can't fix your injectors then they don't charge you.
Rates vary but as of this post the cost for restoration is about $18 / injector. They will do same day processing for $25 if needed.
InjectorRX ultrasonically cleans and then flow tests your injectors then provide a performance report when they return your items.
In conclusion – my injectors, now 30 years old, arrived in the mail from Injector RX this week and I installed them today (replacing the mail order Chinese* injectors).
The truck runs like NEW. I highly recommend this path for anyone looking to restore performance or resurrect their once rust laden fuel system. Recovering a rust laden fuel system is another write up entirely. I kept my effort low, flushed the system and tank then replaced the fuel filter after the first tank. You may want to do more – and my next restoration is a 1993 Ford Explorer with the same problems and clogged injectors. That tank is not available for sale anymore so I'm going to build a rotisserie and tumble clean it overnight. I might report on those result later…
Please check these guys out next time you need your fuel injectors replaced or serviced.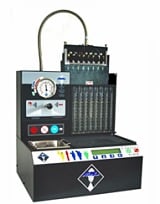 Best fuel injector service for cleaning dirty, clogged or gummed up injectors. We supply before and after flow testing results. Fast turnaround guaranteed
www.injectorrx.com
* I say these Chinese injectors because the retailer said they came from China.