The rear of my front driveshaft has play, not u-joints, in the t-case. The front of the transfer case at the output shaft is leaking fluid a small bit. There is a vibration from that area while driving. What would the problem be called and what does the fix entail?
My guess is a bad bearing in the t-case. That will need to be replaced, the seal, and upgrade front driveshaft or replace u-joints in it while I am at it. Sounds anywhere close?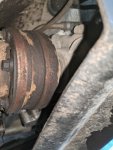 Grab on to the round thing in the picture and it has jiggle in the t-case. More so up and down then left and right.
2011 Ranger 4.0 XLT