Joined

Aug 2, 2009
Messages

133
Reaction score

13
Points

18
Location
Vehicle Year

1994
Make / Model

Ford
Engine Size

3.0
Transmission

Manual
2WD / 4WD

2WD
Freshmeat's Explorer EB on 34s (SAS Build)
This started back in July, when my girlfriend gave me my Explorer for my birthday. In May I almost bought a 4-door JK, but opted instead for a DD/tow rig, to then buy a beater 4x4 I could thrash without having to worry about breaking anything. After spending over a month looking for something that fit what I was after (and coming up empty-handed) my girlfriend suggested I fix her old Explorer (A4LD was slipping badly) and just drive it on the trails to get my fix here and there and hopefully hold out for what I really want instead of settling for a POS.
So I started tooling around with the Explorer and sure enough, three quarts of ATF later it was running great. She was pissed that she bought a brand new car when she only needed some transmission fluid, but that's a minor detail.

This is where I was at that point...
I had 2" Skyjacker coils and 31s on my '94 Ranger 4x2 and decided I'd transfer all that to the Explorer, just to give it enough edge to actually enjoy it on the trails. It would have been great- simple build, budget build, stocker, sissy... plenty of terms to describe an Explorer on 31s. Well, then a buddy called and offered me his 34x10.50s mounted on steel wheels for $300.

Okay. I mounted them up, bought an angle grinder, and started cutting... and cutting... and cutting... and came up with this:
I had a complete turn radius with no rubbing at full stuff... while retaining enough inner fender to protect the engine and wiring:
I drove it for a few days, then took it out on a local trail ride and had a great time...
but as it turns out, lots of WOT in low range will reveal any transmission problems quickly... and it spit out seven quarts of fluid all over the trail...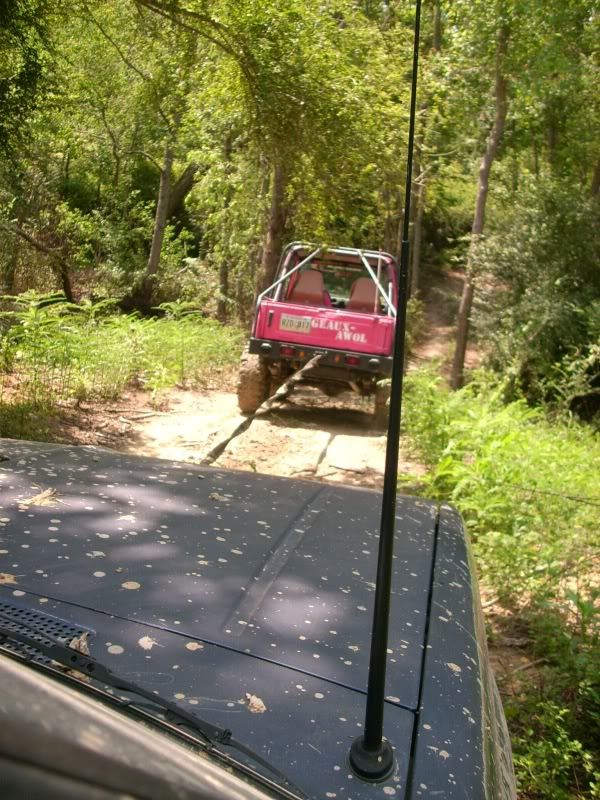 I left it at the trail head, went to town for lunch and to fetch more ATF, then filled it up and drove it 50 miles back home. I went the next morning and pulled a M5OD from a Mazda Navajo, then spent the next month or so swapping it out in my spare time.
After a treacherous trail ride that involved lots of clay, trees, and winching, I came out needing a new bumper. I went to the local off-road fab shop and had them build this:
It was simple enough to serve its purpose, yet plenty beefy (I accidentally knocked down a small tree with it on the next ride.)
After riding a few times I decided that while the 2" lift and 34s looked great, it wasn't that practical for the wheelbase, so I decided on a bit more lift with some suspension modifications to allow for more flex. I bought some F250 shock mounts and tracked down some spare radius arms to extend and everything... then had an epiphany. For the $500 or so it was going to cost me to lift my Explorer on the TTB, I could get well into building a pair of solid axles.
Thus began my current stage. I dug on Craigslist, as well as 4x4 boards as far as two states away looking for axles I could build. I finally stumbled on a local guy who has a '79 Bronco with a D44 front (5-lug) and a D60 full float rear (8-lug). He said I could take both axles, as well as any and all suspension parts I need to perform the SAS (needed the coil buckets, radius arm brackets, etc) for $250. I'll be picking them up Saturday.
So I'd say Saturday is the day I dive off the deep end, but it really happened last weekend when my fiancee agreed to me spending waaay too much money on this stage of the build (it's my money anyway, but when she approves, it's 80,000x easier.) Here's the plan:
I'm going to build the D60 first and keep an eye out for a kingpin D60 close enough to justify the purchase (not about to buy one from California) so I can hopefully build a front 60 instead of the 44. If I build the 44, it'll be converted to 8-lug to match the rear (already working on gathering those parts) and I'll either leave it open or Lincoln lock it to avoid the cost of a locker since I'll actively be seeking out a D60.
Today I made the first active step toward all this converting... I ordered a rebuild kit for my power steering box. I'll rebuild it and drill/tap it for hydro assist, then just plug the ports until I do the axle swap. It needs a rebuild now, as it's been leaking badly, so I figure I'll get this out of the way. Once the axles are in my possession I'll start tearing down the D60 and rebuild it. Before I tear it down I'll likely go to the junk yard and grab a spare power steering bracket and a Saginaw power steering pump so I can get that installed, as well, since the stock pump doesn't flow enough for the hydro assist.
So that's where I am... I'm on the very edge of a solid axle swap, hopefully to end up with a one ton swap before it actually happens. I'll plan to update this thread as I go.
Plans for front:
If I run the D44 I'll use the radius arm set-up since it's a no-brainer. If I go to the D60 I'll have to debate between a radius arm and a 3-link. As much as I like the idea of a 3-link, my lack of welding ability would mean it would cost a lot more.
5.5" EB coils
F250 shock towers
4.88s
ARB
Hydro assist
DOM / Chevy 1-ton steering, relocated to top of knuckle (assuming it'll work)
Plans for rear:
SOA
Custom shock crossmember
4.88s
Lunchbox locker or Lincoln lock
See how the drums hold up and swap to discs if braking is too soft
Shave underside to gain any extra clearance I can
Any advice, tips, etc. would be more than welcome here. I've done a lot of research on different aspects of this whole thing, but if you've thought of something I haven't mentioned, please feel free to call me out on it. I think I'm taking a good route with doing the little things I can now (like rebuilding PS box and tapping while it's apart) to make the swaps go easier, but I'm good at forgetting steps.
Just to emphasize again, the build-up of the D44 will be last in the hopes of finding a D60 to build instead... and if I do go with the D44, it'll be until I find a D60 with which to replace it.
Last edited: