Just some guy with a website
Administrator
Founder / Site Owner
Supporting Vendor
Article Contributor
TRS Technical Advisor
TRS Banner 2010-2011
TRS Banner 2012-2015
TRS 20th Anniversary
TRS Event Participant
GMRS Radio License
Joined

Aug 2, 2000
Messages

12,851
Reaction score

7,158
Points

113
Location
Vehicle Year

1996 / 2021
Make / Model

Ford Ranger
Engine Type

4.0 V6
Engine Size

4.0 / 2.3 Ecoboost
Transmission

Automatic
2WD / 4WD

4WD
Total Lift

6-inches
Tire Size

33x12.50x15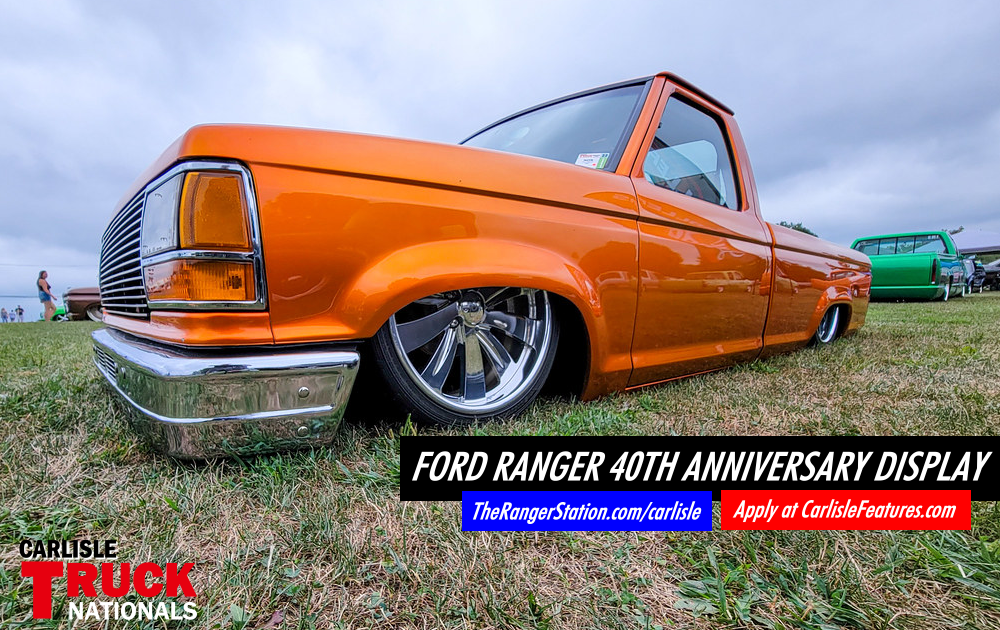 August 4th - 6th, 2023 - Carlisle, Pennsylvania
​
Celebrate 40 Years of the Ford Ranger in August at Carlisle (carlisleevents.com)
For 2023, the Carlisle Truck Nationals is showcasing 40 years of the Ford Ranger. The popular truck has been with us since the 80s in a variety of body styles and designs. This year, from August 4-6, we aim to celebrate its history and popularity. The display is coming to Building T and you can apply today to be part of the fun. If selected, you'll not only sit front and center within the building, you'll be showcased on social media and in the event guide too. Learn more online and apply today!
Don't have a Ford Ranger but still want to attend? Showfield registration is 10% savings off now through June 20 and discounted spectator admission tickets are available too. Best of all, kids 12 and under are admitted FREE. Call 717-243-7855 today or visit us on the web to learn more.
Ranger Display - Learn More
Register for the Showfield - Save 10%
Purchase Discounted Spectator Admission Tickets
Carlisle Truck Nationals - Learn More
The Ranger Station - We'll Be There, Will You?:
The Ford Ranger has been around for 40-years, and TheRangerStation.com (TRS) has been around for 24 of those years! In fact, there isn't another Ford Ranger resource that's been around longer than TRS! We think it's only fitting that TRS attends this event.
Some of the TRS Forum Staff will be in attendance and we hope that our forum members will come out and join us. Bring your Ford Ranger and proudly show it off as a member of our community - gathered in person as a community!
We'll be giving out special event TRS stickers on a first come - first serve basis.
Post below if you plan to attend so we can start a list of attendees.
Register Under The Ranger Station Club Name & They'll Give Us A Tent:
I have added The Ranger Station as a list of clubs. We need at least 15 people to register under The Ranger Station to get a tent. See below:
"Hi James,
You are welcome! I was excited to see your club come in, especially since this year is the 40th Anniversary of the Ranger! I have added your club to be an official club at Truck Nationals! I'm not sure if you have ever attended the event, but I can answer any questions you may have. First, let me explain how our "club program" works! (I apologize for the long email in advance)
Your members will now be able to select your club when registering for the Showfield (whether they do it online at
https://store.carlisleevents.com/SearchResults.asp?Cat=28
or on the phone, 717-243-7855). This is how we will be able to tell how many people are registered under your club, which matters for a couple of reasons. As a new club, we have a new rule in place that you must have 15 vehicles registered under your club by the Gate-N-Go & Club Tent Deadline of June 20th to get a club tent at the show. At any point of time that you want to check and see how many people are registered, you can reach out to me and I can provide you a list. Once you hit 15, you can turn in the attached form to purchase a club tent. If you are able to reach 25 members registered by the deadline, you would actually get a FREE club tent! If you hit 25 members by the conclusion of this year's Truck Nationals, then the next year you'd automatically get a free club tent!
The club tent is meant to be a place that your club members can hang out! The rules for the club tent are in the attachment above. We would allot a place for your club tent and some parking around the tent. The event map would show your club name and denote where your spot is. If any of your members have already registered, they can call in to our office at 717-243-7855 to get your club added to their registration!"
Last edited: