Can't even believe i'm doing this right now. But, wife and I have our first baby on the way, and we just need to get another vehicle thats more friendly to the infant-lifestyle; as i'm sure plenty of ya'll are familiar with.
Long story short.. bought this truck from a dealer in illinois about a year ago. I had it shipped to Nashville, where i live, and sure enough it didn't pass emissions (Vacuum leaks and fuel supply issues galore) and the drivetrain was kinda messed up. I was furious with them, but loved the truck so I put several months of love into the thing to get it running in tip top shape. TBH, i don't even know if i can't list everything i've done but i'll try to summarize...
- Beautiful locking bed cover
- tow hitch / step bumper
- new tint all around (professionally installed)
- stubby antenna
- replaced 3 piece driveshaft with newer 2004 1 piece steel driveshaft.
- all u-joint replaced except for axles
- fuel lines cleaned and new filters
- New FPR
- leaking vacuum hoses and gaskets replaced
- deleted rear tank (it was rusted and leaking, thus contaminated entire fuel system)
- new end links
- new ball joints (not installed, will include)
- new rough country shocks
- new MOOG front springs
- new JBL GX series speakers all around
- New pioneer headunit
- Custom fog lights / beams / floods whatever you wanna call em with nice switch wired into dash
- New lockable hubs
- New brake pads / rotors / lines
- New rear wheel cylinders both sides
- Rhino liner type bed insert, forget brand. But tough as nails.
- Electric adjustable seats (just recently stopped working, i think its a fuse, but haven't had time to track it down)
And lots more I'm just tired and blanking at the moment. Also have several parts uninstalled in boxes. Will update with more stuff in next couple days.
Moral of the story is... the truck runs
perfectly
. I just recently moved, and even used it to haul several tons of gravel multiple times, which frankly i thought it wouldn't be able to handle, but it did without any trouble.
A/C works well, not amazingly in crazy hot 100 degree weather, but its an old truck so I think that can be assumed. But in fair weather it keeps the cab very cool. Heat works GREAT. There is some brake shudder / vibration as you come to a stop, not sure what it is because rotors / pads are new. But could be related to the aforementioned front axle-u-joints. Tires are in good shape too, as well as alignment is straight as an arrow.
Mileage 178,xxx
Black
Tan leather interior / perforated seats (VERY comfortable)
Will entertain reasonable offers, lowballs will be ignored..
. People love this truck everywhere I go, and especially w the time i put into it, it hurts a lot to sell but we don't have room for it to sit. So, feel free to send PM's. I wanted to give the forum a chance before listing it locally. Trucks here go like hot cakes on a sunday morning. But i want someone to love and appreciate it.
Need to take some fresh pics, but will do so for interested parties. The Interior photos you see were pre-tint, just FYI.
Asking $10k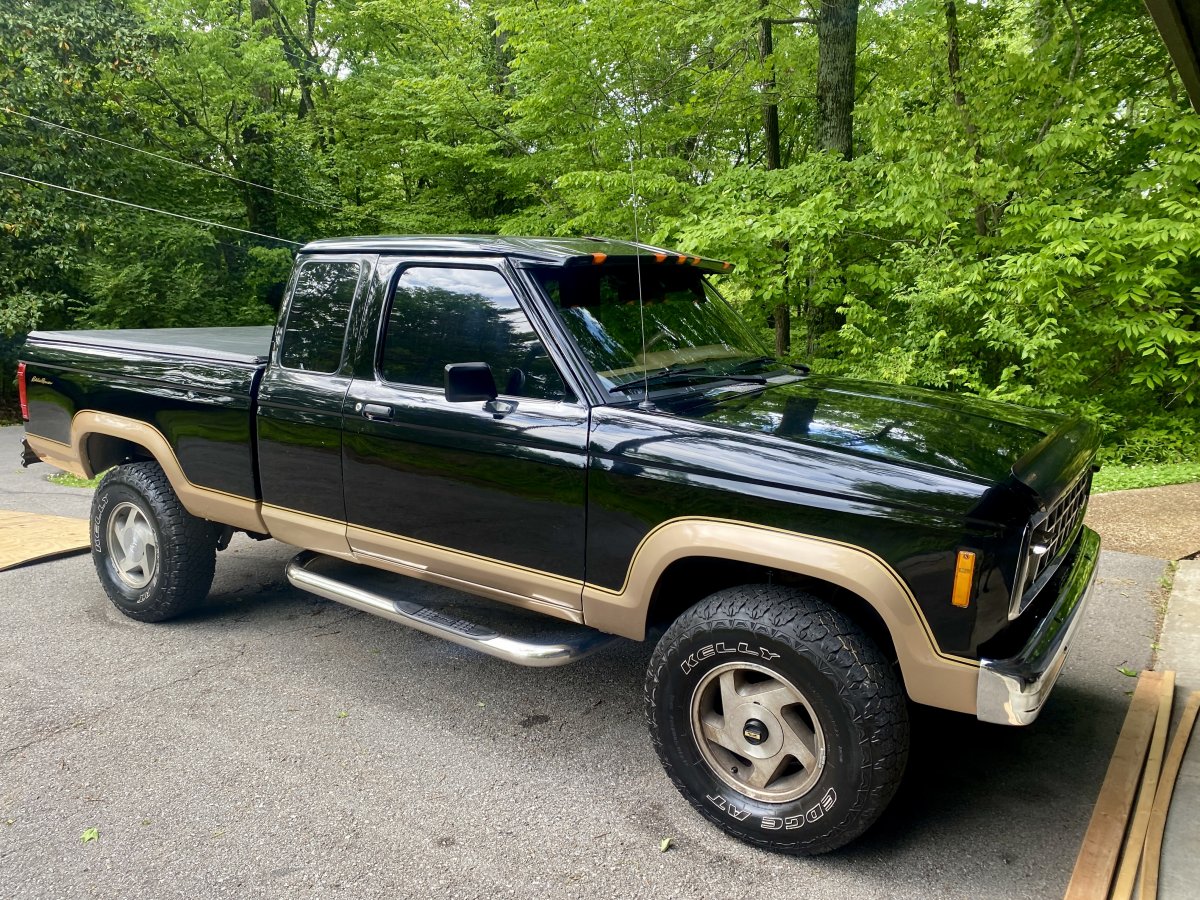 Last edited: