Want to start just a general thread on Every Day Carry.
I've found out recently that I'm addicted to EDC type stuff. I always find myself looking at carry gear and different items that people carry.
What type of items do you carry every day? and how do you carry it?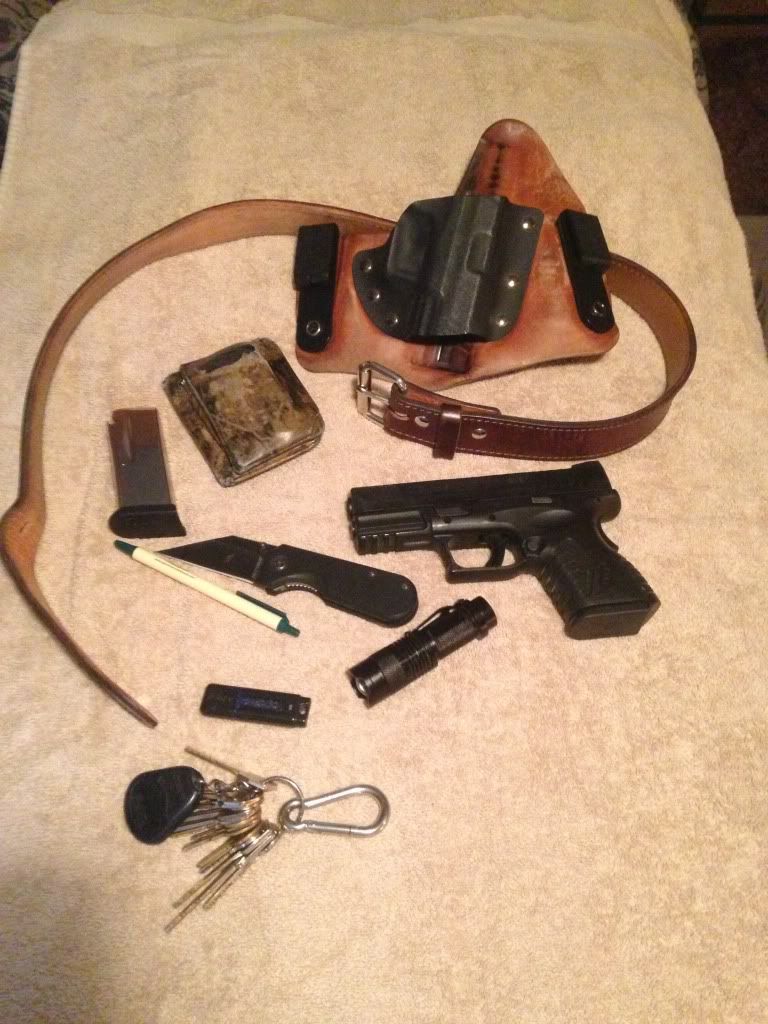 My EDC:
iPhone 5, lifeproof case (not pictured...had to take the pic somehow lol)
Wallet
Keys
Meyerco Dirk Pinkerton Knife
http://www.meyercousa.com/knife-designers/dirk-pinkerton/meyercor-dirk-pinkerton-assisted-opening-wharning-knife.html
XDm .45 acp 3.8" w/ spare mag
Theis IWB Holster
Jake Belt (carry belt)
http://theisholsters.com/
16gb jump drive
Cheap "disposable" CREE LED Flashlight
http://www.amazon.com/Lumens-Zoomable-Adjustable-Flashlight-Waterproof/dp/B007FC5A5Q/ref=sr_1_7?ie=UTF8&qid=1378777997&sr=8-7&keywords=cree+led+flashlight
free pen of some sort.. usually Sportsman Warehouse
On order is, to add in the EDC
Original SOE EDC Belt
http://www.originalsoegear.com/EDCBelt.html
KYTEX Spare mag Holster
http://www.kytexgear.com/products-page/pistol-mag-carriers/
Occasionally I'll use the INCOG G-Code IWB Holster (w/out mag holster)
http://monderno.com/gear-reviews/g-code-incog/
Last edited: