Well-Known Member
TRS Event Participant
Joined

May 15, 2020
Messages

1,759
Reaction score

2,759
Points

113
Age

68
Location
Vehicle Year

1997 1987
Make / Model

Ranger XLT x2
Engine Type

4.0 V6
Engine Size

4.0 & 2.9
Transmission

Manual
2WD / 4WD

4WD
Total Lift

97 stock, 3" on 87
Total Drop

N/A
Tire Size

235/75-15
My credo

Never put off 'til tomorrow what you can put off indefinitely
You know why Santa is so jolly* (see below)?
Polish generally celebrate with family on Christmas Eve, it's about the anticipation, patience, prayer for salvation, and then celebrate His coming with friends on Christmas Day.
It has been and typically remains more family oriented and religious, less commercial. When decorating the tree, each person picks an ornament with another, they each make a family wish, and they hang the ornament on the tree together. You hang an ornament one-by-one until you've wished/blessed with everyone (wow, then it's a free for all, and later Mom puts all the ornaments in the right place). Oh, and before all this, Mom would verbally abuse Dad until all the ancient lights were lit and in place**
We had turkey and ham, and the Polish treats: gelatin pigs feet stew drizzled with vinegar, "sfartkie" (boiled red potatoes drizzled with bacon bits and grease), cucumbers in sour cream with onions and vinegar, potato-, cheese-, sauerkraut-, and berry perogies, "kluski" (quick-fried left over perogie dough), kielbasa, "chrustchikie" (bow-tie sugar twists), and I'm sure I'm missing a hundred.
My artistic Uncle Gene would put 2 pounds of butter together and carve it into the Baby Jesus in the Manger (a Lamb with a cross/staff at Easter). Torpedoed twice in the Polish merchant marine, later serving in Polish uniform in the British merchant marine, he learned to love North Atlantic seafood, and Mom always got fresh cod and prepared it special for him. Before eating, after the Prayer, like the ornaments, we'd walk around with bread (like a large wafer Host, earlier blessed by the Bishop) and break bread and eat, pray and pass love and thanks and good wishes to everyone attending individually.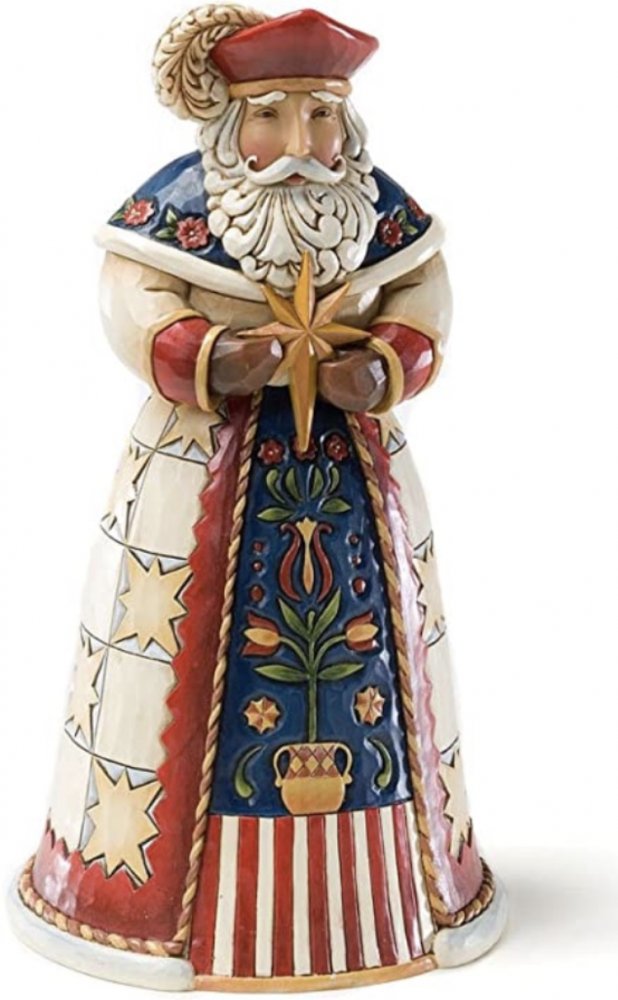 "Good old
Santa"
(known as
Święty Mikołaj
) a/k/a called
Gwiazdor
(
gvia-zdoohr
, Eng:
The Bishop, St. Nicolas
) historically visits children on Dec 6th, St. Nicolas Day, but that has been lost out-of-country. He comes during dinner now, and we all gather and open presents the rest of the evening. Around 10:00, in full dress, we'd walk to church singing carols (there are hundreds of Polish carols), gathering friends and momentum before midnight mass.
Christmas morning, more presents were opened, Dad took a little more abuse**, and it was a day of community and celebration. We'd visit, or we'd be visited by, friends and acquaintances all day and night. My friends always liked visiting me and my Polish family and friends because at 14, you were a man, and a shot of Polish vodka was tradition (I'm a little fuzzy on how everything ended Christmas Day).
Polish culture and tradition is akin to Our Country's best military traditions: God, family and faith, nation and patriotism, honor and chivalry, etc.
What are your traditions, best memories, new family traditions?
My new friends:
Wesołych Świąt i szczęśliwego Nowego Roku
- Merry Christmas and a Happy New Year! My prayers and wishes that you and your family and loved ones have peace, happiness, success and good health, and that you share in community and giving, remembering those who serve and those in need.
**Oh, and over the years with my Mom's "encouragement," my Dad would drink Cherry Kijafa on the cold Holidays. It's a sweet Danish cherry wine, like a port or sherry. After two wives, I've adopted this tradition too.
* & you know why Santa is so jolly? He knows where all the naughty girls are!!!
& stay humble!!!
( the little people like that!!)
Last edited: