Joined

May 20, 2009
Messages

740
Reaction score

2
Points

0
Location
Make / Model

Ford
I have a 1976ish Suzuki A100 GO-FER
Here's some info on it...its a 100cc 2 stroke engine w/oil injection(doesn't work). The GO-FER package was more an endro/offroad bike than the base A100 with knoby tires. The bike has a little more than 10,000 miles on it right now.
Here's the story...my dad got this 5 years ago from my uncle for free, it ran but it ran ugly. We paid a mechanically inclined friend to tune her up for some $100 and beer about 4 years ago and it's sat ever since and now it doesn't run. Now that I'm going to get rid of the truck, I need something to work on...the GO-FER is perfect, my plan is to get her running smooth and make it look new again. After the restore, I plan to ride to cruise it in town and take it to college, because its not going any where near 55mph especially with my fat butt on it.
Here's the bike...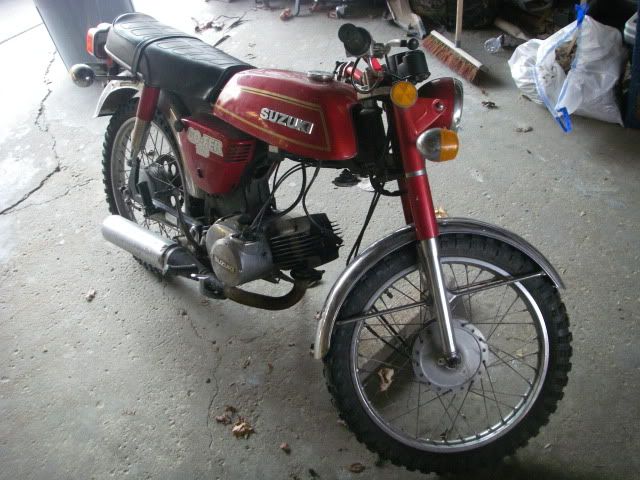 This is why I call it "Caddyshack"...GO-FER!!!!
Last edited: