Joined

Feb 27, 2018
Messages

16
Reaction score

0
Points

0
Transmission

Automatic
Hey everyone. I posted last month that I had a possible blown head gasket on my 3.0 Ranger. The engine came from a Taurus donor. It had 8200 miles on it and I did all my research on what to do 2 convert it into a truck engine. Basically the biggest thing was taking all of the accessories off of it and putting the ranger accessories on.
the most time-consuming part was changing out the head gaskets to match the water flow needed for the Ranger and it's water pump position. I went through all the steps and Fel-Pro gaskets. New head bolts of course along with all new gaskets throughout the engine. Everything was fine until about three months ago when I decided to flush the coolant I noticed it was brown. I had always used 50/50 mix antifreeze with distilled water so I couldn't understand what was going on. The previous engine had a failed oil pump which led to the spinning of a lower bearing. I don't understand why the coolant turned colors but I flushed it and it was better but never fully got back to just green. I figured that it was still okay. I've never had any overheating issues with it and all. About a month ago I change the thermostat because the temperature would stay at a low temp reading and then all of a sudden pop up to its normal reading so I thought thermostat was sticking. Then, white smoke out the tailpipe. It was running rich and smelling coolant. I tore it down today and here are the pictures.
I just want to know what I did wrong or if I did anything wrong. And if it was just a case of a failed head gasket and nothing could have been prevented. It's still never ran hot because I never let it run out of coolant. The heads go out tomorrow to be checked for any warpage at all. I'm including pictures of all six cylinders and I'm sorry that the head gasket came off the engine is it stuck to the bottom of the head. If I'm looking at the gaskets correctly it looks as if the driver side back cylinder is the one that has a head gasket problem.
the only thing is I never had the heads checked once I took them off of the new engine I just pulled them off replace the gaskets and put them back on with new head bolts. If they were warped any I don't know if I would have made it 35000 mi but possibly could.
if any of you can please give me tips on to what I have possibly done wrong and how to prevent this time I would definitely appreciate it.
Is there anything I need to do to the block or anything else before putting it back together this time?
I'm guessing it would be a good idea to go ahead and change the water pump now to as it has 35k on it also.
If any additional pictures are needed please let me know I can take them. I do know that I went through a set of exhaust manifold gaskets. And another set were already falling apart.
Thank you so much for any information.
Again the first two pictures are of the driver side cylinders and head gasket. Third picture is the passenger side head gasket intact.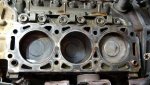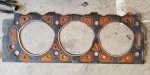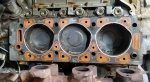 Sent from my SAMSUNG-SM-G891A using Tapatalk