Joined

Nov 22, 2017
Messages

172
Reaction score

67
Points

28
Location
Vehicle Year

1997
Make / Model

Ford
Engine Type

3.0 V6
Engine Size

3.0
Transmission

Manual
2WD / 4WD

4WD
Total Lift

4"
Tire Size

33x12.5
I can't take credit for this, I originally saw it on Bill4's build thread, and the original article about it can be found
here
. There's a bit of info on this site about the F350 master swap, however there's some misinformation in the articles I've found regarding brake line fitting sizes/threads and some confusion between the old cast iron MC's vs the later aluminum/plastic MC's. I'd like to help clear some of these issues up along with discussing this other swap.
From my research, it looks like the stock Ranger MC piston bore size varied through the years. In my case on a 1997, the stock bore size is 1.06", older models seem to have even smaller bores. It also appears that 83-89 Rangers used standard flares & fittings on the master cylinders, and 90+ seem to have metric flares & fittings. So, to do the F350 master swap on a later Ranger would likely require some new brake lines to be made or some sort of metric to sae adapters. The ports for the brake lines on the F350 master cylinder are also on the wrong side when compared to a Ranger.
That's where swapping in a master cylinder from a 99 Dodge Ram 2500 gas truck comes into play. It has a 1.25" bore. It uses metric flares and the same thread pitches as the 90+ Rangers, and the bolt hole spacing is the same as the Ranger. The only thing that needs to be modified is the pushrod, it just needs to be ground down 1/8" and bottomed out. Other than that, this is as bolt-in of a swap as I believe there can be for a master cylinder upgrade.
I've borrowed some pictures from the original article to show this. Here's the stock pushrod.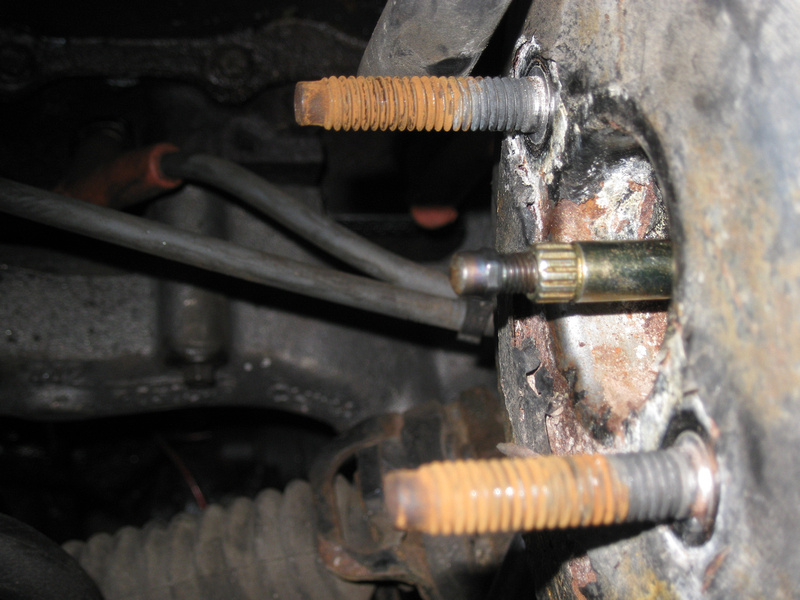 And here it is with 1/8" ground off, and tightened fully.
And close up shots of before vs after.
Once you do that, the Dodge master cylinder bolts right up to the brake booster, and the lines bolt right in as well. Here's a picture of the master cylinder installed in my truck.
The only other difference (and this would be the case with an f350 master as well) is that there's no brake fluid level sensor. To get rid of the light on your dash after the install, you'll need to jump the two wires in the brake fluid level sensor connector that are
not
the black wire - as shown here. This was my way of verifying that this would get rid of the light, I will do something less hacky to actually jump the two wires lol.
Like I said, I don't think it can get any simpler than that for a master cylinder upgrade. Larger bore than the f350 master, much simpler nearly bolt-in swap. I've got 33's on my Ranger and this swap was well worth it. The stock master did okay, but I never felt like I was getting the full braking power anymore since going to larger tires. It definitely felt like I had to put a bit of effort into stopping even in normal everyday driving. After swapping the Dodge master in, the brakes feel much more responsive, and the pedal feel feels like factory, but firmer. I'm able now to lock up the brakes which I was not able to do with the stock MC.