Hi everyone!
Had this '99 for a couple of years and this year have finally gotten around to starting to make mods to the truck. Gonna post updates about my build here. I use it for going on camping/backpacking trips with my girlfriend and friends, but want to get into some more wheeling/mud/rocks/dunes!
So far I haven't done much, just replaced some saggy leafs and installed some Belltech shackles in the back. I did a slight T Bar crank in the front. It's got the factory Ford 8.8 inch axle for this year of Ranger which is the open 8.8 with 3.73 gears. I bought it with older BFG KO 31x10.5R15 tires. In 2019 I put a canopy on the back and built a bed/drawer system for my girlfriend and me to sleep in when we go camping. It's a sweet little rig that's treated me really well and brought me all over Washington, Oregon, and down to California and back!
I've gone back and forth in my head when I was prepping to order parts for the leaf spring replacement whether or not I'll go with some other more cheap ways of lifting the truck and just running 31's since I don't do more hardcore wheeling, but after installing the Belltech's and cranking the T bars I'm still not satisfied with the way the truck looks and sits, plus the 31's started to look a little tiny once the back was raised up a bit! Seeing the way the truck is looking so far with only a little bit of lift, it's got me getting a clearer picture of my wishlist:
- Superlift or Rough Country 4 or 5 inch lift kit
- New wheels and tires - depending on SL or RC lift; 15 - 17 inch steelies and then some 33"or 35" A/T's. I'm looking at the General Grabber A/T X's or BFG KO2's. Ultimately, I know I do more highway than true off-road driving and while M/T's look badass I don't think I can justify them.
- Upgrading to 4.10 or 4.56's front and rear
- Upgrade the PV Hubs with some manual locking hubs
- Winch
- Diff lockers (Detroit and Torsen?)
Other ideas and plans in my mind are:
- Custom replacement bumpers in the front and rear
- Overhead storage (racks, bars, containers?)
- More lights - I actually bought the 22" Harbor Freight off-road light during their sale this last week. It was only $70 and a friend of mine has one and says it's bright as hell.
- I want to rebuild the bed/drawer system I have in the back. I built mine last year without a real workspace and threw it together kinda quick. It works and is fine, but I know I can do a better job.
Anyways thanks for checking this thread out and following along! Here are a couple of photos of the truck.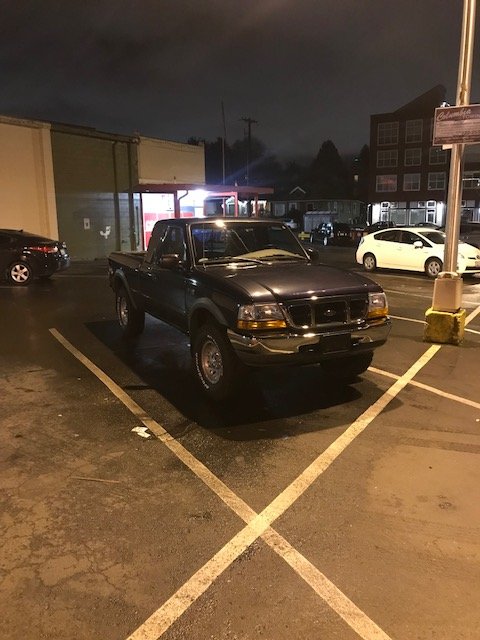 This is when I first bought it back in December 2018
Bought a canopy in July '19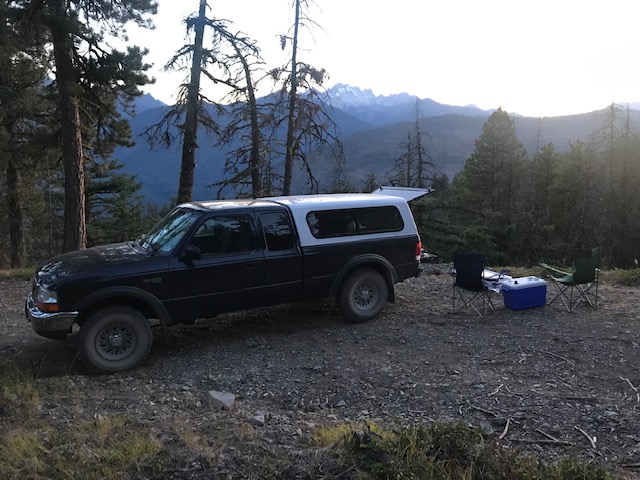 Some north cascades hiking and camping
Drawers and bed in the back. Mt. Shasta July '20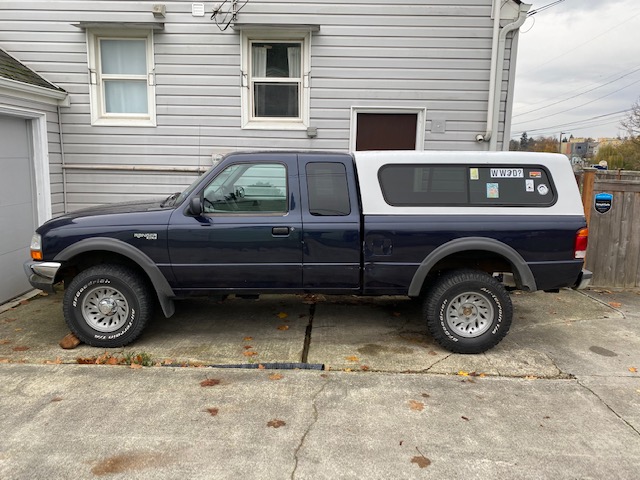 How the truck sits now since I installed new leafs, belltech 6400's, and did a T Bar crank.
Cheers!