Hey

@avid

did you get the seats in?
Alright, finally an update. Got the second seat in this morning and they are an amazing improvement over the original saggy seats.
What I still need to do is find that plastic cover from a non-electric driver's seat as the ones I have were from the original power seat. It's not a huge issue but I had to jerry-rig an attachment point at the front. Otherwise, everything is good. Passenger seat plastic was fine.
I was real busy last year with a whole house remodel and then along with everything else these seats sat in my basement for more than a year. Add to that for the last 6 months my wife and I have been sharing my truck while looking for something for her. So she finally got a vehicle last Sunday so I got my truck back.
What I finally figured out is that the black track with the feet can be separated from the silver track with just a little work. There's one stop riveted in on the silver track side, and then the black tracks have two little tabs at the front. Grind down the tabs and grind off the top of that riveted stop and punch it through with a hammer, and you can remove the black track through the back of the silver track. Maybe I'm just dense but up until this point I was originally trying to figure out how to cut off the feet and get them on the new seat track.
So anyway, I had also gotten a donor track from a 98 ranger at the junkyard and was able to use that while experimenting in case it wasn't going to work and so I wouldn't ruin my current seats. I swapped the black tracks from the ranger into the silver tracks from the Escape and tested the fit in the truck. As I already knew, it wasn't going to fit as is, but I wanted to see what I was dealing with.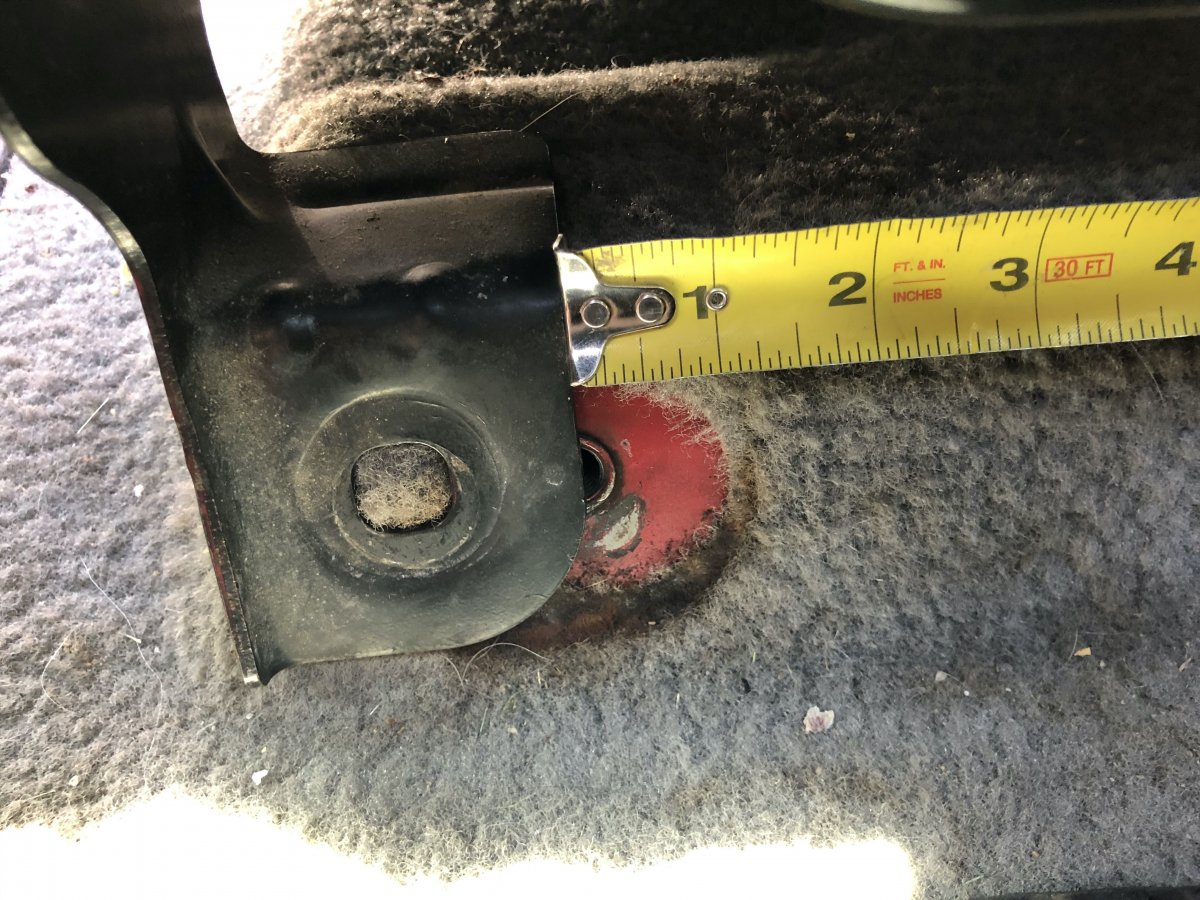 With the interior feet bolted in, the two feet near the door were almost near enough to just drill another hole. I'd considered moving the whole set in toward the middle and drilling new holes in all four feet but I felt like the best fit was with those interior feet in their original positions. And also, a couple of the holes would have been very near the edge of the feet. So what I wanted to do was just add on to the outside feet. An added benefit to leaving the interior feet alone was that the interior is where the seatbelt attaches so I wouldn't be compromising it's attachment in any way.
I considered lots of options but I knew the "correct" way was to weld on an extension. Problem is I have never welded. But I have been interested in it for a while, so I decided to buy a little welder and try to do this myself. I don't have 220 in my garage, so I had to get a 110 model. I watched some videos and read a bunch, including some of the welding discussions on here, and ultimately got the Century FC90 FCAW. So welding is a whole other discussion, but I'll just say it is not easy. Anyway, after some practice in the 95-degree heat here and with all the protective gear I gave those feet a shot. And this was my solution: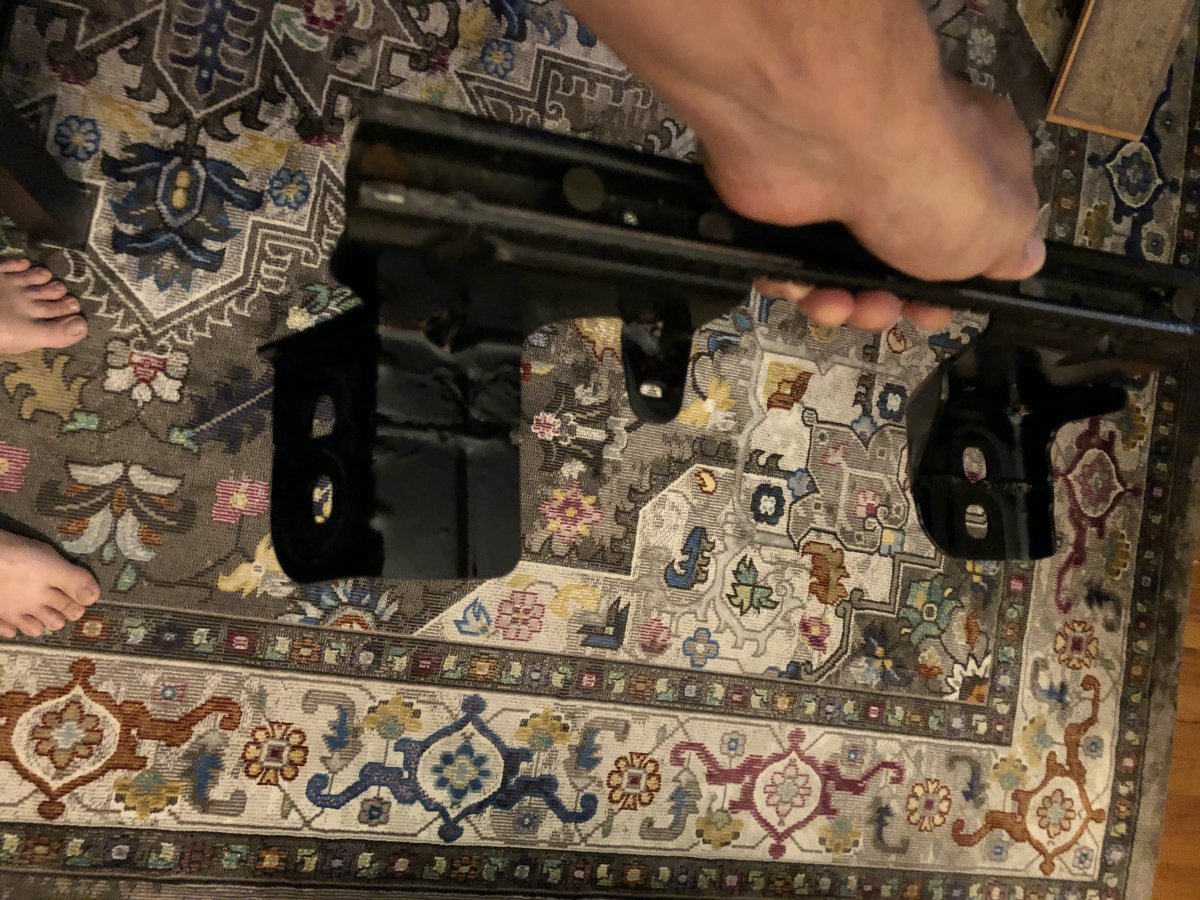 I cut the feet off my extra set of tracks and welded those onto the good tracks. Don't judge my welds too harshly. After that was done, it's just a matter of re-assembling the new seats with the ranger tracks. That's a little bit tricky because of the little bearing strips but not too bad. The other good thing is on the Escape seat tracks the stop isn't riveted in- it's a bolt you can remove and re-tighten.
There are a couple issues with this swap. First is that the Escape seats don't incline forward as much as the old ranger seats, so getting things in and out of the back will probably need to be done through the center. Not a huge issue for me as that's what I do 99% of the time anyway. And related to that, the seats also don't slide as far forward or back because the silver Escape tracks are shorter. But considering those things account for so little of my time compared to driving, I don't think I could be happier. The nice thing for anyone considering this swap is that the junkyards, at least around here, have a ton of those Ford Escapes, and most of them seem to have pretty decent interiors.
Now, if I can just figure out how to wire up those seat heaters.
Last edited: