Just some guy
Supporting Member
Joined

Aug 4, 2021
Messages

352
Reaction score

461
Points

63
Location
Vehicle Year

1996
Make / Model

Ford Ranger
Engine Type

2.3 (4 Cylinder)
Transmission

Manual
2WD / 4WD

4WD
So i picked this up probably a month and a half ago for $400
Its a 96 ranger, 2.3L, M5OD, manual everything. It ran and drove but was down on power. Plugs, wires, coils, CTS, TB clean, fix a couple vacuum leaks, and an air filter later she runs smooth as silk with 112hp present. I also deep cleaned the heck out of the interior. A previous owner was addicted to sunflower seeds btw. No clue on actual milage as the odometer quit dead nuts between 191999 and 192000. This was probably the cheapest 4x4 ford offered in 96 being that it doesnt even have AC but thats what make it cool to me.
This is how she sits currently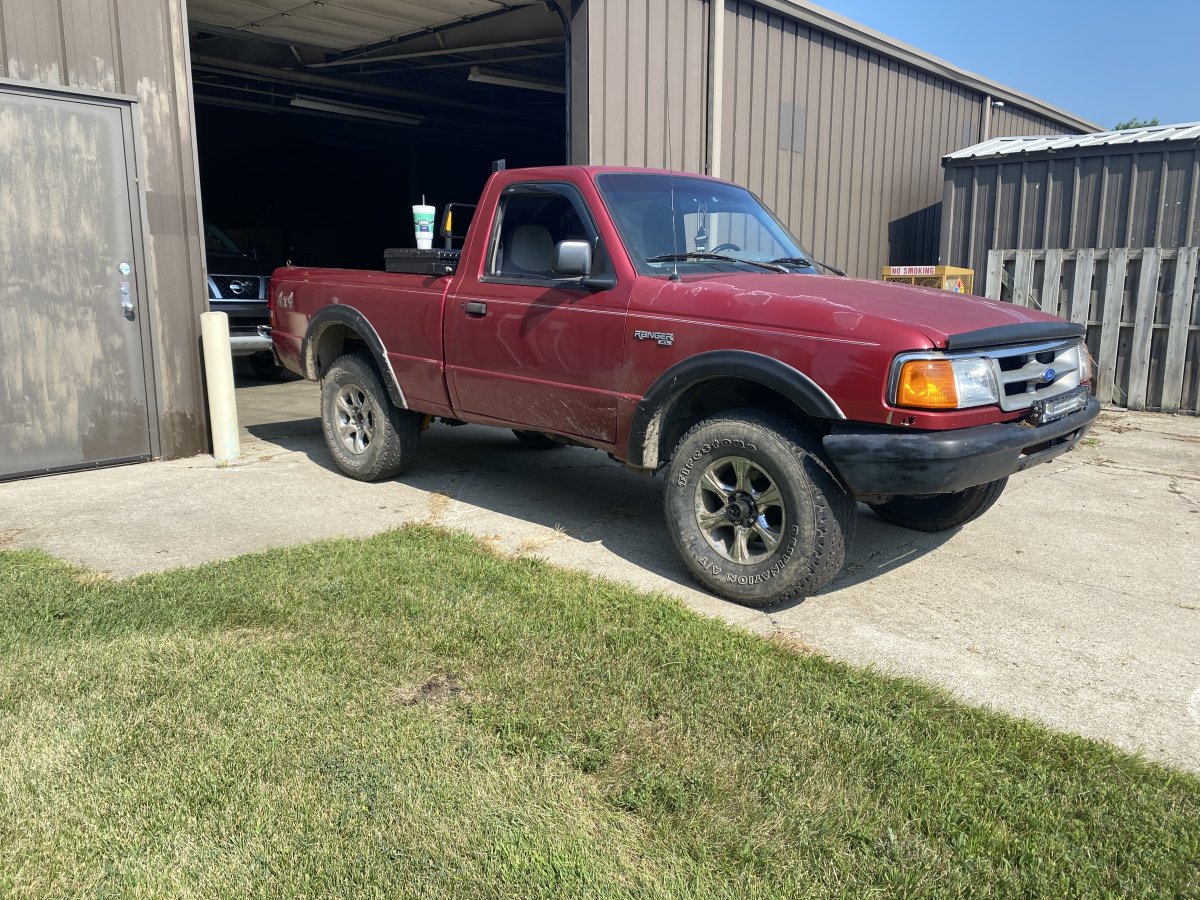 Its my daily and id like to keep it that way, saves me tons of gas over my GMC.
Things it has/ive done-
-Newer 31x10.5 Firestone ATs (came with)
-Back Rack (came with)
-Marketplace special toolbox (needs struts)
-Rubber bed mat
-4 New shocks
-New shackle and hanger on drivers side
-New engine and trans mounts
-Replaced the front ABS wire
-Junkyard special headerpanel, air deflector, marker light, and grill
-Vent visors (amazon messed up and sent me the more expensive in channel vs the sick on cheapos)
-"Fixed" parking brake cable. It works, thats all that matters lol.
-3D printed a cupholder.
Plans-
-Valve cover gasket replacement
-Power steering line replacement
-Rebuild front end or swap in a D30HP (everything is shot... everything)
(might still swap in an xj axle though)
-Swap an 8.8 disc brake rear with explorer leafs
-Build bumeprs (once steel prices come down)
-Swap in a new (uncracked) windshield
-15x8 D windows or soft 8s
-Bucket/console swap. The dog is the only one that uses the passenger seat, Mrs. Shackleford doesnt care to ride in it.
-Carpet the floors (i hate rubber floors)
-Swap out the manual doors for power or at least the guts and cards.
-Fix saggy headliner
-Replace some broken interior trim
-Do something about the poor light output from the headlights
-Swap on 2008ish mirrors (if anyone can confirm fitment that would be awesome)
And last but not least
-Lund Lighted visor. I loved the way my B2s looked with them and id love to find one for this.
like i said its my daily and id like to keep it that way unless i find a second gen 2x4 2.3 5sp short bed ranger cheap. It wont be much of a build but itll be much nicer and more comfortable if i can check off all those wantsies.
Last edited: