Joined

Oct 6, 2019
Messages

37
Reaction score

29
Points

18
Age

33
Location
Vehicle Year

1988
Make / Model

Ford Ranger
Engine Type

2.9 V6
Engine Size

228
Transmission

Manual
2WD / 4WD

4WD
Total Lift

4" body lift
Tire Size

31x10.50R15LT
I bought the truck in August 2019, haven't had it a year yet and I have completed much more than I thought I would, one of the few things I can thank COVID for lol. I didn't even start taking things apart until February (2020)
The overall goal for this truck is to build it into a nice daily driver, but a daily driver that has some pep, possibly quite a bit of it. Also, I should add, you know that sweet ford ranger ad they had back in the 80's with the rollbar and brush guard, cruising down some beach, probably in California? I'm headed that route, with my own touch aaaand more of a modern feel, when it comes to the power plant.
Now, I've been around lurking in the forums for about 6-7 months and I keep getting this ring in my ear, it's the sound of the almighty swappers of TRS. So, I decided to build the current 2.9L that's in the truck, in spite of them (Maniacal laugh)
Funny part about that last thing, I WAS saving to swap a Coyote in the truck. But, why when there is some cool stuff you can do to the 2.9?
"but, but they have head issues" They say. "They're total dogs", they say.
Well, now I'm out to prove some peeps wrong and this truck will hopefully help me look good doing it.
All the upgrades/changes are cosmetic, as of right now. So here is what I have done, so far and I'll post pics as I go.
The day I bought the Truck
.
August 2020
The body lift is 2" and I'm riding on 31x10.5R15's. I'm not sure where the original owner got the brush guard or what brand it is, cause at this time, the label was pretty weathered.
For the most part, the body was pretty straight, has a new transmission and as of the day I bought it, the truck had only been driven 200 miles with the new transmission, the transmission was still, and still is as of today, under its 12000 mile warranty.
Interior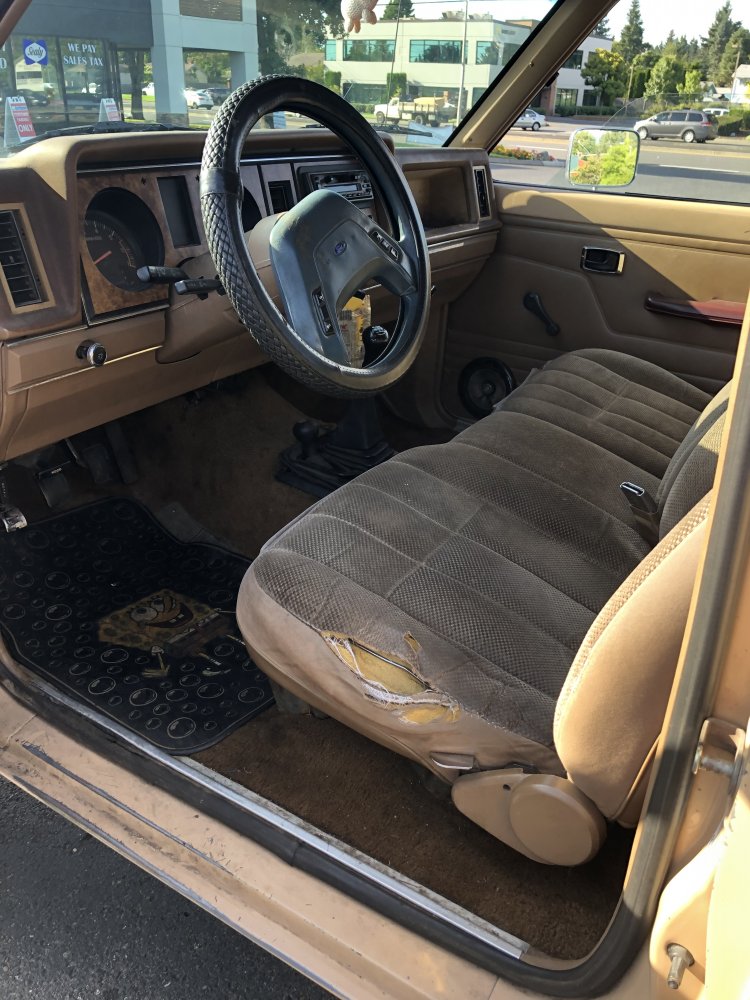 The interior was what you'd expect from a 31-32 year old truck. The headliner was torn and clearly the driver seat had some wear and a tear.
So, let's fast forward to February when I woke up one morning and decided I was gonna begin the process.
Back to February.
Dash

I decided I wanted to start working on the interior and wanted to change the colors. I knew I was going to paint the truck, at some point, and decided to prime the pieces I was going to color match and what I wasn't, was going to be black.
At some point I thought about doing the seats myself, but decided to go a different route. I'll post that in a bit.. but let's get to the headliner (decided to do it myself).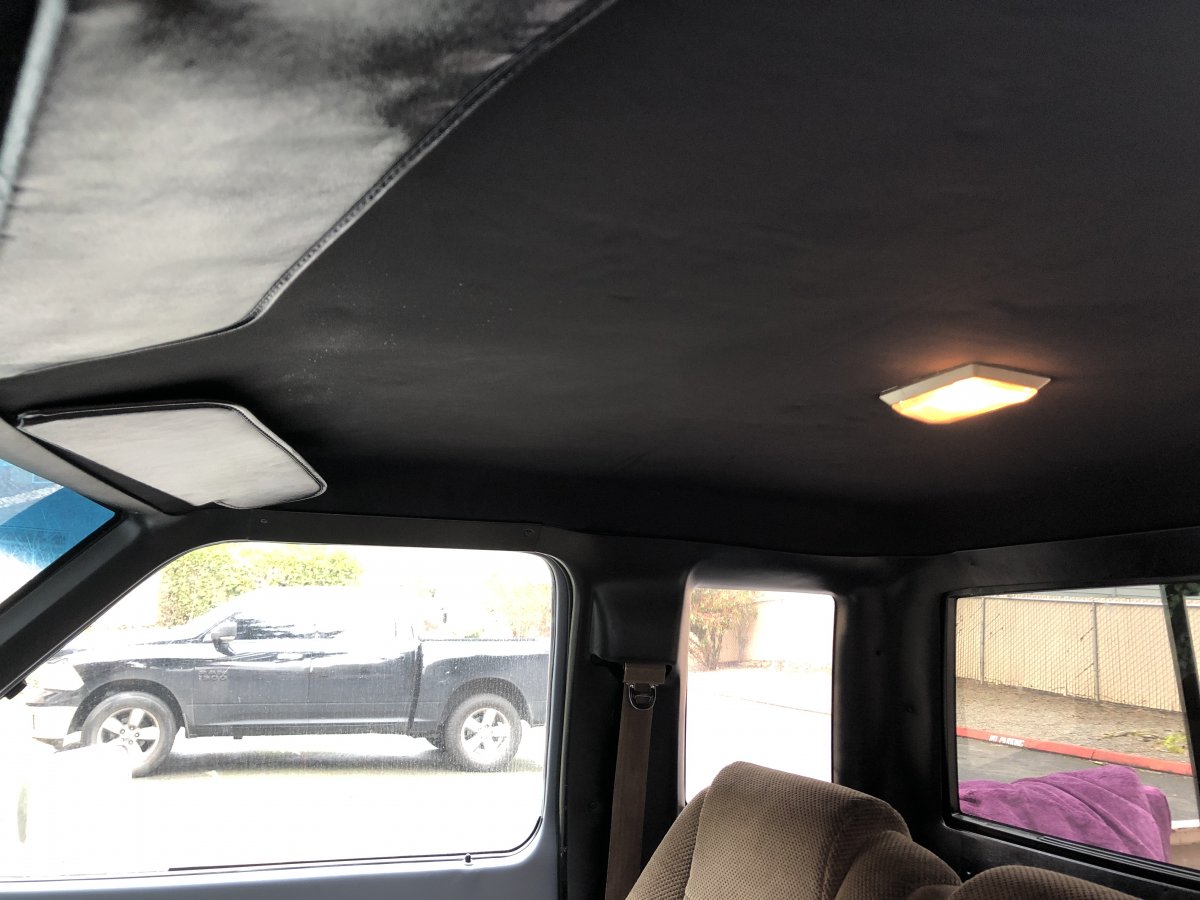 I was happy with the results, however... with it being my first time I don't think I used enough adhesive and it's starting to fall... sooo, I'll be redoing it soon with better adhesive.
Paint?
So, my brother had found me a straighter bed and I had already scheduled a week off of work, I took the truck to his house to see if this new bed he found would fit... it was a step side.
HARD PASS. It just didn't fit and it would have taken more work to get it to fit then I wanted to do. Fortunately, I also had him buy a normal bed that I knew would fit.
With that being said, I had a week off and we decided to sell the step side and it paid for my paint.
We sanded the truck down and did some body work, I got a new fender from a pick and pull, cause the passenger fender had a dent right where the light was and I didn't want to waste time beating it out, since I only had 7 days to do body work and paint... this thing needed a lot of love.
While I had everything off the truck I went ahead and sanded the frame and wheel wells down and shot it all with undercoat.


Paint begins
Don't trip, I pulled the hood and fenders before I painted.
After 7 days of intense labor and dang near 16hr days...
I'm pretty happy with the outcome.
Now, at this point I still needed to finish up the interior, seats and center console. I decided to ditch the 60/40 bench and found some seats out of a bronco II.
I wanted the center console that would have came with the first gen Rangers/Broncos. Had a heck of a time finding one, finally scored one on eBay for, what I would call, a steep price. However, I felt it was worth the cost.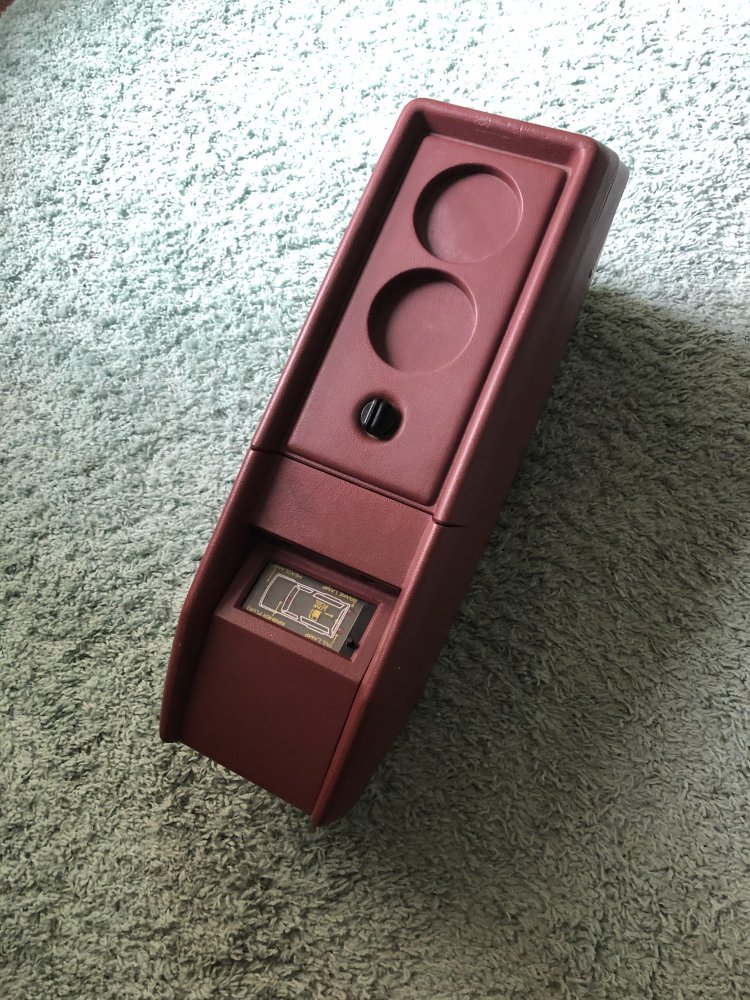 So, this is where I currently am with the interior. Unfortunately, I'm having a hard time finding a diagram for how to wire up the center console. If anyone can point me in the right direction that would be much appreciated.
I also decided to do a spray on bed liner. We'll see how it holds up over the next few seasons.
So, I did the spray on because I was going to pick up a roll bar for the truck within a couple of days..
On my way I lost a valve seat.
Aaaaand, this is where we're at. Lost a head about 3 weeks ago. Currently waiting on the machine shop to call me.
Instead of just buying a new head, I decided, might as well rebuild the whole engine and add a little pep to its step.
I will post as soon as I get the motor back, along with info on my parts, new engine specs and... photos, maybe a video as-well.
So, here is a list of what I'm doing to the motor.
Bore +30
RV Cam
Heads are being ported
Upgraded injectors
MAF (right now)
Jet chip
Bigger radiator
Pace setter Headers
Aluminum flex fan
Once the motor is broke back in, I plan to drop a M90 supercharger in it. But, that'll probably be about a year out.
The motor is finally in the truck! Working out a couple of kinks, but I'd have to say I'm happy with my decision on sticking with the 2.9l.
My guess is I gained 40-45hp, which would put me around 185ish.
Video is just to give you an idea of what it sounds like. We were working on dialing in the timing.
I will continue to update this thread on anything I do to this truck. I don't know why I didn't do this sooner.
Last edited: