Toilet enthusiast
Supporting Member
Joined

Feb 15, 2020
Messages

3,973
Reaction score

3,866
Points

113
Location
Vehicle Year

2021
Make / Model

Ford ranger
Engine Type

2.3 EcoBoost
Engine Size

2.3
Transmission

Automatic
2WD / 4WD

4WD
Total Lift

2.5" level
Tire Size

275/65/18
My credo

Its probably better to be self deprecating than self defecating.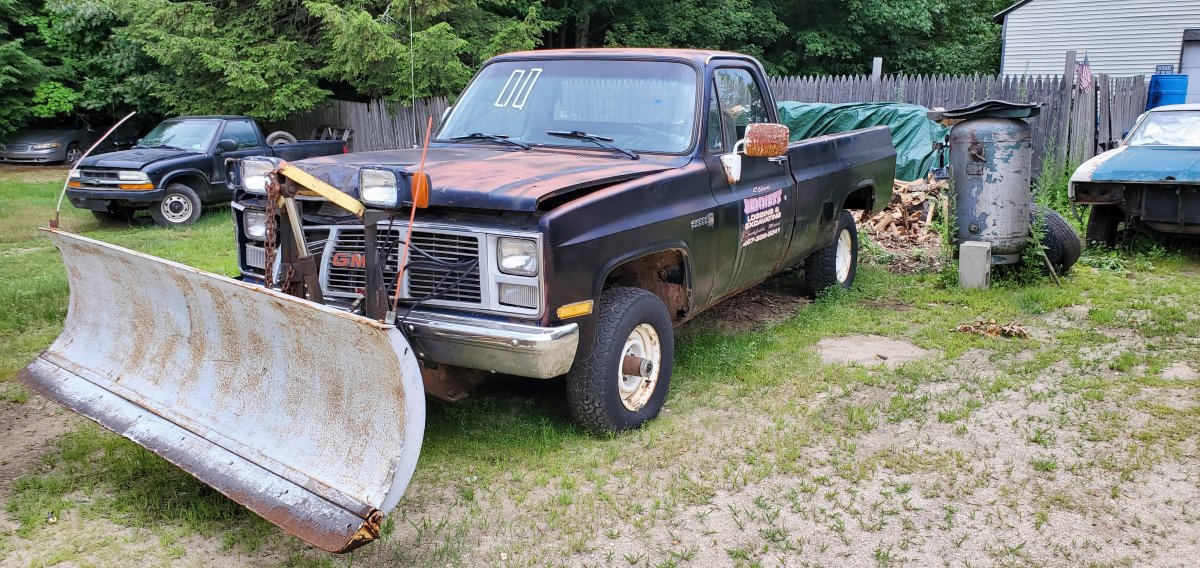 My latest 1000$ purchase. 1986 gmc half ton, 4x4, long bed, 4.3 v6, muncie 4 speed, plow... obviously.
A tree fell ON it. The drivers floor and rocker fell OUT of it. The only panel that isn't beat and needing rehab like a complete crackwhore is the roof.. and honestly.. I didn't really look at the roof. That's probably dented too.
Luckily for my wallet, people like the squarebody chebby more than tig ol bitties.. so replacement panels and patch panels are abundant and CHEAP. All that mattered to me was that the truck needed a good frame, which this one does. There's even patches of factory paint still on the frame on the passengers side. It's as solid as a 35 year old truck frame gets in the salt belt, I was amazed.
Plan is to sell the plow, fix the cab, swap the front clip to the pre-facelift one with round headlights, and put a 454 in it.
I was initially going to try to make my 1000$ back by selling the plow AND the muncie.. but I feel like it'll be more fun with the manual, and much like those dirty internet movies.. that box will take a BBC beating no sweat.
Totally got the green-light from the fiance too.. as she's always wanted a square. She's just bummed it's a gmc and not a Chevy lol.
Last edited: