Greetings TRS folks!
I recently acquired an 86 Bronco for my daughter to use and for us to work on together as a project rig. Obligatory pic:
Today we were tightening up the mirror bracket on the passenger side and the nut was spinning so we had to remove the door cover to access it. In the process, the window crank spring and an unknown metal retaining clip fell out.
The spring was easy to figure out but I can't figure out where the heck this guy goes and haven't been able to match it up against anything on a Google search. Can anyone tell me where it's supposed to go? The retainer: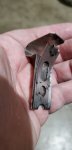 Thanks!
Last edited: