Joined

Feb 13, 2011
Messages

27
Reaction score

0
Points

0
Location
Vehicle Year

'84
Make / Model

Ford
Transmission

Automatic
13 years ago, I purchased my poor little Bronco II from a guy that picked it up in a heavy equipment auction. He wanted the equipment, but had no use for the little BII. It wasn't running well.. turned out to be that the plug wires were not in the correct firing order. It was also missing the air cleaner and the catalytic convertor that I replaced. Got it running well and fixed it up some. It went through a few iterations of off-road duty. 2 inch lift and 31s on black steelies then 3 inch body lift and 33s on aluminum wheels. after a few years, I lost interest in off-roading and picked up a few motorcycles and now I do a good bit off back country, dual sport adventure motorcycle trips. the poor Bronco II sits lonely in the back yard.
today, it looks like this...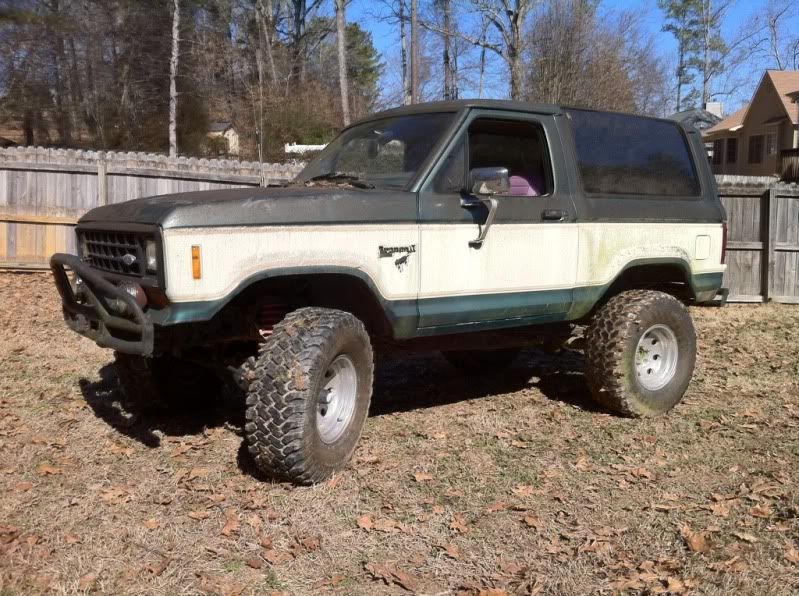 my daughter is 15 and soon to be 16 and has convinced me that it'll be a good idea to fix up the old BII for her to drive. so the purpose of this thread will be to document the reanimation of the Bronco II and making it something my Daughter will be proud to drive. She's offered to get greasy and help.
the plan is to return it to a more "streetable" version of it's former glory, but still be able to hit the mild trails.
Initial plans (to get it back on the road):
- empty the old gas out of the tank and replace with fresh, get a charged battery in it and make sure it'll fire up and run.
- go over the brakes - it needs new rubber lines (already ordered) and then whatever else it needs to make sure it stops.
- front wheel bearings - replace/repack TBD when we do the brakes.
- replace all fluids (oil, atf, coolant, break fluid, and both diffs)
- replace all belts, hoses, filters
- a good scrubbin' inside and out
Longer term goals
- Duraspark swap (but the current system was actually working fine the last time I drove it)
- replace the F/R sway bars (kicking myself for throwing them out)
- fix up the interior (new/recover seats, new carpet, new dash cover)
- upgrade the stereo (it's got a cassette player)
- Replace the tires with an aggressive AT instead of a MT (I suspect the current set, while not worn out, are beyond their useable life)
Real long term goals (may never happen)
- Repaint
- D35/8.8 Explorer Axle Swap
- replace the 2.8 with a 302
Let the fun begin...
and a picture where I think it looked the best... our goal is to top this.