Joined

Jun 21, 2010
Messages

196
Reaction score

1
Points

0
Location
Vehicle Year

93
Make / Model

Ford
Engine Size

4.0
Transmission

Manual
link to original thread about this.
http://www.therangerstation.com/forums/showthread.php?t=122174
finally got to the mudhole last night to do some playing with the v-treads i bought for a pretty good deal. truck/tires did AMAZING. i started out in 2wd to see how it did since i was leery about useing the front axle with my weak mile marker hubs. i was forced to go out early due tomy cousin getting stuck and needing some assistance. i was able to get to him and backed up to him, all in the sloppy stuff, all in 2wd. i did go ahead and lock it in 4x4 when i went to pull him out so i didnt dig down and get us both stuck. all-in-all i am throughly impressed, as was everyone else after they got done laughing.

2WD Review:
even with the 4.0, 3.73 gears, and a manual tranny i didnt have the power to go to 2nd gear (except for in 4lo with the hubs unlocked/broke). in 2wd high it would hold at about 4200-4500rpm, and in 2wd low it hold stay at 5k and bounced off the 5200 rev limiter in the slippery stuff. while playing around and while they are spinning you can actually feel what they are grabbing, be-it soft mud, slippery ground, or hard bottom, all hav a different vibration that you can feel on the "butt-o-meter". WHEN I GOT STUCK IN 2WD I WAS STUCK, 4WD JUST BURIED THE FRONT END DOWN WITH THE REAR AND REVERSE IS USELESS. most of the times that i got stuck it was because of being in 2wd first.
4WD Review:
this is where they really shined. i guess the best way to describe it is they just GO. i didnt try 4 high but 4lo 2nd gear is just about the same as 1st in 4high. the only times i got stuck in 4wd was because i just simply ran out of ground clearance and bottomed out before the tires had a chance to claw theyre way through. every time i got stuck i was IMMEDIATELY framed out and upon getting pulled out my truck rose straight up about 8inches before moving backwards.
now for the bad news...
as i expected the front end did not hold up all night. i cannot tell exactely when it stopped pulling in the front as i didnt hear anything pop or grind or anything, but non-the-less its not pulling. i havnt gotted around to seeing whats broke but my money is on the mile marker hubs having stripped out splines. the rear performed flawlessly and the posi had both rears turning all night.
crappy pic from my friend's phone
cant really tell but it id dirtyer than it looks and 95% of the mud is caked underneith.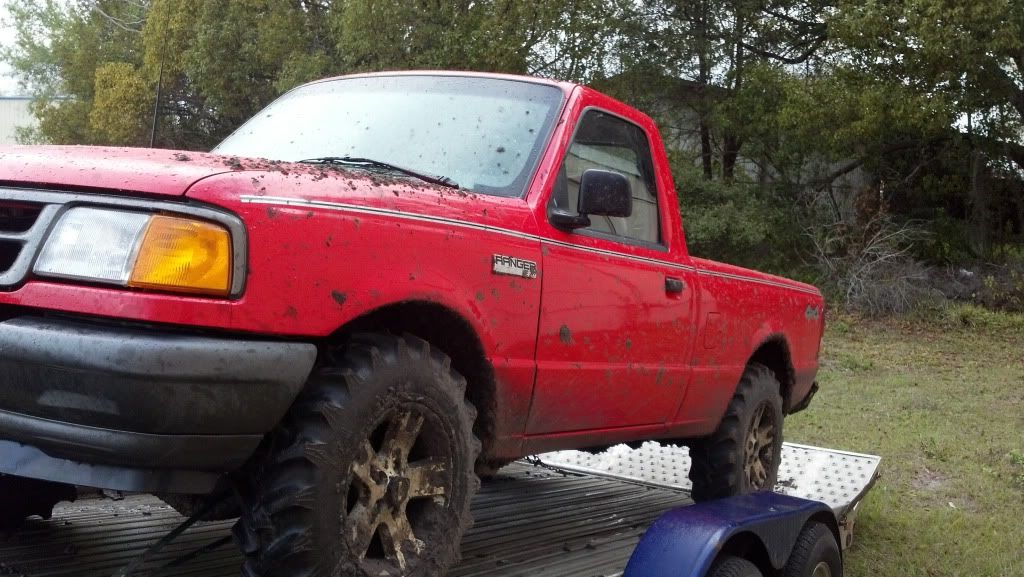 more pics to come and a video i think, that yall will definaltly enjoy, soon as i get them off my gf's and sisters's cameras.

Last edited: