Well-Known Member
Supporting Member
V8 Engine Swap
OTOTM Winner
Solid Axle Swap
RBV's on Boost
2014 Truck of The Year
TRS Banner 2010-2011
Joined

Sep 22, 2008
Messages

4,434
Reaction score

60
Points

48
Location
Make / Model

Ford
Engine Type

V8
Transmission

Manual
2WD / 4WD

Solid Axle Swap 4x4
My trans finally went out in my 4.0 4x4, so I decided now was the perfect time to try out an idea I had been tossing around. My truck has 3.73's with 33's, not as low as I would like, but better the 3.27's it came with. The 3.73's are nice on the highway though, and I drive 150 miles one way every weekend to and from school.
I was looking at the gear ratios for the M50D and I noticed that the 4.0 version is geared higher in first. second and third than the 2.5, 2.3, and 3.0 versions.
3.40 / 2.05 / 1.31 / 1.00 / 0.79 (4.0L Engines)
3.72 / 2.20 / 1.50
/ 1.00 / 0.79 (All Other Engines)
Having a 3.72 first gear and 3.73 rear end will be like the having the original 3.40 first and the 4.10 rear end I wish I had, but 4th and 5th will remain the same and will make nice highway gears.(something I would lose with 4.10's outback, but eventually when I bump to 35's I will gear down to 4.56's or 4.10's)
I did a little math to figure the final crawl with the hybrid M50D
(first/sec/third all in low range)
34.41/20.35/13.88 (Hybrid M50D w/ 3.73 rear end)
34.57/20.84/13.32 (Stock 4.0 M50D w/ 4.10 rear end)
In third gear I will actually have lower final crawl than the stock 4.0 M50D w/ 4.10's

So I bought a 2wd 2.5 trans out of a totaled 99 ranger with less than 100K, but a 2.5 isnt direct swap into a 4.0 since the bell housing bolt patterns are different.
I pulled all the internals out of my 4.0 case and slipped all the gears, syncros,and bearings off ouf the output shaft and did the same with the 2.5 trans. I put all of the 2.5 gears and syncros and new bearings on the 4.0 shaft. (4x4 and 2wd trannies have different output shafts) I put the 2.5 counter shaft and the 4.0 output with new gear stack back into the 4.0 case.
If you were able to find a 4x4 3.0, 2.5, or 2.3 there would be no need to swap output shafts and the job would be a whole lot easier, but 2wd 4 bangers are a loet easier to find not to mention cheaper.
4.0 4x4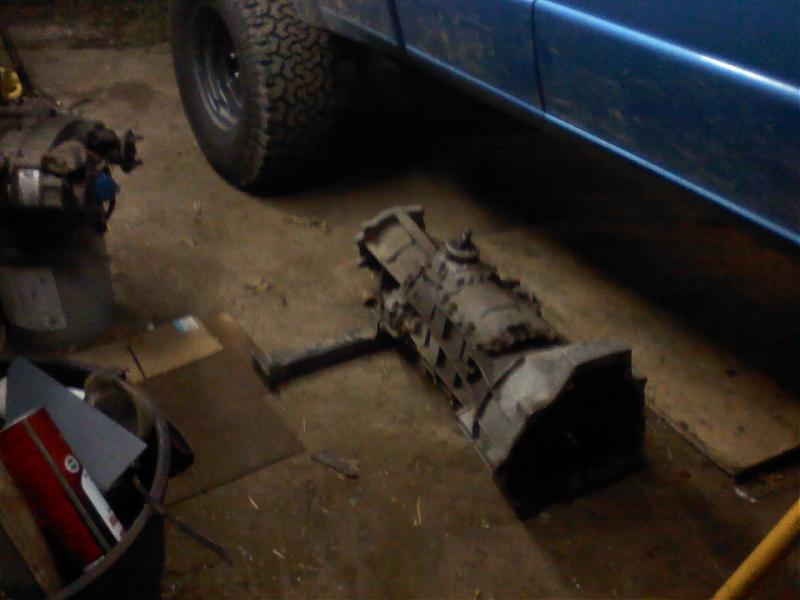 2.5 2wd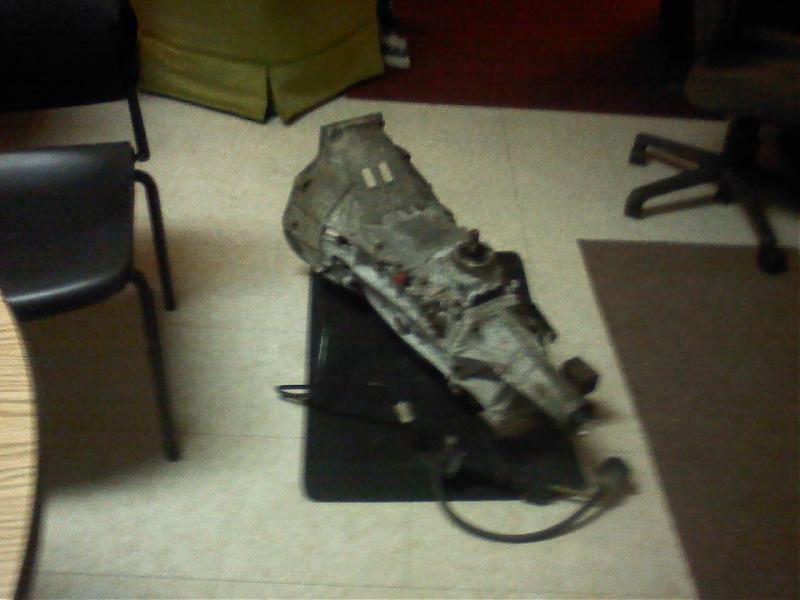 4.0 internals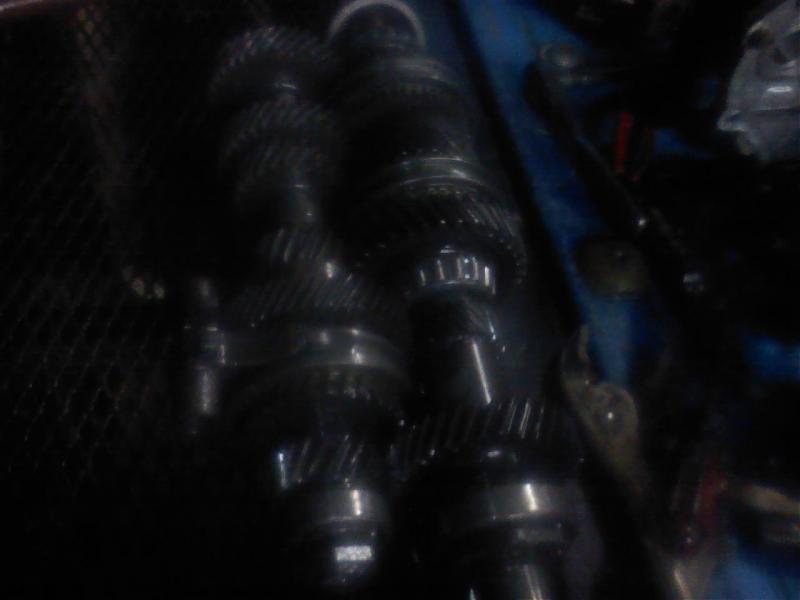 2.5 with tail housing removed
gears, gears, and more gears!!!
the 4x4 shaft is the one w/o any gears on it
empty 4.0 case
Here are some side by side shots of the two cases
I snapped some pics of the shift forks that I pulled out of the 4.0 trans. They have about an 1/8 inch ground out of them.
The complete 2.5/4.0 Hybrid M50D
My tailgate made the perfect place to stand up the trans and bolt it down while I torqued the counter shaft and output shaft nuts.
I put it in the truck and took a test drive, it engages smoothly into all gears and is a lot quiter than my last tranny that had aluminum shavings for lubricant

The shifter from an older M50D and a newer one cant be interchanged. The base with the wedge bolt is clocked 90* and the newer shifter is about an inch further back. Which of course was enough to hit my center console when I shifted into 4th and reverse, so I made a temporary shifter to hold me over until I can get my Hurst in there.

old on the left and new on the right
I suppose a 2.9 M50D probably has the same gearing as my hybrid and would be a direct bolt in, but what fun would that be? Not to mention low miliage 2.9's are hard to find, and it seems like any 4x4 trans is 100 bucks more than a 2wd. I have heard the 98+ M50D's are supposed to have and improved lining in the syncros as well.
-plumcrazy
Last edited: