Joined

Jun 25, 2019
Messages

22
Reaction score

10
Points

3
Location
Vehicle Year

1999
Make / Model

Ford Ranger
Transmission

Automatic
My newest truck is the 99 with the 2.5 and auto trans rwd of course.
Been looking for a ranger to tinker on, always loved these trucks. Already in love with this one. Not my daily driver so I have time to fool with it
The good:
No major issues found with engine or trans yet
Most things seem to work properly
Rust: I live in the western part of WV so not as bad as the lake states but rust is still a big issue and this truck did spend some of its life in Ohio.
Only body rust is slight surface rust where there are scratches and dings in the paint
Frame is actually OK IMO main rear frame is actually rust free, one of the gas tank cross members is rusted but that is common , I want to replace that and the upper rear shock mounts . I beat on the frame with a hammer where those parts meet and all over and no issues yet
The bad ? Nothing too much of an issue yet, fixed a couple vacuum leaks , coolant sender is bad, alternator may have an issue, battery light has been flickering but very seldom, gonna have it tested
Fan clutch is bad I belive no issue , gonna inspect water pump when I pull that off and replace if necessary
Passenger front blinker is acting weird and one one of the bulbs is intermittently not working making the turn signal flash quickly , I cleaned and even swapped the bulb , maybe a short somewhere but but again no big deal
Exhaust is crap from the joint behind the cat to the rear , muffler is rattling from loose heat shields and it sound like a ghetto rice burner ,someone has it all jacked up and the tailpipe is welded to the hanger pointed downward causing the pipe to be just a hair away from the frame and bed and its rattling off of there too. that will be replaced to original sound
Parts are cheap for these trucks ! Luckily
Other than that just odds and ends and regular maintenance type stuff,
The ugly : folks are rough on stuff , it is 20 years old though . Flareside bed and the fiberglass is cracked in a few spots , I fixed those to pass inspection. Darn scratches everywhere on the bed , debating on ignoring it , painting it (I actually like the fiberglass bedsides so I don't have to worry about rust ) or buying a style side bed in good shape when i see one avaliable. Cabs a bit used as well though have a dent in the door and scratches but overall not too bad. Interior is actually pretty nice , I cleaned it like crazy and it looks like it rolled off the lot . Original radio , I wish I still had some of of my old Tracy Lawrence cassettes !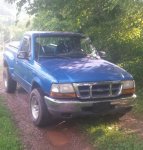 I'm no mechanic just a guy that likes to tinker and loves Rangers , fairly mechanically inclined , I swapped engines and transmissions in these trucks not a bad job but I'll probably be asking yall some more random questions when I'm working on it. I'll keep this truck forever even if it all goes bad and I save it for parts. Shouldn't have sold my 93 ,I grew up down south and that truck didn't have even a thought of slight surface rust, a4ld only failed once in 289 thousand miles !!! Lol